Germany
In addition to having one of the shortest work weeks in the world (34hrs), the largest trade union in Germany is campaigning for a 4 day work week.
4 day week campaigns
Europe
4 Day Work Week in Germany
At 34 hours, Germany has one of the shortest average work weeks in the world, but there's a movement to improve working hours even more. IG Metall, Germany's largest trade union, is lobbying for Germany to adopt a 4 day work week.
Since 2020, Germany has faced economic difficulties from both the pandemic and the struggle to transition to electric vehicles (the car industry employs much of Germany's blue collar workforce). Many people in Germany believe reducing employees' hours would help avoid job cuts in the face of economic difficulties.
Working Hours in Germany
Legal working days in Germany are from Monday to Saturday, but for most workers, a standard work week is from 8 or 9 AM to 5 PM, Monday through Friday. Employees are allowed to work up to 10 hours per day, as long as the total weekly work time is not longer than 48 hours. Typically, work time should not exceed 8 hours per day.
Unlike many countries, Germany does not have laws that mandate overtime pay, but agreements often exist between the employee and employer.
In most cases, it is illegal for employers to force employees to work on Sundays or public holidays in Germany. If a worker is required to work in either of these circumstances, the employer is legally obligated to provide a substitute day off within a certain timeframe.
Vacation Policy in Germany
The amount of vacation time workers receive in Germany depends on the number of days they typically work. For every day in a work week an employee regularly works, they receive that many vacation days times 4. For example, a worker who works the standard 5 day work week would be entitled to 20 days off per year.
In addition to vacation time, workers in Germany enjoy at least 9 paid public holidays per year, although some states have up to 4 additional holidays.
Most of the time, workers in Germany are required to use their vacation days before the end of the year. In the event of a work emergency, employees may be allowed a few additional months to use their vacation time.
Part Time Working in Germany
In Germany, anyone who works less than 30 hours per week is considered a part time worker. Employees who have worked more than 6 months at a job are allowed to ask for a reduction in hours if they wish.
Germany has a high percentage of part time workers. As of 2021, 43% of Germany's total workforce was part time. Of Germany's total employed women, 59% work part time, while only 28% of the total male workforce in Germany are employed part-time.
Remote Working in Germany
Since Germany's remote working obligation ended, the country has seen very little shift back to working on site. As of early 2022, almost 25% of Germany's workforce was still working remotely at least some of the time.
The amount of workers telecommuting varies by industry, with retail and construction having the smallest percentage of remote workers.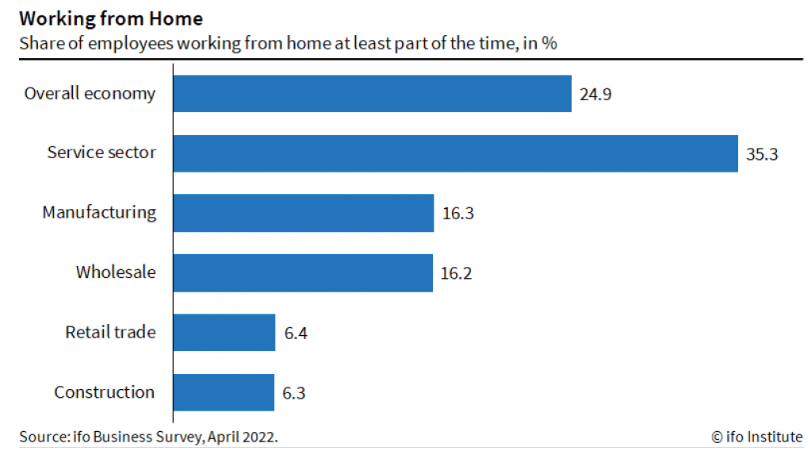 Would you like a 4 day work week?