Denmark
According to an OECD report, Denmark has the 2nd shortest average workweek in the world (33hrs)
Short average workweek (33hrs)
Europe
4 Day Work Week in Denmark
Although most of Denmark hasn't officially adopted a 4 day work week, it has the second shortest average work week in the world. According to an OECD report, the average work week in Denmark is only 33 hours long. This allows full-time workers in Denmark to spend about 66% of their day on rest and leisure.
In 2019, Denmark's Odsherred Municipality introduced a 35 hour, 4 day work week. Employees are expected to work longer hours Monday through Thursday and be willing to be contacted outside of work in order to have Fridays off.
In1930s Denmark, companies began switching to a 5 day work week (previously 6 days). The standard working week is now 5 days per week, Monday to Friday.
Working Hours in Denmark
The average number of hours worked in Denmark has been falling over the last 20 years. In 1970, the average employee worked 35.2 hours, whereas the number dropped to 33.72 hours in 2021 (4% less). On average men work 33.1 hours per week and women work 29.5 hours.
The maximum weekly working hours by law is 48 hours on average, including overtime.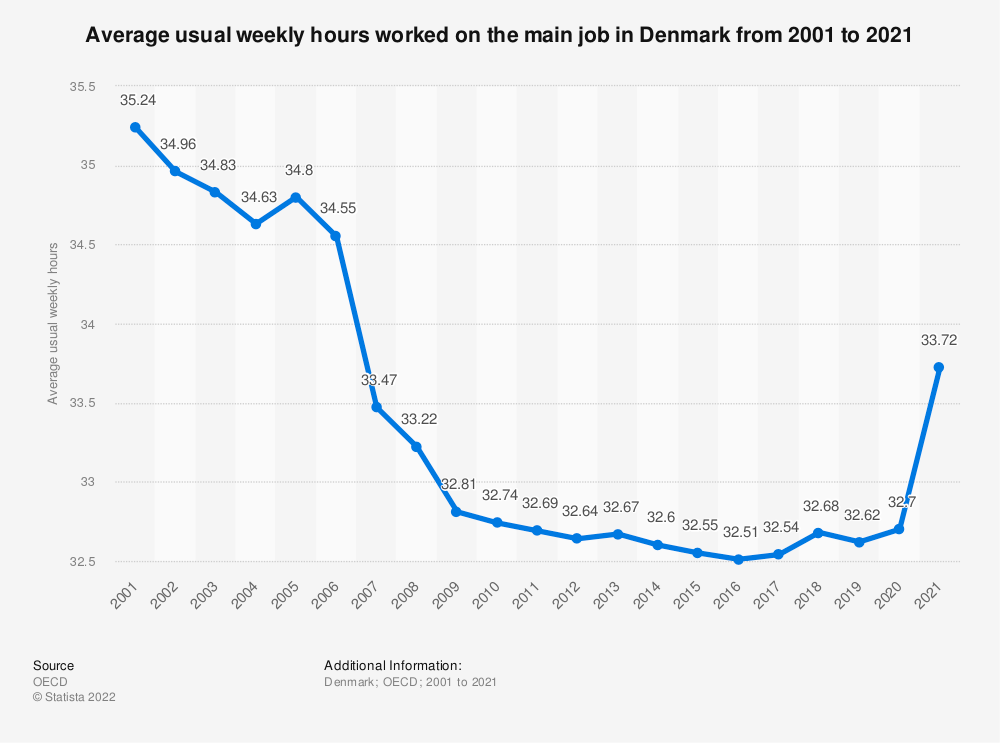 In Denmark, average hours worked per week varies by industry. Employees in the private sector work two hours longer on average than employees in the public sector.
Vacation Policy in Denmark
In Denmark, employees are entitled to 25 working days of annual leave every year, which is divided into 2.08 working days every month. Most employees are also entitled to an additional week's paid holiday through the Additional Sixth Week Agreement.
There are 11 days of public holidays in Denmark. This brings the total number of paid vacation days an employee can expect to 36 days per year.
Part Time Working in Denmark
In Denmark, working any less than 37 hours per week is considered part time. This means that about 43% of Denmark's workforce qualifies as part time. As of 2022, Denmark had about 682,100 part time employees.
As of 2021, about 53% of Denmark's total female employment worked part time, while only 34% of the males employed in Denmark worked part time.
Remote Working in Denmark
Like many countries, Denmark has experienced a rise in remote workers since the start of Covid-19. According to the Danish Chamber of Commerce, Denmark has approximately twice the number of remote workers as before the pandemic. As of 2022, 10.9% of Danish employees worked remotely.
In early 2022, the Danish government introduced new legislation surrounding remote work, allowing remote employees to use their own equipment to work, and mandating that employers provide proper equipment if necessary.
Would you like a 4 day work week?