Ireland
Seventeen Irish businesses are trialing a 4 day work week for 6 months between June & December 2022
Large 4 day week pilot
Europe
4 Day Work Week in Ireland
Although Ireland hasn't officially adopted a 4 day work week, many companies in the country participated in a 6 month, 4 day work week pilot program between June and December of 2022. The pilot was sponsored by 4 Day Week Global, a group campaigning to bring the 4 day work week to countries across the world.
17 Irish companies participated in the trial program, which was monitored by researchers from Boston University and University College Dublin. The goal of the program was to determine whether the 4 day work week can increase employee wellness and productivity while reducing carbon emissions.
Here are the results from the pilot:
Business Performance and Productivity
The trial companies saw an ~8% increase in revenue.
Compared to the same timeframe last year, revenue increased by 37.55%.
There was a positive trend in the hiring rate, and a slight reduction in absenteeism and resignations.
Balance Between Work and Personal Life
Employees could dedicate more time to personal interests and voluntary activities.
There was a drop in the need for additional time for most tasks and activities.
Extra free time was primarily distributed amongst recreational activities, domestic duties/care work, and self-care.
Physical and Mental Health
A decline in stress levels and burnout was reported by employees after the trial.
Improvement in physical and mental health was self-reported.
An increase in physical exercise and a decrease in fatigue were noted.
Environmental Impact and Commuting
There was a drop in the percentage of employees commuting via car from 56.5% before the trial to 52.5% afterwards.
The weekly commute duration saw a reduction of nearly an hour.
Small but significant increases were observed in home recycling activities, choosing to walk or cycle instead of driving, and buying environmentally-friendly products.
Value of Current Job
At the conclusion of the trial, 70% of respondents claimed they would need a salary increment of 10-50% to switch back to a five-day work routine.
13% mentioned they would need a salary increment of more than 50%.
Another 13% of respondents claimed they wouldn't revert to a five-day schedule irrespective of the pay rise.
Household Labor and Gender Equality
The trial did not significantly impact the division of labor at home.
A slight increase in men's contribution to childcare was observed.
Further studies are needed to understand changes in societal norms over time.
Cost of Childcare
The trial observed a decrease in expenses related to childcare.
Working Hours in Ireland
The average work week in Ireland is 39 hours. By law, an employee's work week cannot exceed 48 hours on average. This means that an employee's hours can vary from week to week as long as over a given period (4 months in most industries) the average does not exceed 48 hours.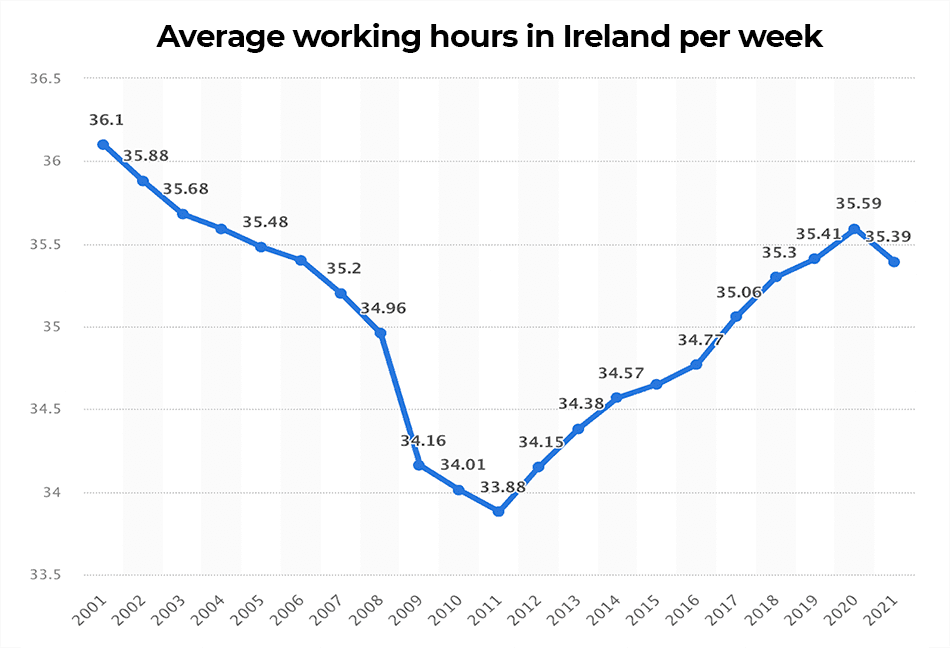 Ireland's standard working hours are generally Monday through Friday from 9 AM until 5:30 PM, with work rarely occurring on the weekends. Most businesses close between 12:30 and 2 PM for lunch.
Overtime is allowed in Ireland, but there aren't any standardized laws governing the rate of overtime pay. The terms of overtime work and pay are outlined in the employment contract.
Vacation Policy in Ireland
In Ireland, most employees are granted a minimum of 20 paid vacation days, or 4 weeks, per year. Some employees may be entitled to more vacation time if it's part of their employment contract.
There are 9 paid public holidays in Ireland every year. If an employee is required to work on a public holiday, they are compensated with either an extra vacation day or an extra day of pay.
When an employee leaves their job, they are entitled to cash out any vacation days or paid holidays that they have earned but not taken.
Part Time Working in Ireland
Compared to many countries, Ireland has a high rate of part time employment at 29% of the total workforce. The percentage of part time workers has steeply declined in recent years, dropping from 40% to 29% between 2020 and 2021.
Women are more likely to work part time in Ireland than men. Part time workers make up 39% of the total female workforce, while only 21% of the total male workforce works part time.
Remote Working in Ireland
Since the start of Covid-19, Ireland has experienced a massive rise in remote workers. According to survey data from Ireland's Central Statistics Office, only 23% of Ireland's workforce had ever worked remotely before the pandemic.
Since Covid-19, 80% of employees in Ireland have worked part time at some point, and 90% of workers between the ages of 35 and 44 would like to continue remote work going forward.
Would you like a 4 day work week?