IBM Salaries & Compensation: Analysis & Review
In this post we look at IBM's compensation packages, including an analysis of salaries, benefits and bonuses. Find out what to expect as an employee at IBM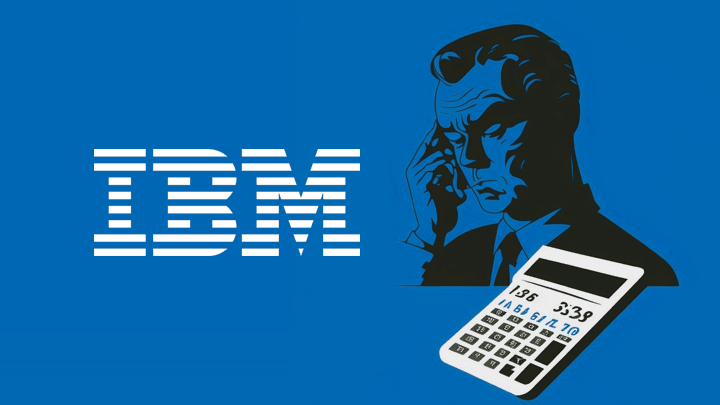 Besides being one of the oldest companies in the world, IBM is also on the list of tech companies with the largest workforce. Globally, it employs over a quarter million people.
Although 2022 isn't a very good year for the tech job market, IBM and many other companies are still looking for talent to fill key positions. If you think you have what it takes, bagging a job at IBM — like with other high-profile tech companies — will guarantee a fulfilling career and great paychecks.
Speaking of paychecks, if you're wondering how well-paid a position at IBM will be, this 4 Day Week feature has all the necessary info. Here, you'll find IBM's salary, compensation, a list of benefits, and more!
Salary data here is valid as of 27th November, 2022.
What's the Verdict on IBM Salaries?
Pay varies by position, department, seniority, and a host of other factors (which we'll discuss later). According to Zippia, an IBM employee makes around $86,845 a year, with an entry-level pay of $63,000 and a high-end pay of $118,000.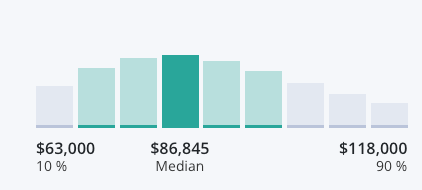 IBM is a popular destination for tech graduates and workers, so if you're gunning for a tech role, you'll make a reasonably decent sum. For example, an IBM engineer salary (software) is $136,420 a year ($119,158 in base pay and $17,262 in additional pay like performance bonuses, stocks, etc.)
But in the company, there are many roles ranging from interns to executives. From what we know, at the lowest, you'll be offered about $63,000 a year. And if your seniority is high enough and you're in a position of importance, you can be offered well over $118,000.
Factors that Influence an IBM Employee's Salary
The final salary you're offered will differ based on many factors. They won't always match the average figures shown above. Here are some of the factors that HR will take into account to determine your final salary. In each section, we'll examine a different job role to give you a more generalized idea of what working at IBM will be like.
1. Years of Relevant Experience
IBM is no different from other companies regarding the relevant working experience of its potential new hires. The more experience you have, the higher your chance of being considered and the better your pay will be.
Salary will differ depending on your specific role, but let's say you apply as a software engineer. According to levels.fyi, with none to 2 years of working experience, you'll be able to apply as a Band 6 employee, which equates to an entry-level position. In this role, you can make around $96,000 a year in total.
This is lower than the median pay for software engineers at IBM, which is around $130,300. But don't fret!
You'll get there as you gain more working experience, earn promotions and get pay raises. With 2 years and above working experience, you'll reach Staff Engineer (Band 7). In this role, you'll receive about $133,000 yearly ($131,000 in base pay and $2,000 in various bonuses and stocks.)
Would you like a 4 day work week?
2. Seniority
Like most tech companies, IBM uses a band-level hierarchy. HR will use your band rating to define your role in the organization, the skills and experience required, how to evaluate your performance, and most importantly, how much you will get paid.
The band levels generally go as followed:
Band 6 (Entry-level)
Band 7
Band 8
Band 9 (Senior)
Band 10
For college graduates and those with little working experience, you'll start your career at IBM as a Band 6 member. Your band rating will rise as you gain more working experience and receive promotions.
From Band 9 onward, you can proudly affix the "Senior" title to your job title.
A higher band means greater responsibility, which equates to better pay and more benefits.
For example, as a senior product designer, you'll have better leverage when negotiating working hours or schedules with management, like a remote work schedule, or having flexible working hours. You'll also be paid more. A Senior Product Designer (Band 9) can expect to make $212,000 a year.
3. Location
IBM has 79 offices located throughout the US. Depending on what office you work for, your pay is going to be different. This is because salaries are typically adjusted to the cost of living and tax policies in that region.
A data scientist working in an expensive area like San Jose, California, will make more than someone working for IBM's office in Charlotte, North Carolina.
To better demonstrate this, the average IBM data scientist is paid $168,991 a year in San Jose, CA. Meanwhile, IBM data scientists working in Charlotte, NC only make $138,858 a year.
The cost of living in Charlotte, NC, is about 53.6% cheaper than in San Jose, hence the salary adjustment.
4. Your Negotiating skills
While the factors above are largely out of your control, there is one important area where you can negotiate: Your salary.
When IBM hands you a job offer, you can negotiate the salary if you think it's too low and doesn't reflect what you can bring to the company. HR won't give you grief over negotiating, as long as you do so respectfully.
Research the position and average pay carefully. Then, use that number as a reference point to develop a more concrete number (factor in your qualifications, experience, and skills). Haggle around this number when you talk with the recruiter.
Do IBM Employees Feel Fairly Compensated?
The consensus among most ex-IBM employees is that the pay is relatively low compared to other tech and fintech companies on the market.
This employee left IBM as a Band 9-10 employee, but even at such high bands, the pay wasn't great compared to a similar role at a different company.
Another ex-employee said that IBM is only good for polishing your resume and gaining more experience. With a couple of years under your belt, their advice is to "apply for jobs at FAANG … and leave as soon as you get an offer."
The fact that IBM's pay isn't very competitive is well-known. The company's salaries have been lagging behind other big tech companies for a while. Keep this in mind before you pull the trigger and apply for a job at IBM.
IBM Average Salary Levels by Seniority and Years of Experience
Depending on your specific role, years of experience, and seniority, you'll be offered different rates. In this salary chart, you'll find salaries of five popular job fields separated into IBM bands using data provided by levels.fyi.
| Position | Band 6 | Band 7 | Band 8 | Band 9 | Band 10 |
| --- | --- | --- | --- | --- | --- |
| Software Engineer | $100,000 | $133,000 | $162,000 | $199,000 | $270,000 |
| Product Designer | $97,000 | $132,000 | $148,000 | $199,000 | $208,000 |
| Data Scientist | $122,000 | $153,000 | $165,000 | $199,000 | $288,000 |
| Sales | $188,000 | $145,000 | $171,000 | $249,000 | $348,000 |
| Management Consultant | $81,000 | $136,000 | $168,000 | $174,000 | $282,000 |
IBM starting salary for Band 6 staff tends to hover around $100,000, except for Management Consultant, which sits at least $81,000. This is understandable, considering that consulting services don't produce as much value for the company as other roles like data scientist, sales, or software engineer.
With some years of experience under your belt, you'll be able to get a promotion to Band 7. In this role, pay across the board — even management consultant — will rise well over $100,000. At this point, you may already consider yourself as having a cushy job!
To be considered a senior-level staffer, you'll need to reach around Band 9 and have around half a decade of experience. The pay for a Band 9 staff will come close to $200,000 across the board ($199,000 across all jobs, including software engineering, product design, and data science). Only sales staff break this barrier with total compensation of $249,000.
However, do expect a big portion of sales staff pay is bonuses. The base salary of a Band 9 sales staff is only around $170,000.
At Band 10, your pay can go well over $200,000. With high-performing sales staff, you can even go beyond $300,000.
Total IBM Compensation
IBM employees are also given a number of non-financial benefits when they work at the company. The company offers the standard package of corporate perks, like 401k plan matching, health and life insurance, stock plans, and more. The company also offers Work-from-Home arrangements for certain positions.
How Do Salaries at IBM Compare to Other Companies?
Like we mentioned earlier, depending on your specific role in the company, you can be offered anywhere between $63,000 to $118,000. So, how does it compare to other companies in the business like Google, Meta, and Apple?
Well, this chart can tell you exactly that.
IBM average salary data is provided by Zippia.
| Company Name | 10th Percentile | 90th Percentile |
| --- | --- | --- |
| IBM | $63,000 | $118,000 |
| Google | $105,000 | $187,000 |
| Meta | $116,000 | $207,000 |
| Apple | $83,000 | $194,000 |
| Amazon | $29,000 | $144,000 |
With a salary range between $63,000 and $118,000, an employee at IBM makes significantly lower on average than at other tech companies.
According to data, the only company it beats is Amazon, with a salary range between $29,000 and $144,000. But consider how Amazon is a retail company; this average also includes wages of delivery drivers, warehouse workers, and other low-skilled labor. The lower pay is to be expected, but IBM — a high-profile tech company — cutting it quite close to a retail company like Amazon is a bit worrying.
This is why an ex-employee at IBM suggested that once you've gained enough experience from a position at IBM, it's better to leave. You'll find more well-paid opportunities anywhere else.
Start Your Search for a 4 Day Week Job Today!
Like most tech companies, IBM is experimenting with flexible working hours and schedules. If you negotiate well enough, there's a good chance that you may receive a more effective and less stressful work schedule with only 4 working days. After all, we believe that 30 hours a week is more than enough!
Start your search for these opportunities through the 4 Day Week's job board!
Would you like a 4 day work week?