TikTok Guide to Salary levels, pay scale & compensation
social media giant Tiktok has had skyrocketing growth and has been dominating download charts for months since 2020.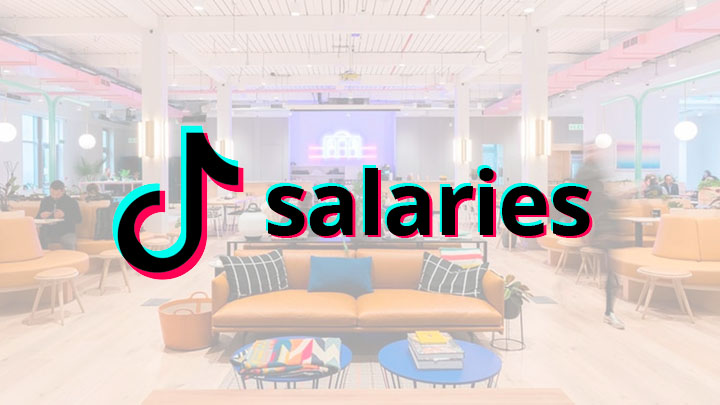 The amount of time spent by users on Tiktok has exploded in recent years, outpacing YouTube by quite some distance.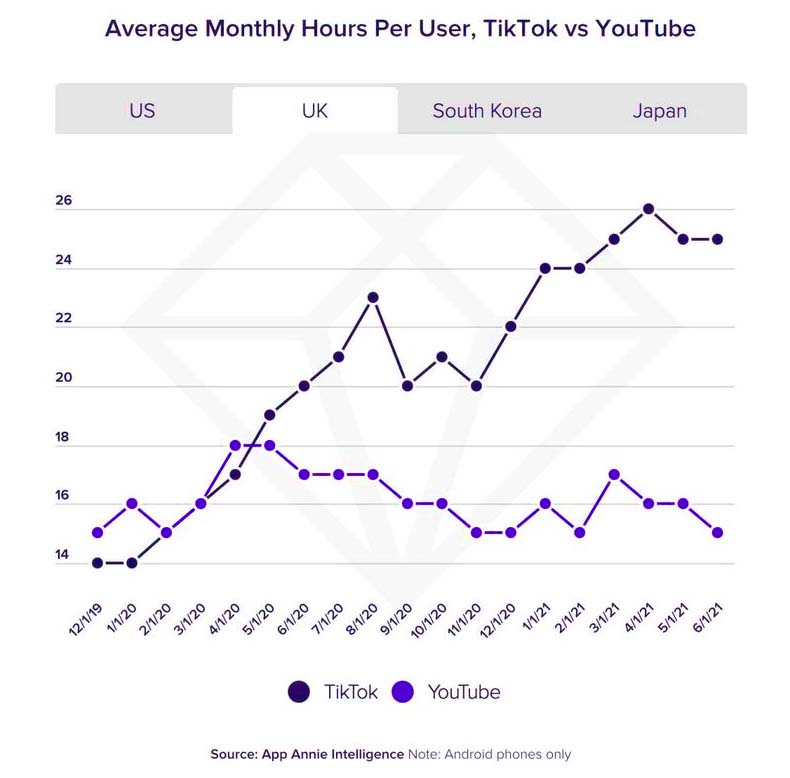 Because of this, many opportunities for a bright career path have opened up within the company. However, the underlying issue is—the compensation structure. Sure… It looks promising, but…
You can't just go with the face value of what is being shown online. At 4 day week, that is why we have created this guide. We will take a deep dive and break down everything you need to know about the TikTok pay structure.
This way you can make an informed decision when applying to work at this tech giant.
TikTok – A Compensation Breakdown
Before diving into the salary at Tiktok we must know how the compensation is broken down. Here in this table, you will see an example of a TikTok Senior Software Engineering Salary (i.e. also known as "level 2-2") offer over a span of 4 years:

Now let's dive deep into the individual component.
The 4 Components of the TikTok Compensation Package
When applying for a job at TikTok, you can't just rely on the first figure that you see online. This is just a ball-park estimate that they show to attract people to apply. Here's why:
That number that is advertised is made up of various components. The ones we will talk about are the most important ones that you need to pay attention to.
You also need to know these components of the salary at TikTok is because not everything is paid at once. Take for example a "bonus". Some bonuses are only paid at the end of the year or only based on your performance.
The 4 components include:
Base Salary
Sign-on Bonus
RSU (Restricted Stock Units) Aka "Equity"
Performance Bonus
Would you like a 4 day work week?
Base Salary
The base salary is a figure that is a fixed amount of money that is paid to an employee regardless of performance.
Even though TikTok's salaries are one of the hardest to negotiate–their base pay does make up for this. Their base pay is considered to be one of the highest in the industry even compared to Facebook and Google.
Here is a table breaking down of the TikTok software engineer salary levels compared to Google' so you can better understand:
Tiktok 1-2 / Google L3 (New Grad): $203k
Tiktok 2-1 / Google L4 (Software Engineer): $303k
Tiktok 2-2 / Google L5 (Senior Software Engineer): $424k
Tiktok 3-1 / Google L6 (Staff Software Engineer): $522k
Tiktok 3-2 / Google L7 (Manager): $678k
Tiktok 4-1 / Google L7/L8 (Manager/Director): Unknown
Tiktok 4-2 / Google L8 (Director): Unknown
Each level that is shown in the table above corresponds to a job position. You can refer back to this table to simplify the search process when you are comparing salaries.
Sign-on bonus
This is a bonus you get when you join the company. This bonus may be negotiable based on the demand or on your position.
It is difficult to get these bonuses if you are new talent and don't have a lot of experience under your belt. However, for experienced candidates, it becomes easier. Bytedance has been known to offer up to $75,000 more on top of their sign-on bonus.
Now… This does come with a caveat. It is always good to pay attention to fine prints such as:
5. Hiring bonus: Subject to your execution of the Company's hiring bonus repayment agreement, you will have a hiring bonus of $50k. The hiring bonus is subject to applicable withholdings and other dedications as may be required by law. The terms, conditions and limitations of the hiring bonus will be governed by the hiring bonus replayment agreement.
Tiktok wants to make sure that they retain good talent. They don't want to see their hires leave after receiving such a handsome bonus. Because of this, they added terms that prevent churning from happening. They have had to cut back these bonuses on some instances or even pull it completely back because there were people taking advantage of the situation.
This component also is more favored for more technical roles, so it is highly important to match your experience and position to see if this is something that will go in your favor.
RSU aka "Equity"
RSU (Restricted Stock Units) is equity given to employees in form of stock.
Bytedance is known for giving its employees equity in the form of RSU. However, one caveat that we have to keep in mind is that TikTok is still a private-based company–this means that RSU is not the same as publicly traded companies like Facebook.
If you are working for a public tradedly company, the vesting process of an RSU is fairly quick in most cases. Also, once vested, you can easily sell the stocks for whatever the market value is.
This is not the case with Tiktok. Because of not being public, they have a much slower vesting schedule and on top of this—It is harder for you to sell your stocks once vested. However, they have rolled out their stock buy-back program. Here is a more detailed explanation of the program.
In the table below you will see the vesting schedule for RSU at Bytdance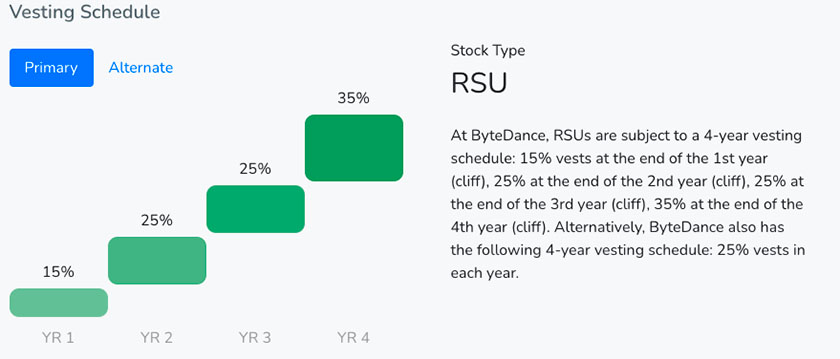 This table is courtesy of levels.fyi
Performance Bonus
FAANG (Facebook, Apple, Netflix, and Google) companies have an additional piece to their compensation package which seems to be consistent with what Tiktok is offering—a pay-per-performance bonus.
Which in some way relates to hitting certain KPIs(metrics). Tiktok however, seems to have the highest performance bonus out of all of these companies which is 25%.
Here is another snippet from TikTok showing this:
4. Annual Performance Bonus: You may be eligible for a target annual bonus of 25% of your annual base salary, as prorated from the start date of your first year of employment, which shall be subject to applicable withholds and other deductions as may be required by law.
TikTok Salaries for various roles
In the table below, you will find information on the overall average compensation at TikTok. You will also see the average compensation for 4 important roles: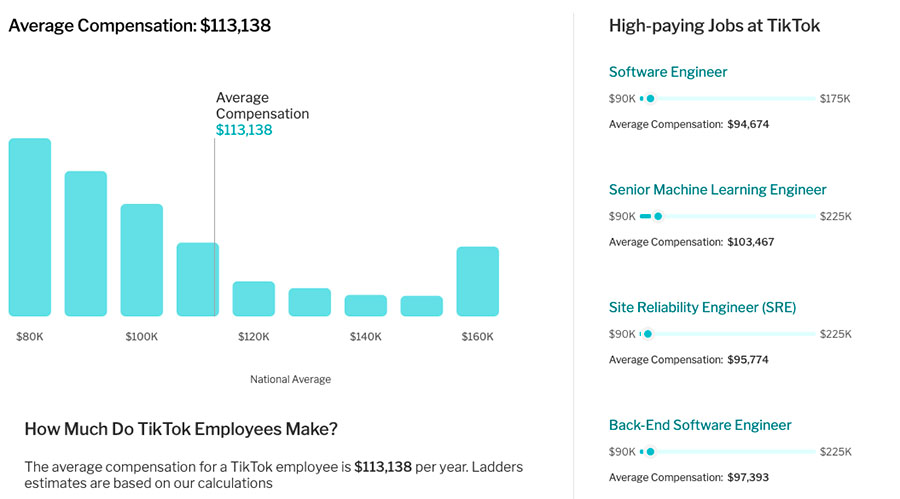 The snippet is courtesy of theladders.com
Now that you are familiar with how the compensation is broken down, here is a table that goes over various important roles and their average salaries at TikTok:
Account Planner: $41K-$69K
Strategic Partnership Manager: $72K-$149K
Project Manager, Operations: $51K-$103K
Quality Analyst: $54K-$112K
Program Manager: $74k-$166K
Quality Analyst: $54K-$112K
Project Management Officer: $70K-$152K
Quality Assurance Analyst: $51K-88K
Recruiting Coordinator: $49K-$76K
Risk Management Manager: $85K-$154K
Sales Manager: $48K-$138K
Project Coordinator IT: $51K-88K
Senior Business Analyst: $86K-$141K
The information is courtesy of payscale.com
To better understand salaries at an industry wide level—we can take a look at the table below. This table uses an (L5) level as a benchmark, better wise known as senior-level roles.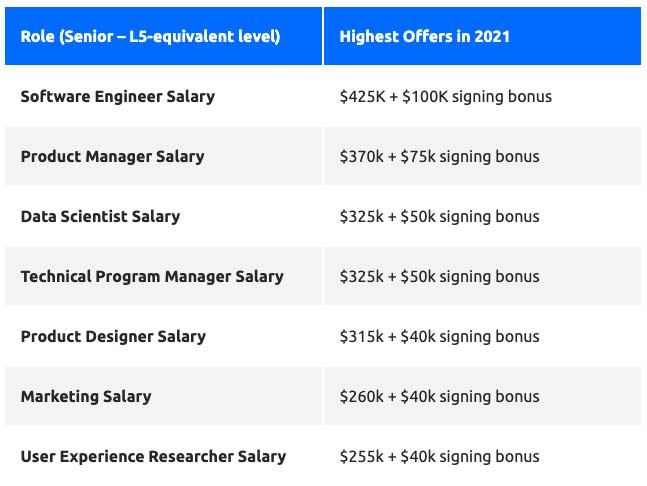 This table is courtesy of moonchaser.io
It is also important to understand salary progression when applying for a job at Tiktok. This will give you an idea of what you can expect to earn if you get promoted and a leg up when it comes to negotiating. Let's take a look at the average compensation by level for the Software Engineer role in the table below: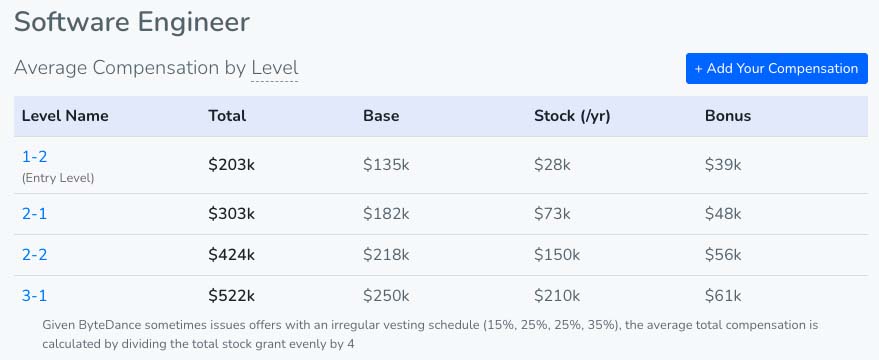 This table is courtesy of levels.fyi
Alternatives to working at TikTok
Working in your dream position doesn't have to be hard.
Times have changed with respect to work-life balance. Studies have also shown the more we work, the less productive we tend to get. More and more people are also working remotely and to combat this—many companies are reducing the hours that their employees need to work so they can attract more talent.
The good news is in today's society we have plenty of choices to choose from when we look for a tech career. However, it can be really hard to sift through all of these companies to find the ones that truly promote this type of lifestyle.
4 day week is now changing the game when it comes finding companies with a good work-life balance. Now, you no longer need to sift through tons of different websites looking for these companies. You also will save countless hours of research.
4 Day Week has a database of the best companies that provide a 4 day week for jobs in tech. These are also not long days that you are working. These are companies that only require you to work for a total of 32hours.
Would you like a 4 day work week?