13 Best AI Resume Builders (Updated for 2023)
Well-crafted resumes require excessive time & effort, but with these 13 top AI resume builders, you can get professional-looking resumes in no time. Learn more!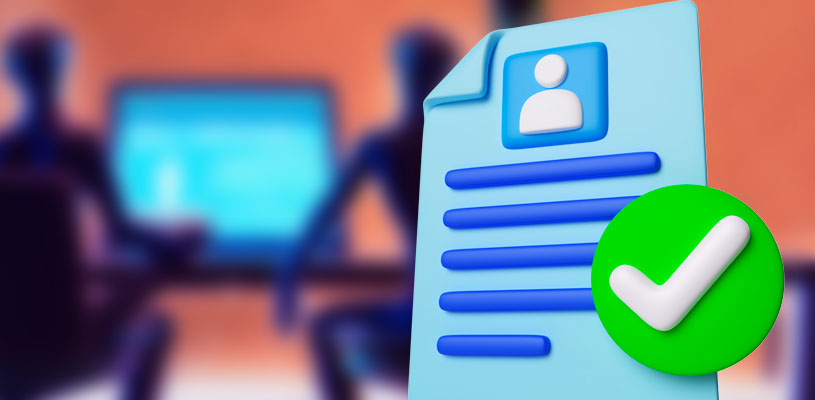 Creating a standout resume can be daunting, but the cutting-edge technology of AI-powered resume builders offers a solution. These innovative tools use AI to quickly and effortlessly craft impressive resumes.
But which tool to pick from?
In this post we compare 13 of the leading AI resume builders, discussing their features, pricing, pros, and cons to help you choose the right tool for your needs:
13 Best AI Resume Builders
Prepare to unlock the potential of your resume with these cutting-edge solutions: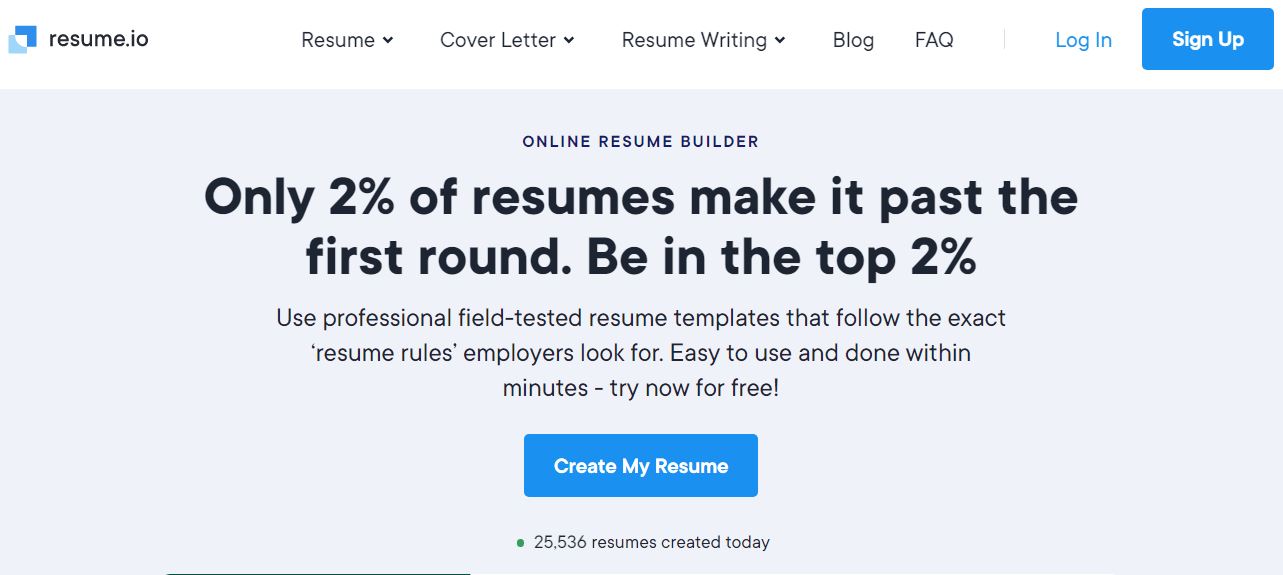 Score: 9.0
Pricing: $2.95 for 7-day trial, $44.95 for 6 months
Resume.io can help you create a well-crafted resume within no time. You just have to sign up for an account and provide your details, and the AI tool will generate the resume on its own. You can even change the templates if you need to analyze how your achievements and skills show up differently in different formats.
Apart from helping you craft your cover letter, you can even use this tool to generate a specialized description or text based on the actual job advertisement. Custom tailor-made resume descriptions and cover letters can make you a step closer to winning the trust of the hiring managers.
Pros
Very user friendly interface
High number of templates available for various industries and role
Great AI writer
Flexible personalisation
Can create a resume tailored for a job description
Cons
No free plan
Fonts cannot be changed
2. Zety AI Resume Builder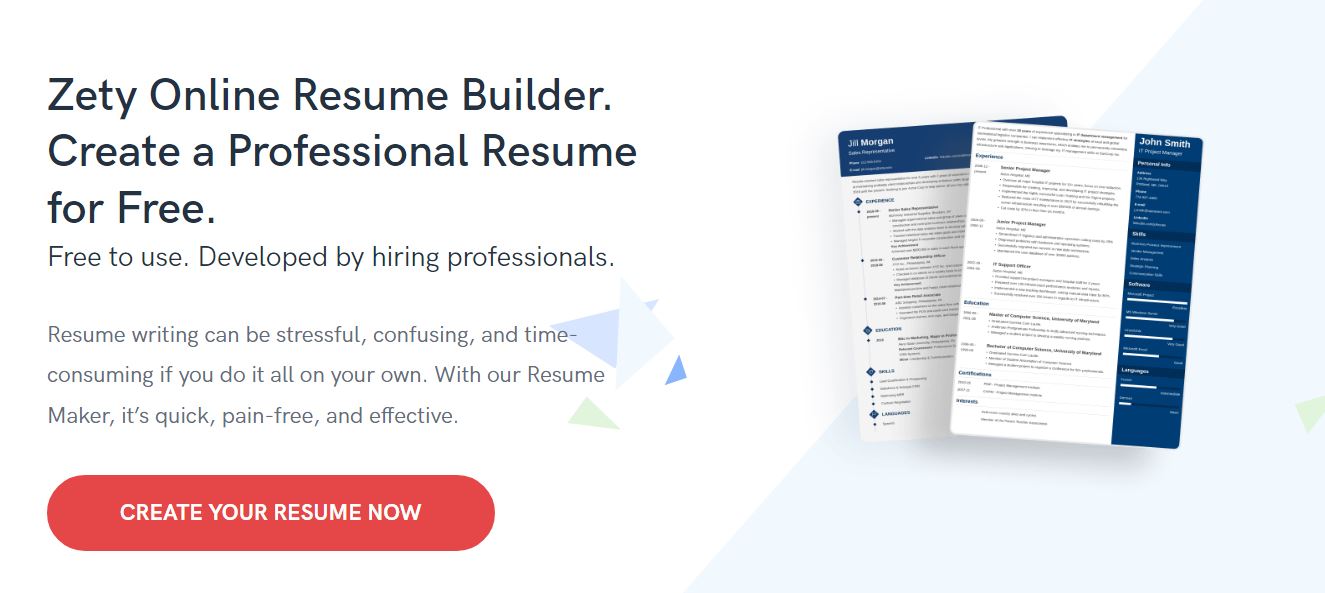 Score: 8.8/10
Pricing: 2.70 USD for two-week access
Zety is an invaluable tool for creating perfect resumes. It allows you to choose the best template from the multiple options available. The experience and education are listed in reverse chronological order so the hiring manager learns about your latest ventures the first thing.
Once selected, Zety will ask you to upload your own resume or create a new one from scratch. Just provide the basic information about your work history and education; the AI resume builder will generate the relevant list of duties and concepts learned on its own. Yeah, that means you don't have to think of what you did in a certain role and make a list of it.
Pros:
Lots of features
Good user interface
Easily customisable AI-generated content
Easily switch between templates at anytime
Allows you to preview your resume at any stage.
Spelling & grammar checker
Cons:
Limited free version
Payment for Printable Formats
No cover letter builder
3. Skillroads AI Resume Generator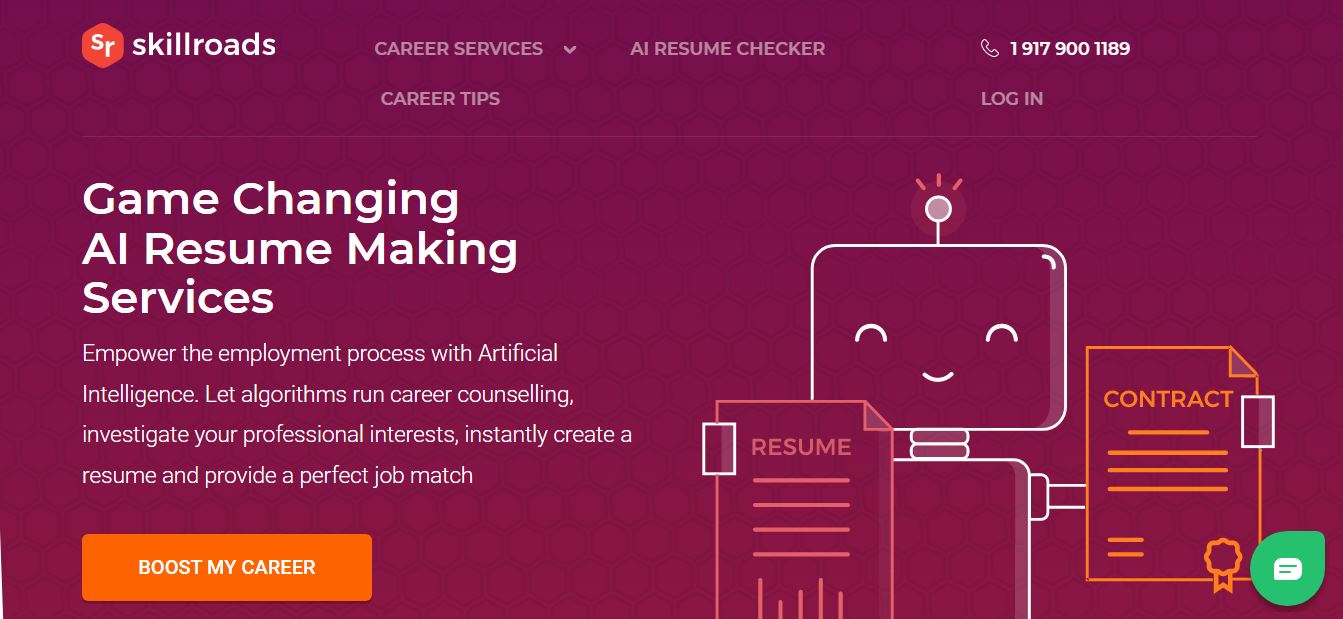 Score: 8.5/10
Pricing: Free, Premium Version at $9.99 per month
Skillroads is the secret weapon for conquering the job market and unlocking boundless career possibilities. I have tried multiple tools to find the best resume builder and found some amazing features on this platform that can make the entire resume-building process simple and efficient.
This dynamic free resume builder is tailor-made for individuals facing the challenging maze of job hunting. You can share your name, email, and phone number to start the 6-step process for resume building. Skillsroad will provide you with a questionnaire tailored to your desired job, uncovering your objectives, shining highlights, experience, skills, and education.
Some steps are a breeze with easy options to click, while others demand more of your precious time. But the end result is surely worth your time!
Pros
Improves application materials with resume review services.
Provides expert advice on structure, proofreading, and concision.
Offers a free AI resume using a questionnaire format.
Professional writers oversee premium services.
One PDF resume creation and download is free.
Cons
Higher cost
Not many designs / templates offered
There is little room for customization.
No space for your content addition.
4. Kickresume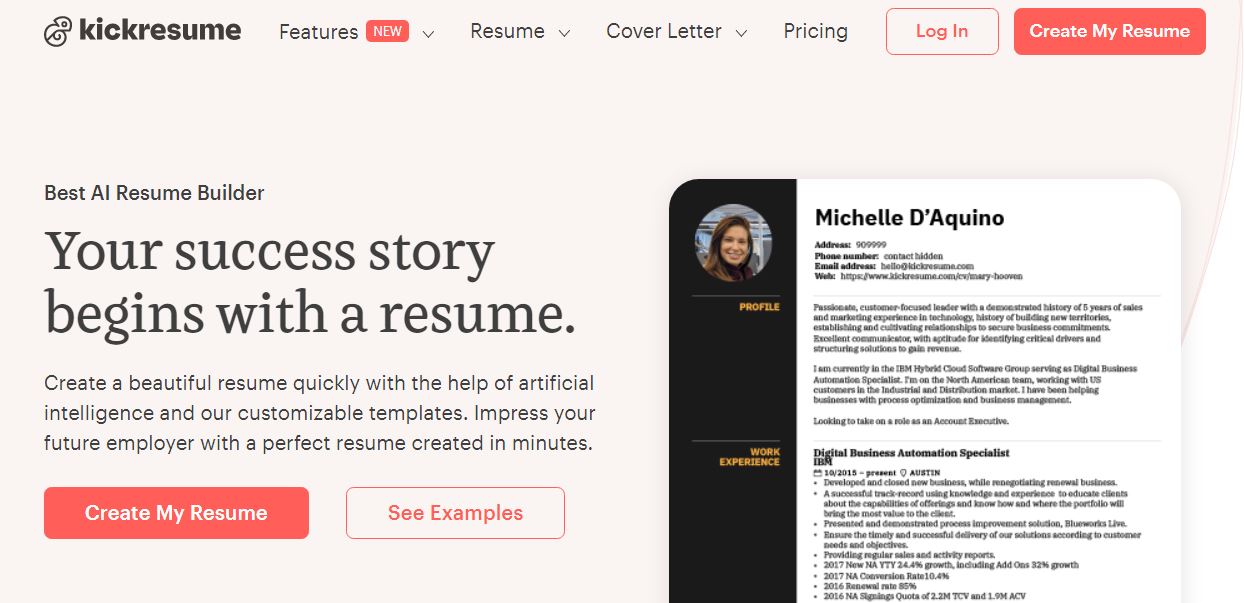 Score: 8.4/10
Pricing: Free, $9.00/month Premium access
Kickresume's AI Resume Builder harnesses the formidable capabilities of OpenAI's GPT model. Ideal for crafting structured documents, it empowers you to create a job-winning resume with unparalleled efficiency and precision.
Kickresume's online resume builder streamlines the process of creating a professional resume. After logging in, you begin by completing a quick questionnaire about your personal information, work experience, education, skills, and hobbies. The platform then generates your resume, which you can customize by adding personal details, changing resume formats, reordering sections, and more.
Pros
Provides free plans.
Includes a LinkedIn data import feature.
Features a grammar and spelling checker.
Offers a variety of templates for both resumes and cover letters.
Offers career counseling and application tracking for job seekers.
100% Refund within 14 days
Cons
Limited free plan
The Premium Plus Plan is relatively expensive.
Would you like a 4 day work week?
5. Resumaker.ai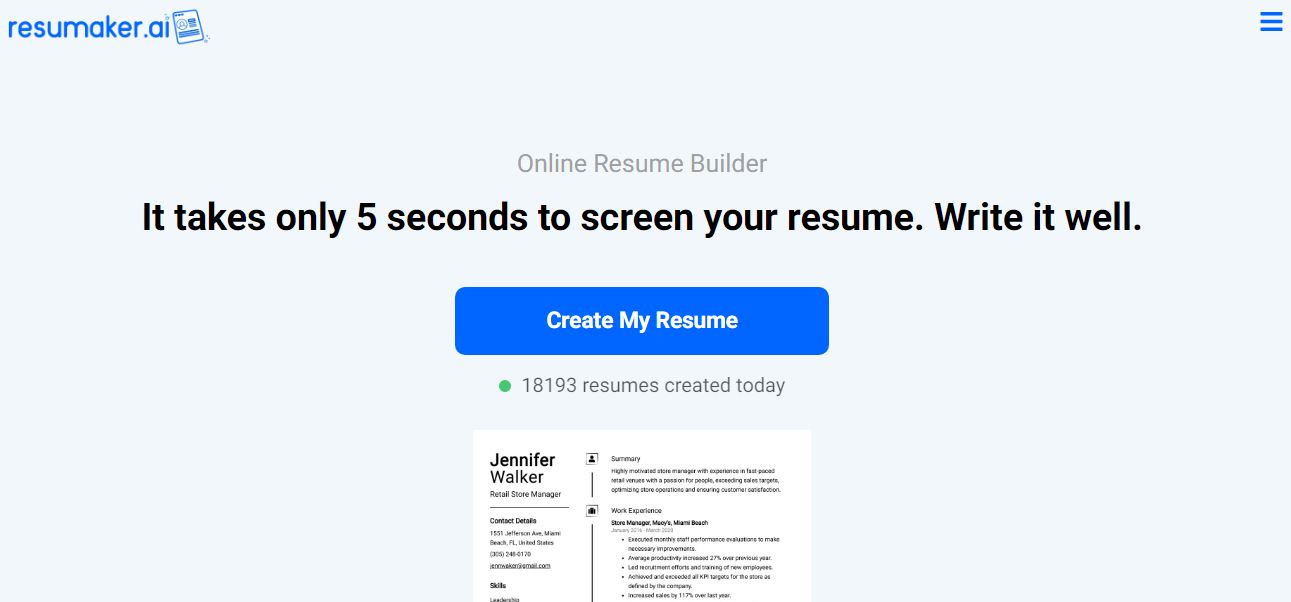 Score: 8/10
Pricing: $0.99 (7 Day full access), $23.75 for 3 months access
Resumemaker.ai is not just about creating resumes but about crafting compelling career narratives. This AI resume builder has mastered the art of resume bullet points, ensuring that your skills and experiences shine in a way employers genuinely appreciate. It lets you create a resume in minutes.
You can start with eye-catching resume templates that reflect your career vision. Provide your name, job title, and keywords, and the AI resume builder will craft lines into your CV description, work experience, and skills sections.
Also, you can personalize your educational journey by manually entering company names, dates, and other crucial details. It's all about your story, style, and future – not just your resume.
Pros
Good number of well-crafted templates tailored to users.
Clean and easy to use UI
The platform uses AI to match job descriptions with the resume.
Provides high-quality, relevant suggested phrases.
User-friendly process with built-in interactive help for beginners.
User-friendly resume-building process with interactive help.
Offers a comprehensive resume writing guide, including organization, format, and recruiter perspective.
Allows complete control over resume appearance with a Skills Suggestion Tool for adding functional skills.
Cons
Requires a subscription; no free alternative available.
Few customization choices, limited to line spacing and color.
Limited high-quality phrases option (5 sentences for resume summary, 10 for work experience).
6. Jasper Resume Generator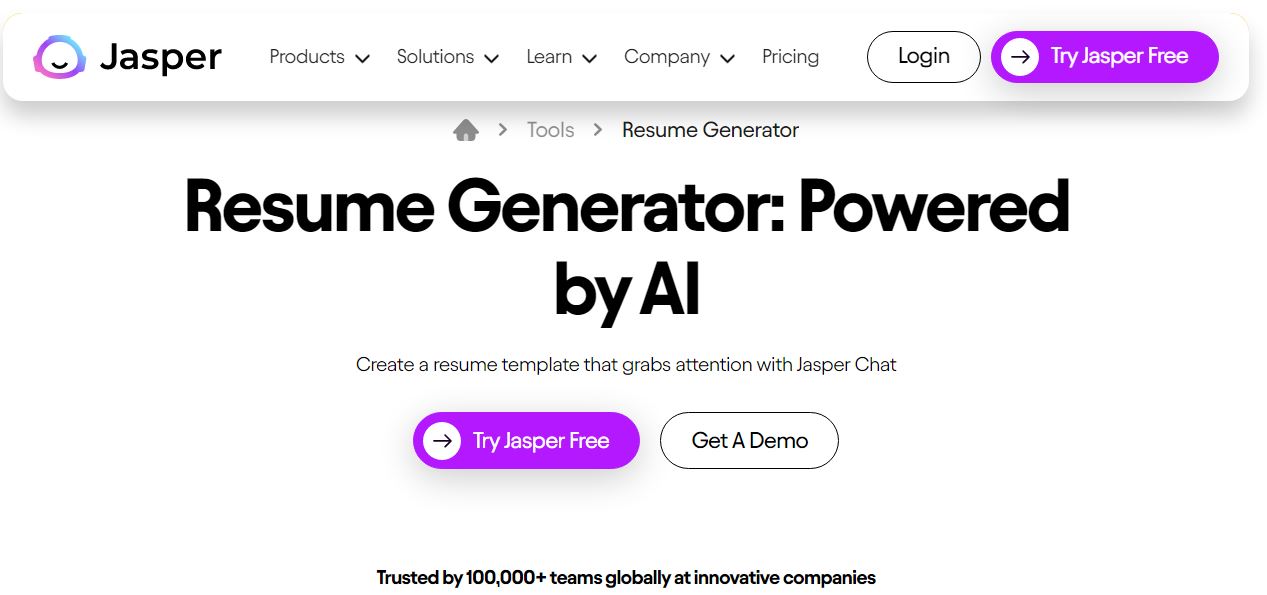 Score: 8/10
Pricing: From $39/month
Jasper is a reputable AI system that helps users with different forms of writing, including the resume. Generative artificial intelligence assists users in overcoming blocks. So, Jasper could be your best bet if you're looking for an AI tool that can generate top-notch quality.
To begin using Jasper, choose the template you prefer, and after that, enter your details, and you'll be set. Copy and paste Jasper's output into your finished document, or download it. Once complete, your resume can be downloaded, printed, or uploaded to job boards.
Pros
Provides content ideas and samples.
Offers prompts and recommendations for essential information.
Offers real-time previews for resume appearance.
Allows easy download in PDF or Word formats.
Cons:
No free plans are available.
A bit pricey.
7. Rezi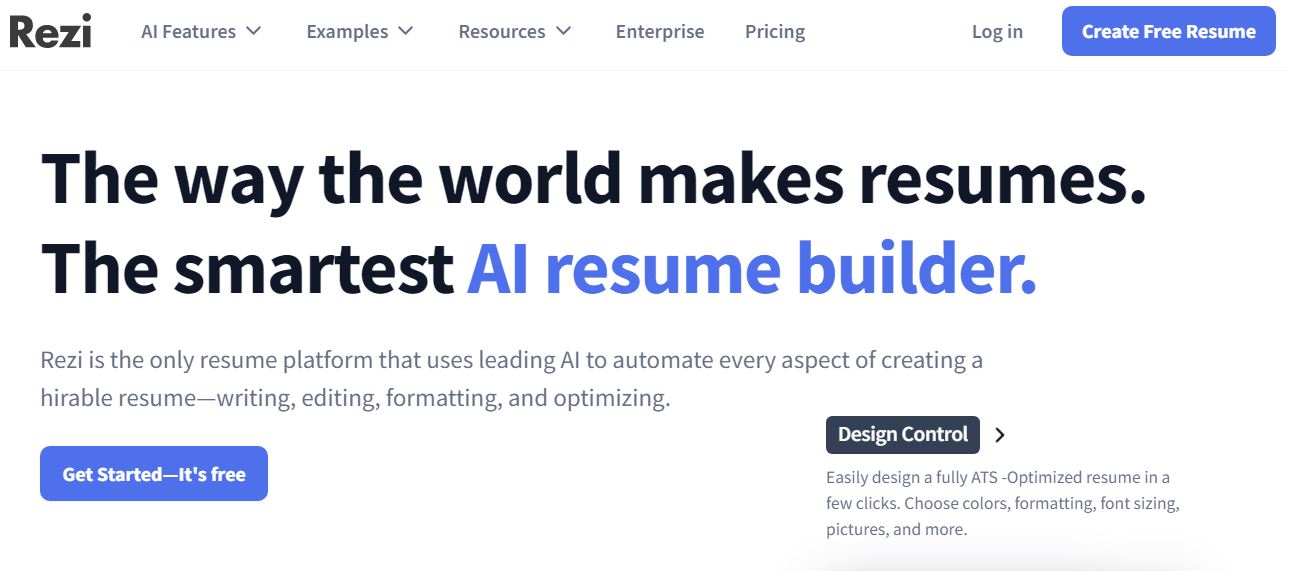 Score: 7.8/10
Pricing: From $29/month
Rezi is an AI-powered resume creator which offers pre-written content for different sections of your resume. Each summary is crafted for a specific job within your industry and optimized with keywords to pass through the Applicant Tracking System (ATS).
Rezi is a specialized online resume builder for ATS compatibility. Nowadays, numerous businesses utilize applicant tracking systems to go through resumes. Using Rezi resume builder, you can enhance your chances of getting past the initial screening phase with well-prepared resume writing.
Pros
ATS-friendly resume builder
Lifetime access with a one-time payment.
No credit card is needed for sign-up; the service is free.
Free plan with universal resume summaries suitable for various industries and job types.
Cons
Time-consuming
Not the easiest UI
Limited free trials
8. Resume Genius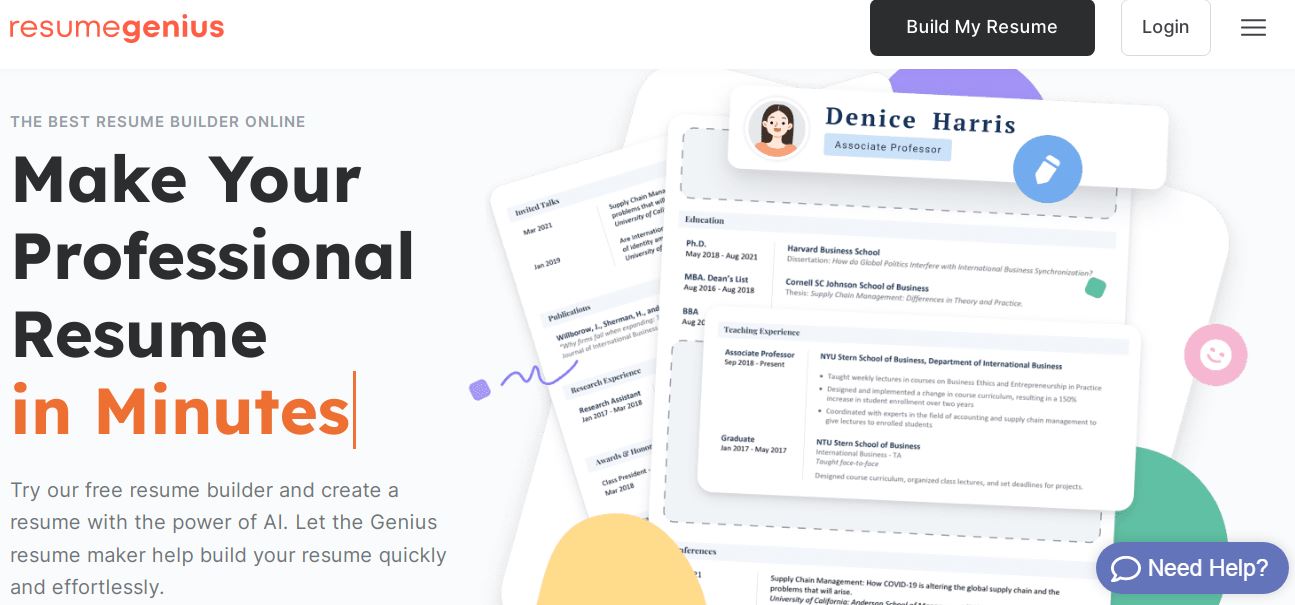 Score: 7.5/10
Pricing: $2.90 (14-Day Full Access, $7.95/month access)
Resume Genius is one of the most well-known professional resume summary creators. With just one click, you can generate an entirely new summary or follow the simple instructions to make your own in less than two minutes.
This straightforward AI-powered resume builder creates a summary for your CV, highlighting your most impressive qualifications, work history, and primary responsibilities. Key abilities, responsibilities, and accomplishments, as well as other highlights like certificates, come next.
Pros
User-friendly with guided assistance and hints.
Stylish and professionally designed layouts.
Generates random summaries with only a single click.
Can export resume to Microsoft Word format.
Cons
Time-consuming for personalized summaries.
Existing resumes cannot be used with this tool.
Requires specific order for entering information; offers no flexibility.
No free plan
9. Resume Worded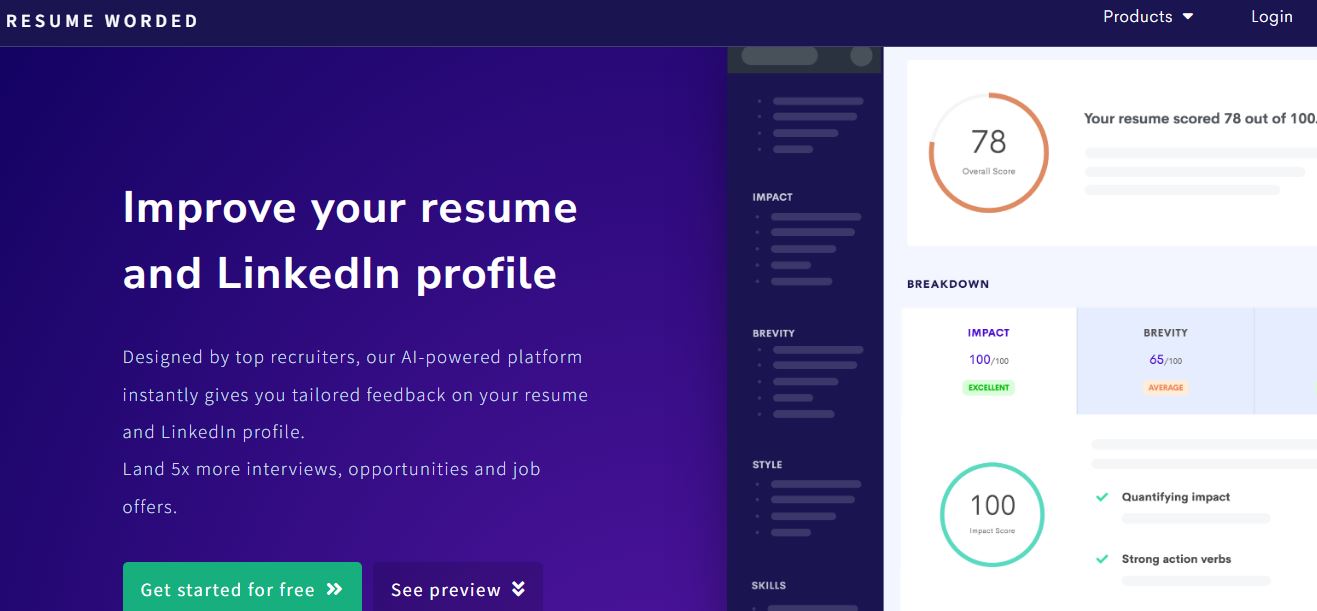 Score: 7/10
Pricing: Free, Premium Package at $19/month
Resume Worded is an intelligent writing assistant that can help you produce professional summaries in minutes. Users of this resource have a much better chance of sticking out from the crowd and making a good impression on prospective employers.
This state-of-the-art resume builder lets users quickly check how well their resumes match the requirements of the jobs they're interested in. Furthermore, Resume Worded provides applicants with unique insights that may be used to fine-tune their resumes for maximum impact.
Pros
Efficient and user-friendly resume creation process.
Decent number of templates
Algorithms to make resume more ATS friendly
Gives personalized feedback from recruiting experts.
Provides LinkedIn profile improvement strategies.
Cons
Limited creative resume layouts.
Few options for personalizing resumes and LinkedIn profiles.
10. Enhancv
Score: 7
Pricing: From $16.66/month
Enhancv is another AI-powered resume builder tool that can help you automate the process of resume building and CV generation. It allows you to choose from multiple templates, making your resume look exactly like you want it to look.
Summary, experience, and education are three main sections that this tool lets you cover. You can even add the achievements, skills, and language within your resume. Besides, changing the color and fonts could help you achieve a more professional look for your document.
Pros:
User-friendly tool e.g. drag and drop
Multiple templates available
Best for highly customisable resumes
Cons:
Expensive
No guide or tips are available for free plan
11. MyPerfectResume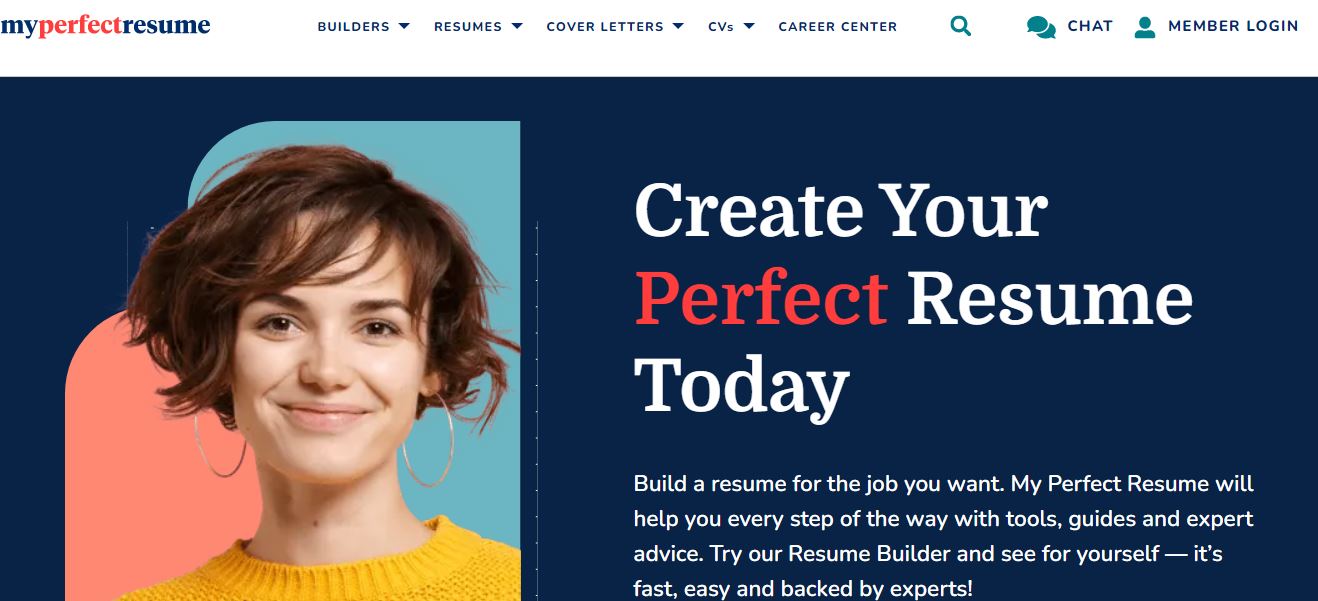 Score: 6.8/10
Pricing: From $2.95
MyPerfectResume is a valuable resume-building resource with a collection of beneficial templates. The platform redefines the resume creation journey with its user-friendly approach. It is your resume crafting wizard, guiding you step by step. It weaves your story with effortless elegance, offering user-friendly templates and expert insights.
But MyPerfectResume doesn't stop at resumes; it also offers perfectly paired cover letters, enhancing your job application. Although customization is available, it's restricted to color, font, and text size adjustments. Users can freely explore all templates and features to test the resume builder, but a subscription is required to download or print templates.
Pros:
Offers a vast selection of professional resume examples.
Allows editing of multiple resumes, making it easy to customize for different jobs and industries.
Provides resources for creating cover letters, with customizable templates available for download along with resumes.
Cons:
Lacks options for creating photo CVs.
Provides unhelpful customization options.
You must download templates as a Word document and open them in Google Docs to utilize them; many have formatting errors.
Subscription pricing plans are unclear, and there are limited download options without a subscription.
12. Resume-Now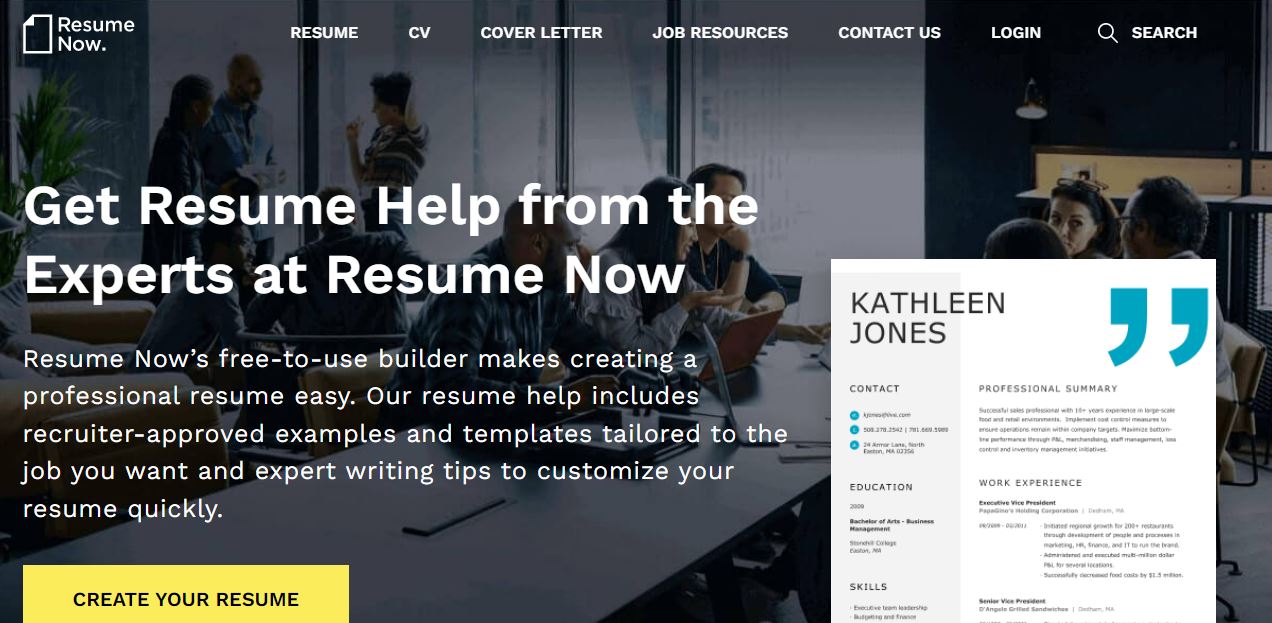 Score: 6.5/10
Pricing: From $3.25
Resume now is a platform which offers professional resume assistance, such as examples and templates authorized by recruiters that are geared toward the jobs. It also provides valuable writing advice to help users quickly customize their resumes for each job application.
Starting your resume-building journey is easy with this intuitively designed platform. It begins with template selection, opening the door to numerous possibilities. The editor seamlessly guides you as you choose, giving you the flexibility to create a new resume from scratch or refresh an existing one with a stunning new template.
Pros
Excellent customer support for a hassle-free experience.
Intuitive, user-friendly interface for easy resume creation.
Directly find job openings matching your qualifications on the platform.
Helps you access a variety of free, polished resume templates.
Customize formatting, style, and colors to match your unique preferences.
Cons
Some templates lack advanced formatting options.
A monthly subscription might be more expensive compared to the best free resume builders.
13. Teal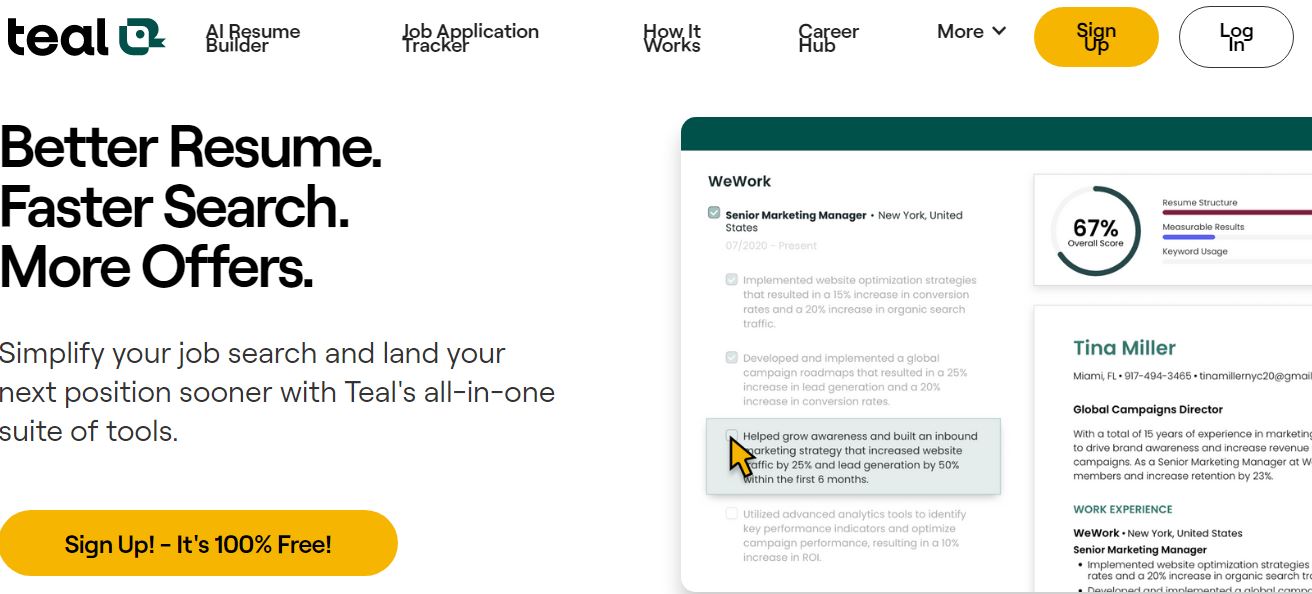 Score: 6/10
Pricing: Free, Premium Plans at $9/week, $29/month $79/3months
Teal Resume Builder helps people create professional resumes quickly and effortlessly using AI and GPT technologies. AI-generated summaries, achievements, and cover letters suited to the job descriptions can be created. Also, professional resume templates and real-time feedback on resume improvement make Teal a complete resume creation solution.
Teal builds resumes, organizes job searches, researches job openings, and keeps you motivated. It is a comprehensive, user-friendly tool for creating professional resumes for entry-level and experienced job searchers.
Resumes are easy to write with its intuitive interface. The builder offers many templates for various sectors and jobs. This variety lets users choose a format that suits their profession and position, providing industry-standard output.
Pros
Makes it easy to create bullet lists.
ATS-compatible resume templates.
It is a free resume builder (limited downloads)
Facilitates comprehensive job search organization.
Cons
Offers only four templates and seven resume colors.
Charges for premium features.
Generated cover letters are not fully automated.
Summing up
With the help of these AI resume builders, job seekers can surely save time while getting access to professional templates that can help them stand out from the other applicants.
If you want to find a flexible job that can offer work-life balance and other associated benefits, the 4-Day Week Job Portal can surely make your job search hassle-free. Don't forget to check it out!
Would you like a 4 day work week?