Software Engineering Salaries at FAANG companies
When it comes to the career aspirations of software engineers, many understandably harbour ambitions of working for FAANG companies - but what salary could you expect to earn?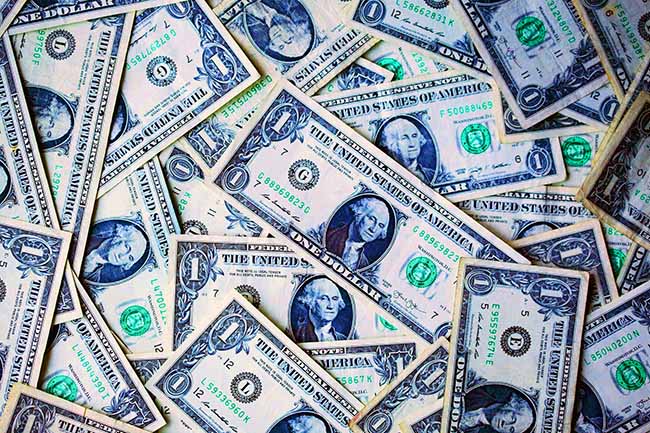 FAANG is an acronym that incorporates America's tech giants, including Facebook, Amazon, Apple, Netflix and Alphabet (formerly known as Google on the NASDAQ). The lure of these leading companies is clear, with a combined market cap of some $3 trillion - representing nearly 10% of the total market capitalization of the US stock market - workers can largely be assured of career progression opportunities and job security. But how much do FAANG companies pay their developers?
These five major tech players are among the most appealing employers across the world. They consistently find themselves listed among the top firms when it comes to employee and leadership training and development. They're also generally recognised as leaders in terms of recruitment and retention programs.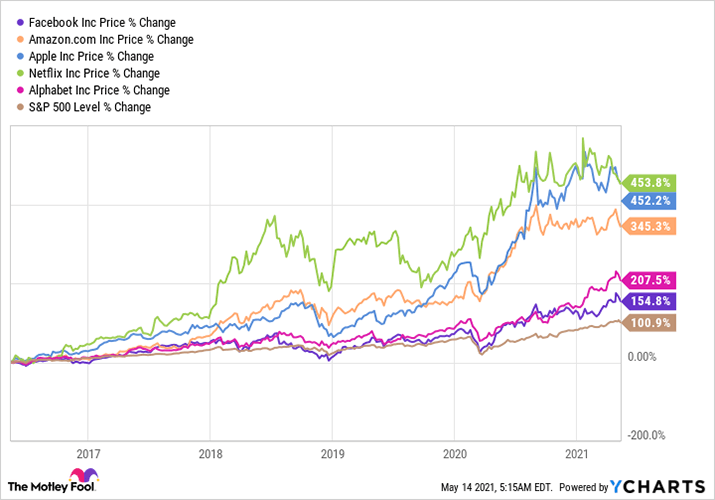 (Image: Motley Fool)
As the data above shows, we can see that FAANG companies have far outpaced the S&P 500 in terms of stock market growth, which helps to show that firms have plenty of resources to provide employees with job security whilst offering plenty of potential to innovate further.
Because these companies have such excellent reputations when it comes to developing new talent internally, FAANG engineers tend to become highly appealing to other companies around the world. In fact, a large number of graduates identify FAANG jobs as springboards to rich and illustrious corporate careers. For instance, if you harbour ambitions towards launching your own company in the future, it's likely that your FAANG experience will be appealing to investors when it comes to seeking funding.
Although FAANG jobs clearly offer a lot of benefits for prospective employees, we haven't yet addressed the question of salaries. Many associate roles at America's tech giants with bewildering earning potential, but what do realistic salaries in FAANG companies look like? Let's take a deeper look into the relative salaries associated with FAANG companies, as well as leading tech firm, Microsoft, for various employee levels, as well as the prospects surrounding progression paths.
FAANG Software Engineer Structures
Each company has its own structures in place for software engineers, ranging from positions to accommodate more entry-level, junior positions to appropriately recognising leading roles within the respective companies.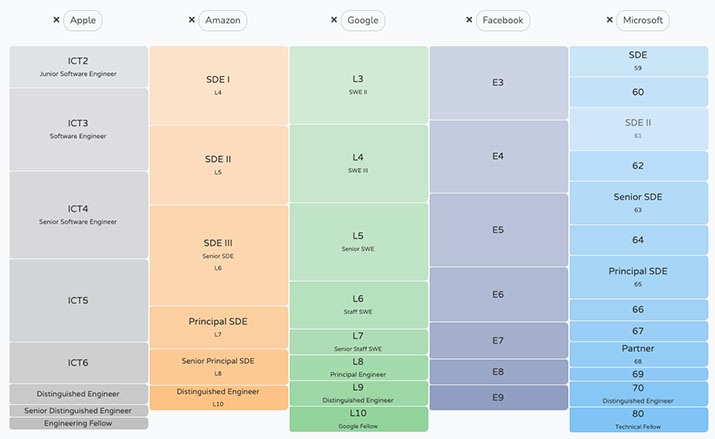 (Image: Levels.fyi)
As we can see from the data above, some FAANG companies implement more nuanced structures than others. FAANG engineers typically have a numerically level (e.g. SDE III / L5 at Amazon) correspond to the experience / progression of the employee.
These easy to follow structures are particularly present in the case of Facebook. At Facebook, Software Engineer levels run from E3 for junior-level software developers, to E9 for more distinguished engineers. At Amazon, Software Engineer levels instead start at "SDE I" for junior developers, to "Distinguished Engineer".
At Google, Software Engineer levels start at "L3 / SWE II" for junior developers, to "L10 / Google Fellow". At Microsoft, Software Engineer levels start at "SDE" for junior developers, to "Technical Fellow".
It's worth noting that Netflix hasn't been included in the above structural list. This is because the company doesn't offer similarly comprehensive structures and progression paths for its employees. However, while this may seem somewhat limiting, the competitive base salaries offered for senior roles can be largely attractive for experienced software engineers.
We can also see that Microsoft has the most steps in place along its SDE (Software Development Engineer) employment structure, with no fewer than 13 positions that software engineers can reach between their entry position of SDE and reaching the role of Technical Fellow.
Would you like a 4 day work week?
Understanding the Complexities of FAANG Salaries
Naturally, salaries can be complex subjects. Although many of us look to our yearly guaranteed sums to gain an overview of our earnings, there's also the matter of bonuses to take into account. In the case of many tech firms, it's also vital to acknowledge the matter of stock grants.
Stock grants are designed to keep a company's employees working for a set period of time. This type of grant can also be known as an employee grant, and a good example can be found in a tech firm granting a new recruit 50 shares of its stock that are vested over a period of two years. This means that the employee will gain their stock once the two years of employment is completed.
If an employee decides to leave before the predetermined period, they will lose their grant - making the system an excellent employee retention tool.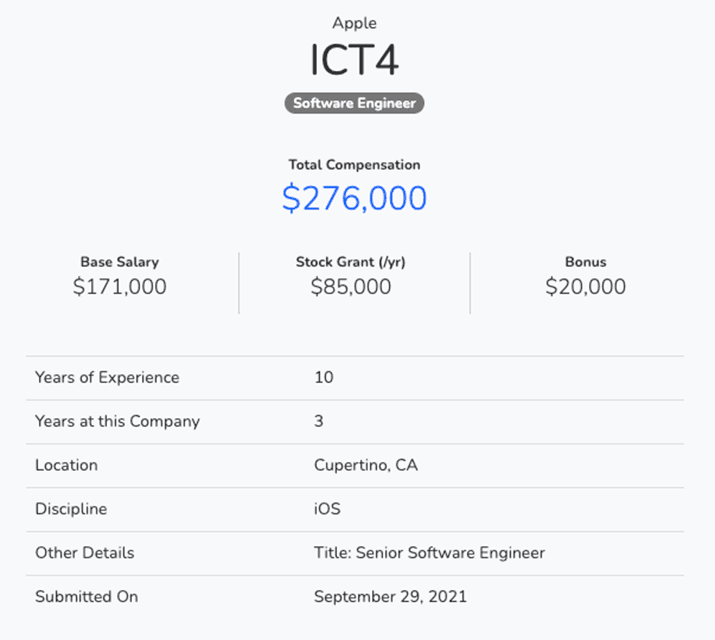 (Image: Levels.fyi)
As the Apple salary data from Levels.fyi shows, a senior role at Apple in Cupertino in California's Silicon Valley shows, stock grants can amount to a significant portion of the total earnings that an employee can expect to receive at their companies. This enables the total compensation they can expect to receive to become far higher than their base salary. Notably, Facebook and Amazon are particularly prominent when it comes to issuing larger stock grants as a means of retaining employees over long periods of time.
For the benefit of our comparison, let's now take a look at the various FAANG companies salaries - including reported stock grants and bonuses:
Junior Software Developer Salaries
Let's take a look at how FAANG companies perform when it comes to the recruitment of entry-level software engineers. To attain a comprehensive understanding of how Silicon Valley's tech giants treat their junior employees, it's worth looking to comparisons outside of the FAANG fellowship.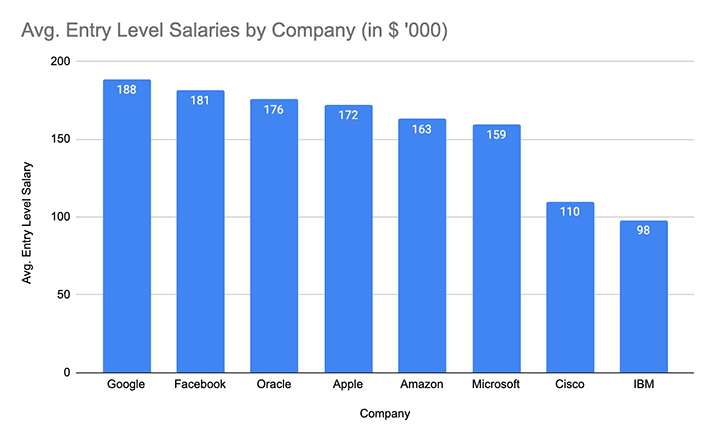 (Image: Interview Kickstart)
As we can see from the table above, FAANG companies generally offer a competitive salary that largely outstrips their non-FAANG counterparts - although we can see a significant exception in the form of Oracle, which generally pays better than Apple, Amazon and Microsoft in terms of entry-level salaries.
Although Amazon finds itself towards the bottom of the table for FAANG company entry-level salaries, the company generally offers a better base salary than Facebook - despite the social media leaders ranking far higher in the table above. This is because Amazon incorporates fewer stocks at this level - making it an appealing prospect for employees who may prefer the freedom of having fewer financial incentives to stay longer in return for better fundamentals.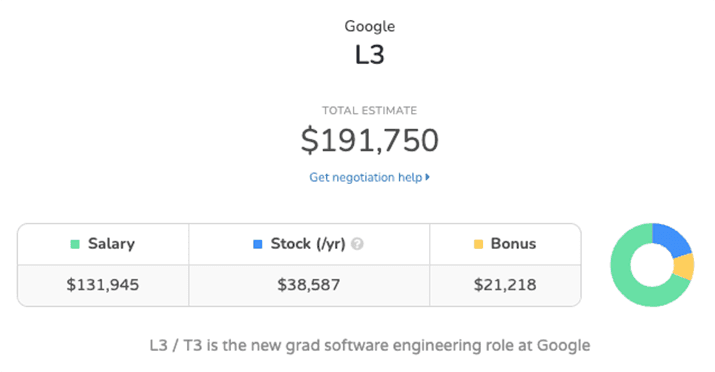 (Image: Levels.fyi)
There's little doubting that Google rules the roost when it comes to attractive salaries for junior software engineers. With a base salary of around $131,314, Google outstrips second-placed Apple's $126,913, whilst the $38,565 stock grant available to new recruits is beaten only by the $44,467 offered by Facebook at this level.
Senior Software Developer Salaries
Although there may seem to be little separating FAANG companies and their tech counterparts in terms of junior salaries, we can see clear evidence of a gap emerging between many of America's tech giants and their rivals when it comes to senior compensation packages.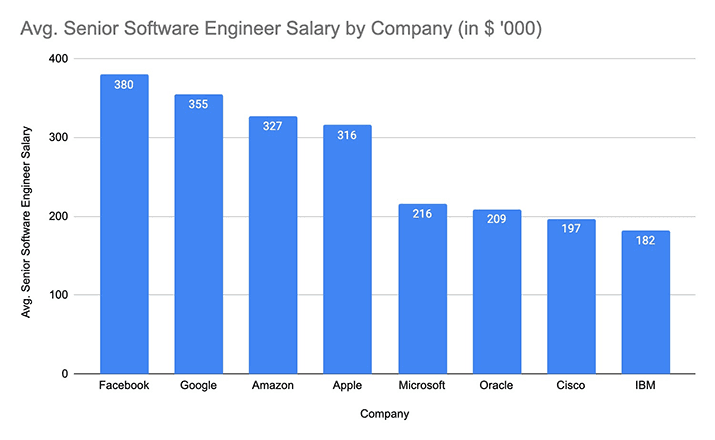 (Image: Interview Kickstart)
On average, Facebook, Google, Amazon and Apple have been found to offer around $100,000 more in senior software salaries than the likes of Oracle, Cisco and IBM. However, Microsoft's more modest salary structure at senior level means that this trend isn't entirely consistent among the FAANG group in its entirety.
However, once again, it's important to note that, despite Microsoft trailing its fellow FAANG companies in terms of compensation, the firm actually offers a higher base salary, $163,189, than Amazon, which weighs in at $161,424 for the role of Senior SDE. In this case, Amazon seeks to double the base salary with stock grants of similar value - though Microsoft's typical stock grant of $34,371 equates to a more modest total package.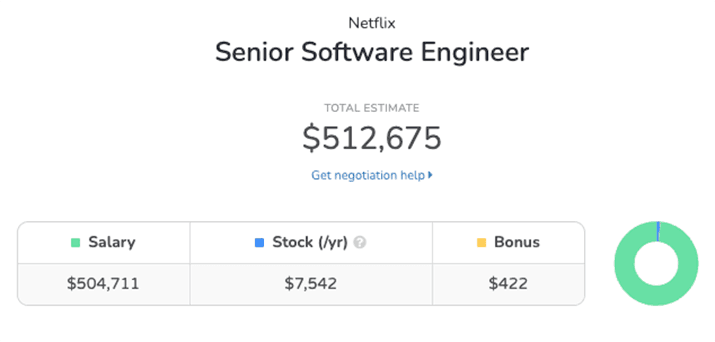 (Image: Levels.fyi)
Although Netflix doesn't boast the same comprehensive progression structure as their FAANG counterparts, we can see that the company offers a huge average base salary for senior roles, equating to $502,772. With lower portions of stock grants and bonuses, employees can rest assured that they will benefit from a steady income stream. It's worth noting, however, that Netflix's lack of progression means that this estimated salary may have been propped up by leading engineers falling into the same category.
With an estimated total compensation of $393,717, Facebook leads the way in terms of the best paying company when it comes to senior-level employment - with around 50% of total compensation amounting to a base salary, with the majority of the rest comprised of stock grants and a bonus.
At an estimated total compensation of $358,583, Google ranks in second place for senior-level wages, although features a marginally larger bonus of $38,231 for employees.
Lead Software Developer Salaries
Due to the scarcity of positions, data surrounding lead software developer salaries can be harder to source, and position titles can begin to vary significantly. Despite this, we can still look to employment structure data to gain a strong idea of how FAANG companies pay their employees.
Lead software developer roles come with significant financial reimbursement for employees and require a significant level of appreciation for work-life balance.
At the very top of Amazon's wage structure is the role of Distinguished Engineer. The role comes with total compensation of $960,000. For the same role, Apple has advertised jobs with attached salaries totalling $1,175,000 - however, both salaries lean heavily on stock grants to make up the bulk of the compensation attached.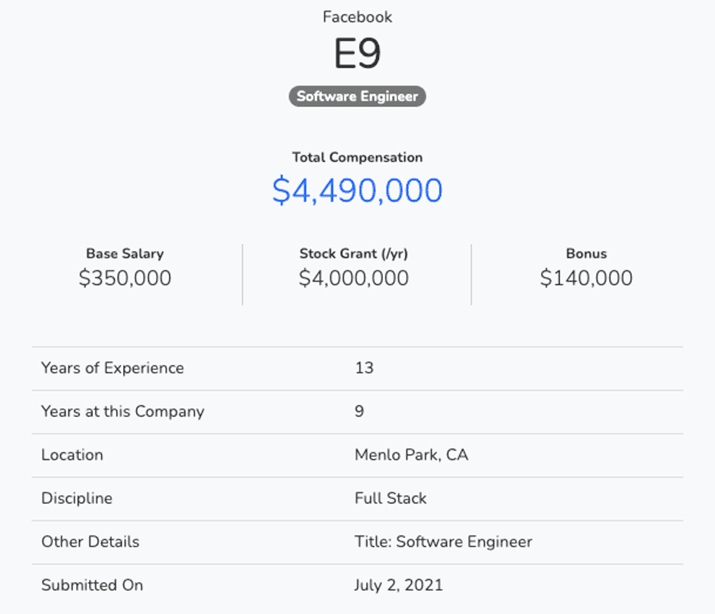 (Image: Levels.fyi)
Although Facebook's employment structure is far more formulaic in the engineer levels ranging from E3 to E9, its final salary range can extend to a total compensation of $4,490,000 - owing largely to significant stock grants and bonus packages.
The recognised pinnacle of Apple, Google and Microsoft's employment structures are titled Engineering Fellow, Google Fellow and Technical Fellow respectively. These represent the highest rank a software engineer can achieve and due to the rarity of the position, there is little data available to explore in terms of salaries for these roles.
However, from the data we've compiled, it's clear to see that FAANG companies largely offer a variation on compensation packages that can differ in volume of stock grants and annual bonuses. This enables software engineers in high demand to explore their options and the various perks that come with them.
Fundamentally, FAANG companies, as well as Microsoft, represent an extremely secure line of employment within a firm that possesses the resources to innovate for years into the future. From the flat structure of Netflix to the more nuanced levels-based employment utilised by Microsoft, Google and Facebook - each FAANG company carries its own set of perks and opportunities for its employees.
Psst...
Instead of considering a FAANG job, why not consider applying for a 4 day week (32hrs) role? ✨
Would you like a 4 day work week?