Team Tito
Simple, powerful software.
4 days @ 80% salary
~10 employees
100% remote
Dublin, Ireland
What we do
We build simple, powerful event software.
Tito is designed to provide a stress-free experience for organisers and attendees. We sweat the software details so that you can focus on planning a great event.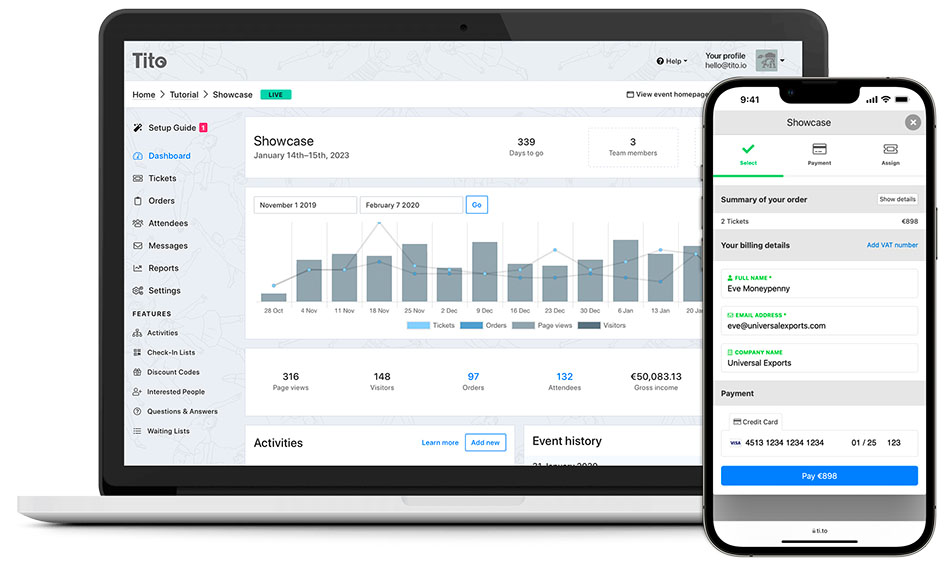 The three things that guide us:
Putting experience first for employees, our customers, and their customers
Building a product that helps our customers to be better at what they do
Providing responsive, personal customer support
Who we are
Team Tito is a software company based in Dublin, Ireland, with team members in Ireland and the UK.
Founded upon strong ethical values, we pursue excellence by aiming to provide the highest level of service and standards. We continually strive to create delightful experiences and to enrich people's lives with what we build and how we build. We want to be a force for good, and ultimately to inspire these values in our peers and our customers.

Founded by Paul and Doc, we started by building Tito, a growing platform and a sustainable business which has proudly processed over €520 million worth of tickets for thousands of organisers worldwide. We have received funding support from Enterprise Ireland and investment from a number of private individuals.
Our values
We care about:
Integrity
Our team
Our customers
Life outside the office
Inclusivity
Our product
And what you won't find at Tito:
Exponential growth
Meaningless engagement
A metrics-only approach
Ninja, rockstars or fantastic beasts
Our benefits
Open to a 4 day work week (80% salary)
Remote working
Healthy approach to work-life balance
Flexible working hours
Much more
Open positions
Fetching 4 day work week jobs...
Would you like a 4 day work week?