Findymail
The most complete B2B email finder, period.
Who we are
Find accurate emails for your prospecting with Findymail. Quality AND Quantity : all our emails are verified (really, not like "verified but 20% bouncing") + we find on average more emails than all the other tools
Scrape Sales Navigator, Linkedin, Apollo & more using our Chrome Extension to directly get CLEAN & USABLE email spreadsheets, saving you hours in prospecting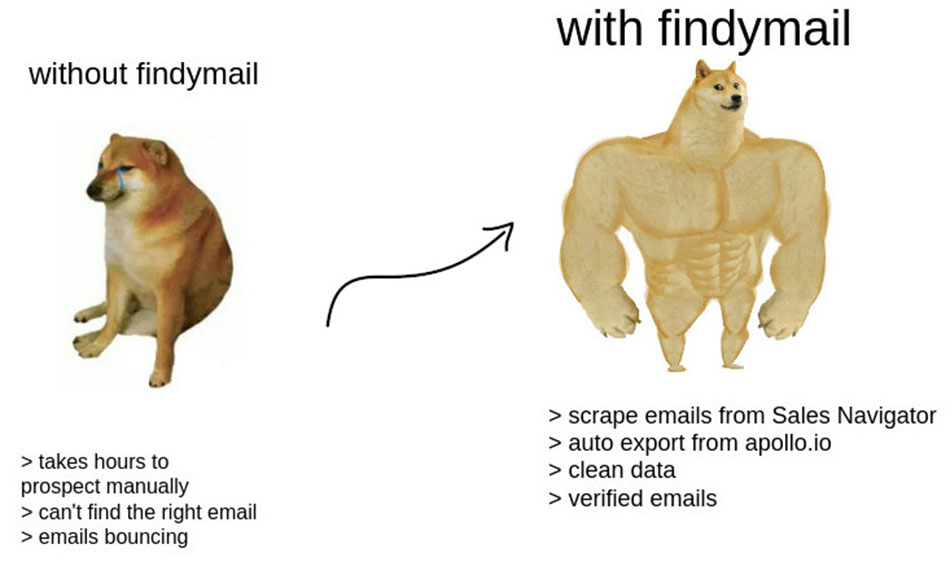 Working at Findymail
Early-stage startups are often associated with crazy working hours – that is not the case for us.
We believe people do their best work with balance and consistency. We offer flexibility in when you work and make sure that everyone's workload is manageable so that you're not thinking about work once you've signed off for the day.
Work-life balance: Early-stage startups are often associated with crazy working hours – that is not the case for us. All employees are on a 4-day work week standard. This ensures low-stress, enough rest and encitivizes to focus on what actually moves the needle.
Team spirit: We're looking for people with a balanced perspective. Our team is made up of a group of incredibly smart, kind people who get shit done. People who are comfortable taking on big ideas and figuring out the details along the way tend to enjoy the light-touch level of process that we use.
Flexible Work Arrangements: Findymail's work life is a hybrid one, encompassing both remote and in-office options (in Lyon, France). While we emphasize asynchronous work as much as possible, we also realize it's beneficial (and fun) to spend time together in person.
Our values are:
Playfulness
Craftmanship
Empathy
Accountability
Employee benefits
At Findymail, we value having a great work-life balance. That's why we offer:
4 day work week (32hrs)
100% remote working within Europe (or office in Lyon, France)
Asynchronous working i.e. very flexible working hours
And much more!
Open positions
Fetching 4 day work week jobs...
Would you like a 4 day work week?