Civo
Building the #1 cloud hosting platform for developers; moulded and shaped by our community.
4 x 8hr days
10-50 employees
100% remote
Stevenage, United Kingdom
Who we are
Our vision is simple. To create a flexible cloud platform created by developers, for developers. We think you should spend less of your time managing environments and hosting platforms, and more time coding – after all, that's what we always wanted.
Our story
Civo was born from a team who already had decades worth of experience in the hosting and data centre sector. Mark Boost our CEO was the founder of LCN.com which grew to become the 5th largest hosting company in the UK, before being sold in 2019.
Back in 2018 we were building a cloud platform for LCN.com, when we saw the need for a community-led cloud platform, focussing purely on Kubernetes. Born from necessity - this was the start of Civo.
In 2019 we launched the world's first K3s-powered, managed Kubernetes service into beta.
The beta was a huge success and over the next 18 months we continued to improve and refine the Civo platform.
Our product
We make it easy to setup a production-ready Kubernetes cluster, in seconds. Civo Kubernetes significantly reduces complexity, making it easy to build and manage your applications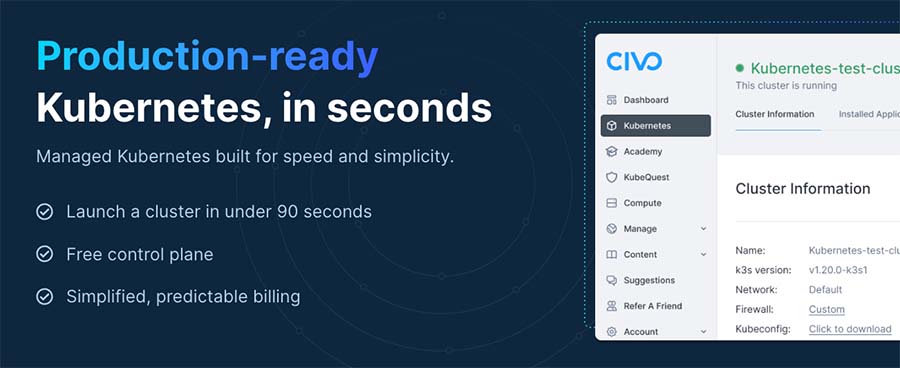 Our values
At Civo we are a values driven company. Our values are:

Always innovate. We find innovative and creative ways to solve our users problems with simplicity in mind.
Act with integrity. We speak honestly to our users and colleagues alike, and ensure our actions match our words.
Achieve excellence. We take pride in our work, always striving to do our best and deliver the highest standards.
Support each other. We build and maintain an encouraging, fun and supportive relationship with both our staff and wider community.
Stay positive. We start each day enthusiastic and full of positive energy to drive us forward.
Our benefits
We believe in developing your career and finding the right role for the right people. Here are just some of the perks.
26 days annual leave + bank holidays
4-Day Work Week
Frequent team events
Budget for equipment (M1 Macbook Pro, 4K screen, etc)
Private healthcare
Company pension scheme
Subsidised gym membership
Perkbox employee benefits platform
Open positions
Fetching 4 day work week jobs...
Would you like a 4 day work week?