South Africa
Starting in 2023, various companies in South Africa will be piloting a 4 day week with no loss in pay
Large 4 day week pilot
Africa
4 Day Work Week in South Africa
Although South Africa doesn't officially have a 4 day work week, many South African companies have recently started piloting a shorter work week. They join the 100's of companies who have already started trialing a 4 day work week (i.e. a 32hr week for 100% salary) as part of the 4 Day Week Global campaign.
These pilots will run for 6 months, started in February 2023.
Working Hours in South Africa
South Africans work some of the longest work weeks in the world, clocking in at over 40 hours per week on average. This is similar to worker in China, who normally work 6 days per week.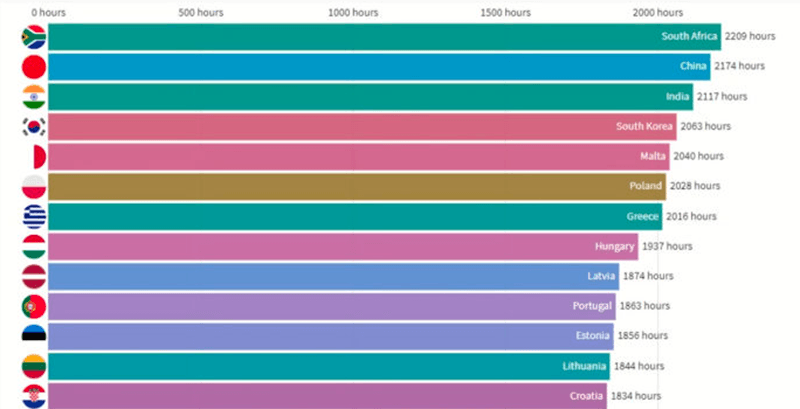 The Basic Conditions of Employment Act (BCEA) states that the maximum "normal" work week is 45 hours i.e. a 9 hour day excluding a lunch break. Any time beyond 45 hours should be paid as overtime.
Vacation Policy in South Africa
In South Africa, full time employees are entitled to a minimum of 15 days annual leave per year, plus 12 public holidays. Therefore the minimum number of days a South African can expect is 27 days per year. These laws do not apply to the military or various governmental organisations however.
The 12 public holidays are as follows:
New Year's Day: January 1st
Human Rights Day: March 21st
Good Friday: The Friday before Easter Sunday
Family Day: The Monday after Easter Sunday
Freedom Day: April 27th
International Workers' Day: May 1st
Youth Day: June 16th
National Women's Day: August 9th
Heritage Day: September 24th
Day of Reconciliation: December 16th
Christmas Day: December 25th
Day of Goodwill: December 26th
Part Time Working in South Africa
Part time working largely depends on the specific industry and sector in question. However, in general, it is not uncommon for workers in South Africa to hold down multiple jobs, including part-time positions.
According to the most recent Statistics South Africa report on employment, approximately 14% of the South African workforce was employed on a part-time basis in the second quarter of 2020. This is up from less than 10% in 2007.
Remote Working in South Africa
Historically, remote working wasn't very common in South Africa. Since the pandemic however, this has become a much more common style of working with somewhere between 26% and 50% of South African's now working from home.
Typically though, it is disproportionally the highest earners who have the privilege of working from home.
Would you like a 4 day work week?