Facebook Work-Life Balance and Finding an Alternative
Facebook is often cited as having a workaholic culture, but what exactly is Facebook work-life balance like? Let's go through some stats about life at Facebook and potential alternatives if you're looking for a better work-life balance in 2022.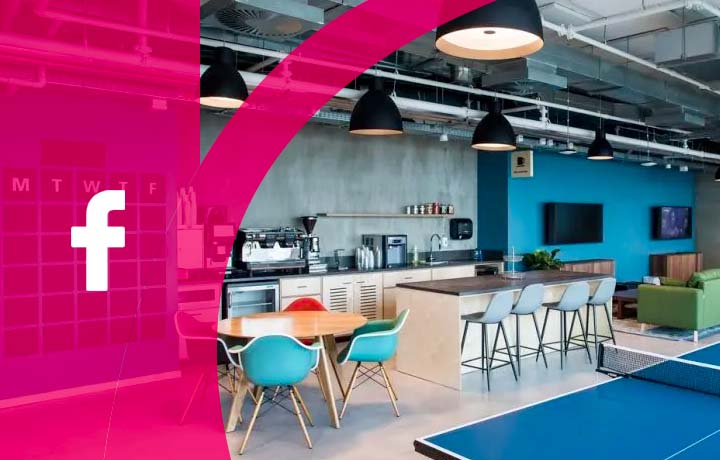 Burnout is on the rise, with a whopping of 52% of U.S. workers experiencing it in 2021. Unfortunately, not all workplaces are addressing this issue. For many it's business as usual, especially at fast-paced tech companies.
Striking a work-life balance isn't just about reducing stress and extra hours (though of course that's important). It's also about remaining a productive and happy employee in the long term. Without a good work-life balance, you can easily run out of energy to do good work.
So, what can of work-life balance can you expect by working at Facebook? Let's crunch the numbers...
Why Work for Facebook?
What is it like to work at Facebook? According to Glassdoor reviews by software engineers, Facebook ranks high as a great place to work. Its overall score is 4.3 out of 5, with some variations in different categories:
Overall: 4.3
Culture: 4.1
Work-life balance: 3.5
Compensation and benefits: 4.7
Career opportunities: 4.6
As you can see, Facebook is especially known for its excellent compensation and benefits, as well as career opportunities. This makes sense, as Facebook offers some of the highest value for employee benefits ($21k), entry-level software development salaries ($181k) and senior software developer salaries ($380k).
Besides pay and benefits, working for Facebook also provides other great perks, such as:
Generous vacation policy
Remote-friendly work policy
Possibility to do side projects
Top-ranked workplace culture
However, Facebook work-life balance has a score of 3.5, which is fairly middle-of-the-road. Let's explore life at Facebook so you can get a better sense of work-life balance there.
Overview of the Facebook Employee Lifestyle
It's important to remember that work-life balance at any company varies greatly depending on the department, team and individual.
That said, life at Facebook is known to be fast-paced. In fact, one of the company's early slogans was to "move fast" and "be bold," which gives you an idea of its culture. By definition, Facebook has an innovative, competitive culture that aims to build amazing products.
Would you like a 4 day work week?
Positive culture: A
According to reviews by software engineers, the workplace culture at Facebook is ranked as an A. Some positive aspects of Facebook's culture include a comfortable working environment, with perks such as free meals, on-site gyms, transportation, new parent pay and more.
In addition, socialization is common while working for Facebook and employees often connect at breaks, which is good for overall morale. It also has a flat organizational structure, so employees feel empowered and valued instead of micro-managed.
So-so work-life balance: C-
However, Facebook work-life balance for engineers is rated as C-. Much of this likely centers around Facebook working hours, which can range from 8-12 hours a day. Overtime is common at Facebook, with teams often logging hours at nights and on weekends.
At the same time, the fast-paced nature of Facebook may also spur a competitive environment where employees work hard to keep up with their peers and/or the high expectations of their managers. This will depend a lot on every employee's specific team and manager.
Work-life Balance According to Line of Work

Work-life balance may also vary according to your line of work at Facebook. For example, product manager work-life balance may be quite different from sales manager work-life balance.
However, ratings for Facebook work-life balance are fairly even across departments, with sales taking the highest spot with a C+ ranking, marketing with a C and the rest of the departments with a C-. This means that every area of Facebook has long working hours, though there's likely variation according to your team.
Team selection is vital
In addition to your line of work, your team can also play a big role in work-life balance. At Facebook, you have some choice of the team that you work on, so it's important to know your options and find the right fit for your work vision.
Take advantage of the opportunity to chat with different managers, go to team meetings and try out tasks before choosing your team. This will help you achieve the life at Facebook that you're looking for.
Typical Facebook Working Hours
One of the most grueling aspects of Facebook work-life balance is the working hours. Work time is fairly high, with typical hours often topping the typical 40-hour work week.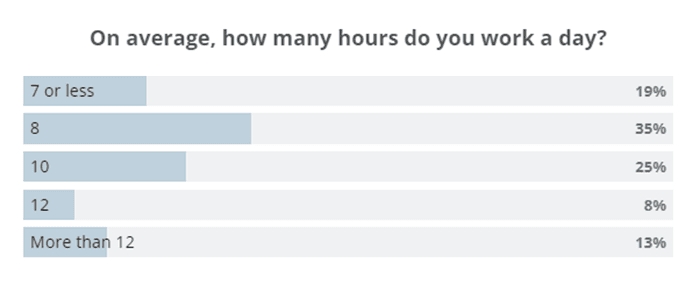 According to a survey by Comparably, average Facebook working hours can be quite challenging, with 46% of employees working 10-12+ hours on average. In particular, for pressing deadlines and releases, Facebook working hours can rise to 12+ hours a day (or 60+ a week), which is a huge time commitment.
Of course, Facebook working hours will depend on your project, role and individual priorities. Customer-facing projects will usually entail more hours, as well as specialized roles that are in high demand.

In addition, more experienced roles report a worse work-life balance. Employees with 6-10+ years of experience at Facebook rate work-life balance as a D+ or D. In this way, senior Facebook employees may face an even more difficult scenario for achieving work-life balance.
What Do Employees Say About WLB at Facebook?
Though work-life balance isn't great, 96% of Facebook employees are happy with their work, which is a good sign. Happiness rankings for all departments and levels of experience never go below an A.
However, the retention rate at Facebook is quite high, with employees staying for an average of 2.3 years. Work-life balance may have some sway on workers leaving, as 37% of Facebook workers aren't satisfied with their work-life balance and 47% of them feel burnout at work.
Of course, opinions vary about Facebook work-life balance. Here's a sample of opinions from employees and others about WLB at Facebook:
"Overall great company to work at especially if you are young, as the company doesn't have great work life balance, but huge opportunity to learn and push impact." -Anonymous
"I've worked with several ex-FB engineers. They left specifically because WLB was very bad and they started a family and needed less high pressure work." -Anonymous
"There are some engineers who choose to work more than 50 hours a week but we have at least as many with families and other commitments who keep a more standard schedule (I'm one of them)." -Jason Sobel
Find an Alternative to Get Better Work-Life Balance
Life at Facebook is diverse and will depend on your department, team and own priorities. Overall there's a sense that Facebook work-life balance is a bit tough and could be better, especially when it comes to Facebook working hours.
If you're looking for a better work-life balance in 2022, it may be time to resign and/or research your other options. Some tech companies are starting to offer 4-day work weeks in order to encourage work-life balance and protect their employees from burnout. In case you didn't know, 4-day work weeks can be hugely beneficial for employees and companies alike.
You may be surprised by the number of job openings out there for 4-day positions. Right now, you can find opportunities from companies such as Bolt, Tulip, PDQ, Headspace, Buffer, Dockwa, Atom and more. Get back in balance with your work and personal life in 2022 by checking out these 4-day work week job openings today.
Would you like a 4 day work week?