Does a 4-Day Work Week (32hr) Increase Productivity?
Discover the impact of a 4-day work week on productivity. Find out how reduced working hours can influence employee performance.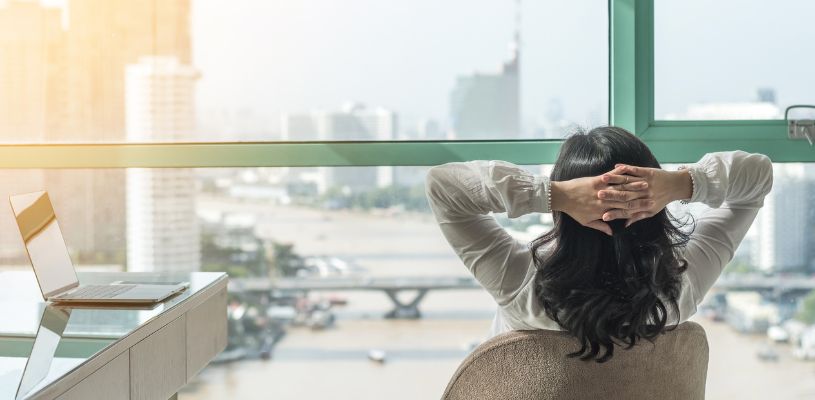 In today's fast-paced world, where work and personal life often blend, the 4-day work week is gaining popularity in improving work-life balance. Some companies try a 4-day schedule, giving employees an extra day off to recharge.
This trend has sparked curiosity, raising questions about its effects on productivity and employee well-being. Can a shorter workweek be just as productive?
Let's delve into its potential impact and join the ongoing discussions in the business community to explore whether this approach makes a positive difference.
What is a 4-Day Work Week?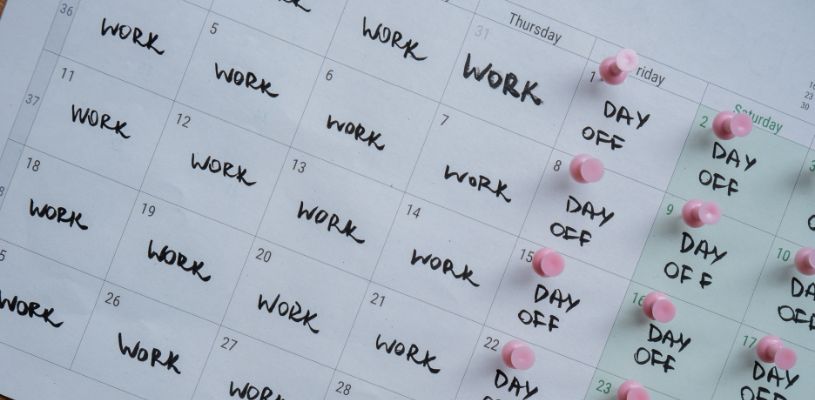 A 4-day work week is a reduced work schedule that allows you to work only four days from Monday to Friday.
It's described as a reduced work schedule instead of a compressed one because you would be reducing the standard 40 hours of a typical five-day week to about 32 hours, while still getting a full salary.
Although this reduced work schedule is the proposed approach, companies can use varying methods of the 4-day work week, such as:
Working for 10-hour days, four days per week, while getting a full salary
Working for 8-hour days, four days per week, while getting a full salary
Offering an optional four-day work week for all employees with an accompanying pay cut
Providing a four-day work week for specific employees whose roles allow flexibility.
And other options, such as a 4.5-day week, 4 day week during the summer and 4-day week every 2nd week
The 4-day workweek offers an appealing balance between work and personal life, and companies are adopting diverse approaches to implement it for the benefit of their employees.
Does it Increase Productivity?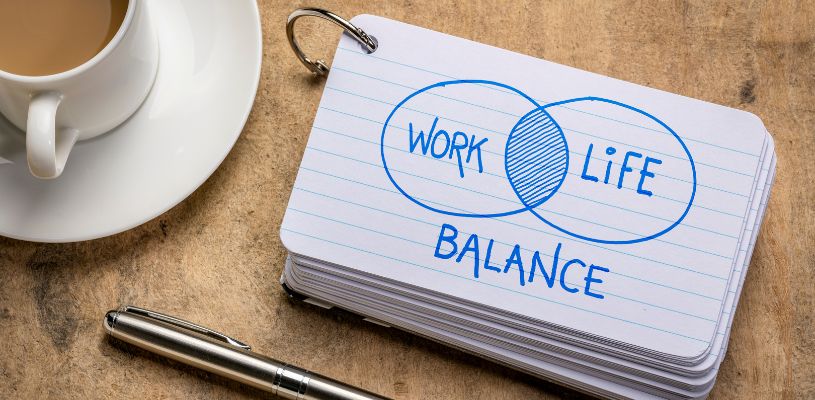 To address our main question about the impact on productivity, let's discuss multiple factors influencing how much work gets done.
1. Higher work intensity
Studies on the 4-day workweek show that a reduced workweek doesn't mean less output as productivity increases.
People naturally work faster when they have less time (Parkinson's Law)
Employees can pursue hobbies, spend time with loved ones, and recharge with an extra day for their personal life. This, in turn, leads to improved well-being and job satisfaction, which are important motivators for completing work tasks effectively.
2. Less time wasted on recruitment/onboarding
By adopting a flexible four-day workweek, employees experience significantly reduced work-related pressure due to the added freedom. The increased flexibility and work-life balance enhance their well-being and can be a powerful incentive for staying productive and committed to their job.
And when people stay at companies longer, there is less time wasted on recruitment and training/onboarding, resulting in higher productivity.
Would you like a 4 day work week?
3. Fewer Sick Days
You ultimately get more downtime when working a 4-day schedule instead of a standard 5-day schedule. As an employee, you'll be able to take better care of yourself and reduce your chances of burnout.
Reducing burnout is crucial for productivity because the higher the level of burnout experienced, the greater the likelihood of work absenteeism. And the more absenteeism in a company, the less output.
4. Improved Focus
With the 4-day work week offering improved work-life balance, employees can harness greater focus and engagement during their working hours. The allocated time for personal life allows them to value their time at work more and leverage it for enhanced productivity.
As a result, they are better equipped to stay focused and make the most of their work hours, leading to increased efficiency and effectiveness in their tasks.
Here's what happened to productivity when 41 UK based companies piloted a 4 day work week (32hrs):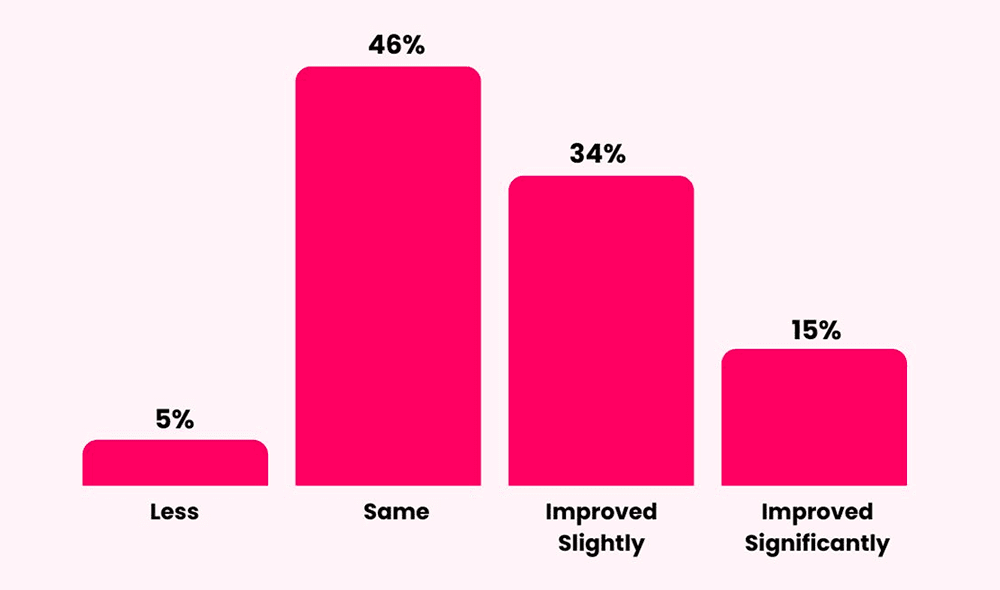 Source: 4 Day Week Global
Research on 4-Day Week Productivity
To determine the impact of a 4-day work week on productivity, we turn to the results of companies that participated in work schedule reduction experiments.
In-depth research conducted by Stanford University has revealed a clear correlation between a 4-day work week and productivity. Surprisingly, the study found that overworked employees are less productive than those on a 4-day work week.
Let's explore some insights from large-scale pilots and individual companies that have experimented with the 4-day workweek:
4 Day Week UK Trial
The UK 4 Day Week pilot trial, participated in by 61 companies, concluded successfully, with most companies continuing the four-day week policy. Of these, 56 companies decided to continue with the shortened week, with 18 firms making the policy permanent. Companies rated their overall experience with the trial at 8.3 out of 10 and affirmed that business performance and productivity were maintained, with both metrics scoring an average of 7.5.
Key performance indicators such as revenue, employee count, resignations, new hires, and sick and personal days taken were assessed, comparing data from the trial period with the same duration from the previous year. Even though other factors could have affected these metrics during the trial, revenue, a critical measure of performance, was compared for the companies that supplied sufficient data, taking into account company size for accurate representation. The results showed a broad positive tendency, indicating that the shorter work week did not negatively impact company performance.
USA, Canada & Ireland 4 Day Week Pilot
The 4 Day Week Global pilot program, conducted across the U.S. and Canada involving 35 companies and nearly 2000 employees, reported positive results. During the trial, an 8% rise in revenue was observed, with a significant 37.55% increase compared to the same period in the previous year. Additionally, hiring rates increased, while there was a slight decline in absenteeism and resignations, indicating enhanced productivity by implementing a four-day work week.
Perpetual Guardian
Perpetual Guardian, an estate planning company based in New Zealand, conducted a 4-day workweek trial in 2018. They found that although employees had less time to do the same amount of work they would do on a regular week, the number of stressed employees decreased by 7%.
Moreover, the trial also resulted in more employees reporting higher job satisfaction, motivating them to be more productive.
Microsoft Japan
In August 2019, Microsoft Japan tested a four-day workweek for their 2,300 employees, maintaining the same pay. The results were impressive, with a 40% increase in productivity, more efficient meetings, and happier employees. The company also planned to subsidize employee family vacations.
The trial saw a 25% reduction in employee time off and a 23% decrease in electricity usage. Paper printing dropped by 59%; notably, 92% of employees preferred a shorter work week. Despite these positive outcomes, the company has not confirmed whether this change will be permanent or implemented globally. However, another trial is planned for the coming winter.
Buffer
Buffer implemented a four-day, 32-hour work week and found higher productivity and employee well-being rates. According to a 2020 Gallup survey, such a schedule provided "more opportunities for nurturing social, physical, and community well-being." The shortened work week also had an added benefit for parents who now had to cover only four days of childcare.
Despite the reduced hours, Buffer's productivity increased. A comparison of employee productivity between November 2019 and 2020 showed that engineers were writing more code. In a recent survey, 91% of Buffer's employees reported feeling happier and more productive working four days weekly. The company found that cutting out nonessential tasks improved overall productivity.
Other studies
There have been many other 4 day work week experiments. For example, check out these companies who have made the switch and these countries who are experimenting with a shorter workweek.
Summing Up
While the 4-day workweek schedule may not suit every company, research strongly emphasizes its benefits for employee well-being, reducing burnout, and significantly boosting productivity. If your company is flexible enough to implement this transition, it's worth considering.
If you are interested in getting a 4-day week (32hr) job, check out our job board.
Would you like a 4 day work week?