Recruiting Coordinator Salary - How Much Can You Expect to Make?
Discover the average salary range for a recruiting coordinator and what factors influence pay. Whether you're applying for jobs or are looking to negotiate a better salary, we've got you covered.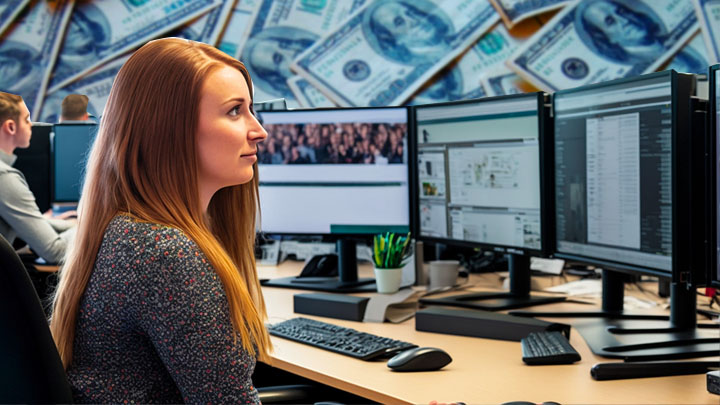 If you want a career that makes use of your organizational and communication skills, and you're interested in the recruitment process, then you might consider starting a career as a recruiting coordinator.
When weighing up any career, there's a lot to think about. Namely, what the job entails, the qualifications and experience you'll need, and the salary you can expect to receive both at the beginning and at the pinnacle of your career.
At 4 Day Week, you can find software jobs that offer everything you're looking for. Our platform highlights roles that offer a better work-life balance, with most jobs listed having a 4-day work week.
Among the careers offering these perks is recruitment (or talent acquisition if you're in the USA!. With this in mind, we've compiled all the information you need to determine what you can expect from a recruitment coordinator's salary.
What Factors Influence a Recruitment Coordinator Salary?
What you can expect to earn as a recruiting coordinator depends on a number of factors, all of which can have a huge impact on the salary you're offered. Let's look at some:
1. Education
Though it's possible to become a recruitment coordinator with just a high school diploma/GED, you can expect a higher starting income if you have a relevant degree. For instance, an Associate's Degree in Business Administration.
A degree will also make you more competitive. This means that you can pick the best recruiting coordinator job – with the highest salary – from multiple probable offers.
2. Years of Experience
Like with any job, you can expect or negotiate for a higher salary when you have more years of experience in the field.
After all, the more knowledge and expertise you have in the role, the more value you'll typically have to offer a company.
3. Seniority
In addition to the number of years experience in the field, your level of seniority will also increase your recruitment coordinator's salary.
When you've become a senior in your role, you've probably gained experience coordinating for many recruiters. Along the way, you'll have acquired valuable skills, such as the ability to train junior recruiting coordinators.
In essence, a senior recruiting coordinator typically has greater responsibility and possesses more skills that can provide value to a company. As such, they can expect to earn a higher salary. As recorded by Glassdoor, an average recruiting coordinator's salary is $57,071 annually, while a senior recruiting coordinator earns $62,163.
4. Geographical Location
In general, you can expect the recruitment coordinator salary to be higher in large, metropolitan cities where the cost of living is high. A recruitment coordinator salary will typically reflect the competitiveness of the employment landscape and the cost of living in the region.
For example, a recruiting coordinator based in New York City can expect to earn $66,873, according to Glassdoor. On the other hand, the average salary for a recruitment coordinator in Omaha, Nebraska is $49,194.
5. The Company/Organization
Like most jobs, bigger, more prestigious organizations usually pay their recruiting coordinators more. They're willing to offer the largest salaries to attract the best talent and ensure the people they're hiring are a good fit for their business.
The size of the organization will also determine the number of recruiters for whom you coordinate. The larger the company, the more recruiters you'll typically work with, and the more responsibility you'll have. As such, larger companies will typically compensate accordingly.
For example, according to Glassdoor, the average salary at Meta is $88,988, which is 92% above the national average for a recruitment coordinator.
Would you like a 4 day work week?
Recruiting Coordinator Average Salary by Experience
Total Compensation as a Recruiting Coordinator
As a recruitment coordinator, you can expect your entry-level salary to be around $47-48k, rising to $70k+ as you achieve greater seniority in your role.
Usually, recruiting coordinators can enjoy benefits such as a defined pension contribution plan such as a 401(k). Many recruitment coordinator jobs also offer access to equity and stock options that enable employees to boost their earnings.
Recruitment coordinators are generally given good health and dental insurance. Many companies – like Amazon – also offer their recruitment coordinators a range of other insurance products, including life insurance and vision insurance.
Aside from financial benefits, across-the-board recruiting coordinators report having a decent work-life balance. Some employers - like Meta - even offer unlimited PTO to their recruiting coordinators, which can be a large incentive for prospective employees.
How Does a Recruitment Coordinator Salary Compare to Similar Jobs?
| Position | Average Salary | Average Bonus |
| --- | --- | --- |
| Human Resources Administrator | $50,762 | $2,919 |
| Talent Coordinator | $46,685 | $10,231 |
| Recruiting Coordinator | $52,135 | $9,866 |
| Talent Acquisition Specialist | $53,345 | $15,946 |
| Human Resources Manager | $74,352 | $7,125 |
Though these people-centric positions may seem similar, how they're compensated can vary significantly.
This largely depends on the duties they're responsible for, and the volume of experience and skill required to perform the role effectively.
For example, the salary for a human resource manager is around $20k more than for a mid-level recruiting coordinator.
The higher salary is because human resource managers are responsible for the maintenance and management of all staff. This includes everything from dealing with compliance and employment law to improving the working culture within a firm. In contrast, recruiting coordinators focus primarily on attracting and organizing the acquisition of new employees.
How Does a Recruitment Coordinator Salary Compare by Company?
Recruitment coordinator salaries may differ between companies because of differing levels of responsibility. In a larger organization, a recruiting coordinator may coordinate recruitment tasks among a broader range of applications, and ensure a greater number of people are kept abreast of these activities.
Having said this, salary variation between firms is usually more reflective of the business itself than the duties associated with the role. Put simply, the largest organizations generating the greatest profit – like FAANG companies – will have the capital to offer a competitive recruitment coordinator salary. This allows them to attract the best candidates.
How to Negotiate a Raise
After researching the salary of a recruitment coordinator, you might come to the conclusion that you're not being paid enough.
If this is the case, it might be time to negotiate a raise. How well you carry this out will impact whether you receive the raise, the percentage increase in your salary, and even whether you maintain good relations in your office.
In other words, it's important to get it right.
With this in mind, here are the four things you should do when negotiating a raise to produce the most successful outcome.
1. Do Your Research
To negotiate the best raise for yourself – while avoiding angering your employers by asking for too much – you must thoroughly research your role and salary. That way, you can set your expectations for the raise you can expect to receive, and you'll have more confidence when you come to negotiate.
You can obtain this data from Glassdoor, which compiles information and salary data for various careers. Be ready to present this data when you meet with your employer.
2. Get Ready to Justify Your Worth
More than researching what those in similar roles are earning, make sure to gather data on how you are quantifiably adding value to the company in your current role. This can really help to persuade your employer that you're worth the raise.
3. Be Specific About What You Want
When you meet with your boss, you should have a figure/percentage salary increase in mind, in addition to any added benefits - such as stock options - that you may want.
You should also be ready to defend how you came up with the figure. By being specific, you're more likely to get the best deal for yourself, than if you leave it up to your employer to suggest a figure.
4. Prepare for a 'No'
Although it's quite likely your employer will be willing to at least consider giving you a raise, you should prepare for how you'll deal with a boss who's more reluctant – or who may say no outright.
If you don't prepare for a 'no', you won't be able to turn it into a yes. So, make sure to prepare a respectful argument to show them why giving you a raise is the right choice.
If your employer still says no, then you may need to decide whether it's worth staying at your current job for the salary you earn. If not, becoming a recruiting coordinator for another company might prove more lucrative in the long term.
Recruiting Coordinator Salaries: What's the Verdict?
With a median entry-level salary of around $48k, and an additional $8-9k usually earned in the form of equity, stocks and/or benefits, a career as a recruitment coordinator offers a solid starting salary and plenty of room for progression.
As a recruiting coordinator gains more experience and eventually becomes senior in their field, they can expect to earn a salary of around $70k and upwards of $16k in additional earnings.
Among similar Human Resource centered roles, recruiting coordinators are among the highest earners, although Talent Acquisition Specialists, HR Specialists and Human Resource Management positions typically have higher earning potential.
At 4 Day Week, we help job seekers looking for a better work-life balance to find remote software jobs and more. Most jobs listed on the platform have a 4 day work week comprising 32 hours, while offering competitive salaries.
Conclusion
Most recruiting coordinators can hope to earn around $55k (including benefits such as bonuses and equity) at the beginning of their career, which can grow to around $90k at the senior/executive level.
Having said this, your earning potential as a recruitment coordinator will be significantly impacted by the organization by which you're employed and where this organization is based.
And if you'd like a recruitment job with a 4 day work week, check out our latest HR jobs.
Would you like a 4 day work week?