Program Coordinator Salary: A Comprehensive Remuneration Analysis
In this post we detail the average salary ranges for program coordinator roles in various industries, and learn what factors can impact your earning potential.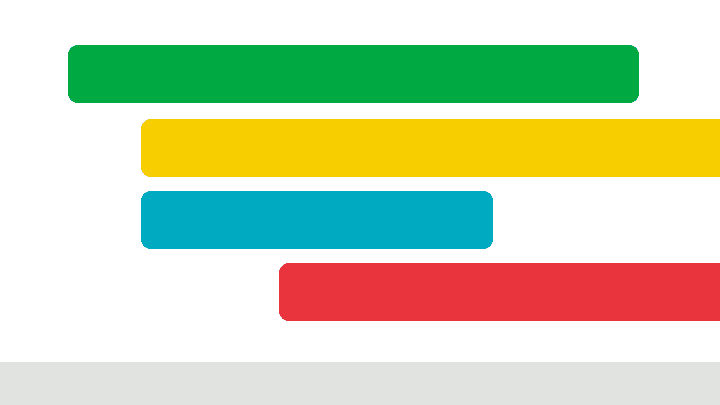 Curious about how much a program coordinator makes? Well, you're querying it at the right time since program coordinator jobs are in high demand now. Many industries require them, and from 2018 to 2028, program coordinator job growth opportunities are expected to increase by 13%.
As one of the most senior program board members, a program coordinator's salary is competitive and negotiable. In addition, although a business degree is nice to have, many employers look at skills and experience when hiring entry-level candidates. A PC career is interesting and offers exciting job progression opportunities.
72% of job seekers agree that work-life balance is important when changing jobs. If you believe that all work and no play make Jack a dull boy, create more time to do the things you love with a shorter working week... signup to our newsletter to receive alerts for jobs with a better work-life balance.
But first, let's look at some approximate program coordinator salaries.
What's the Verdict on Program Coordinator Salaries?
All salary information is correct as of 9th January 2023.
According to Glassdoor's U.S. salary estimates, the most likely salary range for a
program coordinator at any experience level and in any industry is between $41,000 to $60,000. The median pay is $49,526; this total comprises $47,350 base pay and $2,177 additional pay. Additional compensation may include bonuses and profit sharing.
A program coordinator's take-home salary rests on the experience level, industry, and other components discussed in the next section.
According to the latest Glasshouse figures, the approximate total pay for a program coordinator in IT at any experience level is $55,061, and for a program assistant working in IT, it's $44,421. The Aerospace & Defense program coordinators are among the highest paid: $63,081, while the Hotels & Travel Accommodation industry pays the lowest: $46,674.
Factors That Influence Program Coordinator Salaries
According to Glassdoor figures, there is a $19,000 difference between the lowest and highest most likely salary range, and it's possible to earn up to $72,000.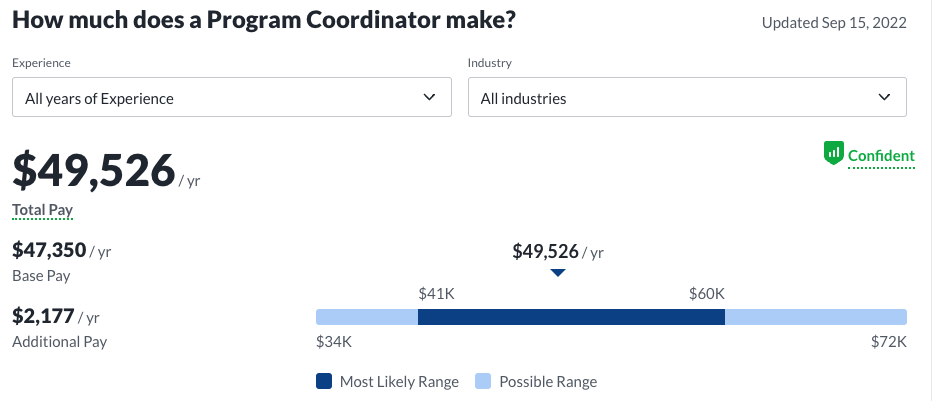 But how is the total salary decided? Here are some significant factors that will affect your take-home pay.
Relevant Work Experience
Employers highly favor previous experience, and the number of years of experience you have will determine your seniority level, thus, pay. For example, two years of entry-level experience could get you an intermediate PC role in IT for a salary of approximately $56,384.
But, you can still become a program coordinator without PC experience.. Relevant experience in a supervisor or leadership position may also be accepted
for an entry-level job.
Would you like a 4 day work week?
Region
The cost of living is tied to salaries. The most expensive city in the U.S. is New York, with the least expensive being Mississippi. If we compare the salary for an IT program coordinator in these cities, the approximate wages are $56,614 and $45,957, respectively.
Industry
Program coordinator roles can vastly differ depending on the industry. For example, IT and Finance are among the sectors with the highest estimated worth. In 2023, the Finance and Insurance U.S. market will be worth $5.7 trillion, while IT is expected to reach $440.20 billion. We will compare the salaries for PC roles in various industries below.
Negotiate Skills
Many employers welcome salary negotiation during the interview process, and if you feel your skillset is worth more than the stated salary, feel free to negotiate. Prepare to persuade your prospective boss to pay your asking salary with examples of how your skills and experience will benefit the company.
Get a rough idea of how much to ask for by checking the current national averages on websites like Glassdoor. For the best figure, factor in your years of experience,
geographic location, and industry.
Essential Skills of a Program Coordinator
Employers typically look for the following skills when considering a suitable PC candidate:
Excellent organization and time management
Strong verbal and written communication
Solid leadership skills and ability to motivate people
Budgeting, bookkeeping, and reporting experience
Detail-oriented and meticulous
Great customer-facing skills
MS Office proficiency
Do Program Coordinators Feel Fairly Compensated?
Based on a recent Reddit conversation, PCs are relatively happy with their salaries,
ranging between $40,000 to $90,000. Industries ranged from government to healthcare, to IT, to construction. Most PCs in the discussion began their careers with previous relevant experience as opposed to acquiring specific PC certifications or business admin degrees.
Average Program Coordinator Salary by Seniority and Years of Experience
These are the most likely salary ranges for an IT Program Coordinator by seniority and experience. All data is available on Glassdoor.
| Seniority | Years of Experience | Most Likely Pay Range |
| --- | --- | --- |
| Entry Level | 0-1 | $43,000 - $63,000 |
| Intermediate | 1-3 | $47,000 - $68,000 |
| Mid-Level | 4-6 | $52,000 - $77,000 |
| Senior of Executive Level | 7-9 | $56,000 - $85,000 |
Based on these figures, an entry-level program coordinator can significantly increase their salary by at least $42,000 after a few years of experience. Employers typically increase pay based on knowledge and skill set, so PCs have the potential to jump from entry-level to senior in less time than outlined in the table.
When progressing through the seniority levels, here's a rough idea of what the most likely pay increase ranges could look like:
Entry-level to Intermediate: $4,000 - $5,000
Intermediate to Mid-Level: $4,000 - $9,000
Mid-level to Senior Level: $4,000 - $8,000
The years of experience here can be used as a general guideline. The time taken to progress to each level can be reduced to two years. In addition to acquiring the skill set, additional education such as a Business degree or specialized Program
Coordinator certification may help you to climb the ladder quicker.
How Do Program Coordinator Salaries Compare to Other Jobs?
The table below compares the salary of an IT Program Coordinator with other IT program roles. All salaries are based on data from Glassdoor.
| Position | Estimated Salary | vs Program Coordinator Salary |
| --- | --- | --- |
| Program Assistant | $44,420 | -$10,641 |
| Administrative Coordinator | $49,412 | -$5649 |
| Program Supervisor | $54,848 | -$213 |
| Development Coordinator | $61,208 | +$6,147 |
Program coordinators are generally paid more than program assistants, program supervisors, and administrative coordinators, and here's why:
The program assistant performs general supporting administrative tasks and reports to the program coordinator.
Program supervisors handle the technical aspects of the program. They help in contract negotiation and contractual changes.
The administrative coordinator handles all administrative tasks to keep the organization running smoothly. They are the point of contact for their colleagues and clients and establish operating policies and procedures.
The program supervisor is paid slightly less than a PC since their role helps to develop and expand the business product line.
Typically, coordinators are paid more than assistants due to experience and the requirement to handle complex tasks. They have more responsibilities, such as managing and leading.
On the other hand, the development coordinator generates income for the business, so they are generally paid more than program coordinators. A development coordinator is responsible for lead and sale generation, coordinating promotional activities, and sustaining client relationships.
How Do Program Coordinator Salaries Vary in Various Company
Lastly, let's look at the program coordinator salary ranges at the top five highest-paying companies. All salaries based on data from Glassdoor.
| Company | Most Likely Salary Range |
| --- | --- |
| Google | $74,000 - $119,000 |
| Visa Inc. | $73,000 - $118,000 |
| Microsoft | $71,000 -$119,000 |
| Amazon | $63,000 - $99,000 |
With global IT spending expected to reach $4.66 trillion in 2023, this industry has bigger budgets to spend on program coordinator salaries. And these four companies offer tech services in some capacity.
Google is known for paying its employees well, offering its program coordinators a median total pay of $93,046, followed by Microsoft, who pay their PCs a handsome $91,751 per year. Visa Inc pays a median salary of $92,106, and Amazon's yearly salary is $78,216.
Get a Program Coordinator job with a 4 day week
As you embark on a new career journey, prioritize your 'you time' with a shorter work week without affecting your salary. Sign up to our platform today to receive weekly alerts for jobs with a 4 day work week (from 32hrs to 35hrs / week) e.g. here are some project manager jobs with a 4 day work week.
Let 2023 be the year you join thousands of remote tech workers, reducing stress and improving their well-being with shorter work weeks.|
Would you like a 4 day work week?