Figma Salary Guide: How Much Do Software Engineers Earn?
Curious to know what a software engineer can earn at Figma? In this article, we'll discuss average the salary, bonus and RSU of software engineers at Figma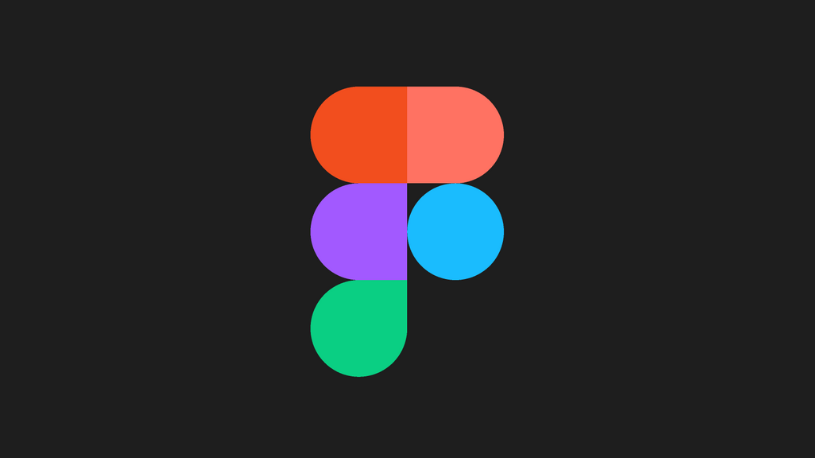 Figma is a revolutionary cloud-based design tool that has allowed numerous designers, startups, and companies to create mesmerizing user interfaces for their websites, applications, logos, and more.
But you know what makes Figma stand out? The answer, in two words, is Figma employees. The power-packed team of software engineers, data scientists, and managers are responsible for the phenomenal success of Figma. This, however, raises one curious question: how much do the seasoned data scientists and software engineers earn at Figma?
This article discusses the compensation structure of engineers and data scientists working in Figma. So, without any further ado, let's get started.
How Much Do Software Engineers Earn At Figma?
The occupational level and job title decide the salary of software engineers at Figma; nonetheless, the average salary for the engineering department at Figma is $148 849.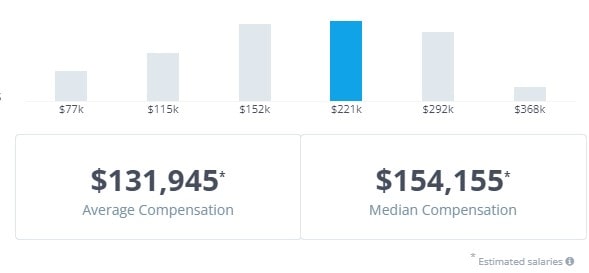 Source: Comparably
However, the engineering department is divided into various levels, and the salary differs according to the specific level. It generally follows that the higher the level, the higher the salary. Now, let's break down the salary of software engineers at Figma based on different levels.
Level 1 Figma Software Engineer
Level 1 software engineers at Figma generally have the lowest salary. This is because they have limited experience and are usually hired straight out of university.
The lowest base salary for a Level 1 Software Engineer at Figma is $125,000, while the highest salary for this level is $150,000 annually.
Level 2 Figma Software Engineer
Level 2 software engineers at Figma usually have a few years of industry experience, allowing them to take on more advanced responsibilities in the company. Therefore, the lowest-earning Figma employees at this level bring home a base salary of $170,000.
On the other end of the scale, the highest salary for a Level 2 Figma software engineer is $185,000.
Level 3 Figma Software Engineer
Multiple Figma employees work at this level in Figma, and they usually have different levels of industry experience. This is why, in some cases, Level 2 software engineers at Figma can earn more than Level 3 software engineers.
Figma pays the lowest-earning Level 3 software engineer a base salary of $100,000 yearly, while the highest-earning Level 3 software engineer brings home $220,000 yearly.
Level 4 Figma Software Engineer
Figma employees at this level earn slightly more than their lower-level counterparts. However, this rule has some exceptions due to the amount of experience some employees at Figma have at these lower engineering levels.
Currently, Figma pays the lowest-earning Software Engineer at this level, $200,000 per year. Conversely, the highest-paid Level 4 software engineer earns a base salary of $250,000 (plus $500k in RSUs).
Level 5 Figma Software Engineer
There is only one reported salary for a Level 5 software engineer at Figma, and this employee earns $245,000 annually - plus $460k in RSUs. While this might be lower than the highest salary for a Level 4 software engineer, the employee also gets a significant equity stake in the company.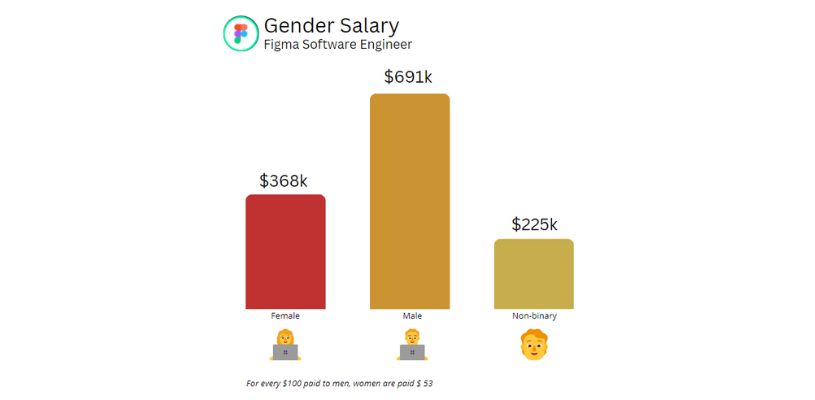 Source: 6figr
What Factors Influence the Salary of Software Engineers at Figma?
Some other factors also influence the salary of software engineers at Figma. Let's briefly talk about each of them:
Would you like a 4 day work week?
Experience
The experience level significantly affects the salaries of software engineering employees at Figma. A lower-level software engineer can earn more than a higher-level engineer if he has more experience. So, while your job title impacts Figma salaries, the amount of experience you have will also play a major role.
For instance, a Level 3 API development software engineer at Figma with no experience earns $35,000 less than a Level 2 full-stack software engineer with two years of experience.
Location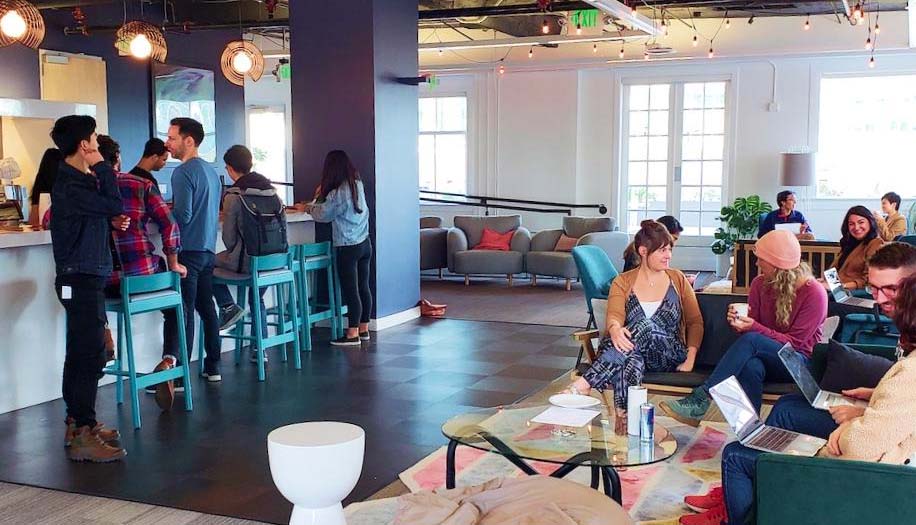 Figma has San Francisco, New York, Tokyo, and Berlin offices. However, many software engineers at Figma may work remotely as well.
As you may expect, software engineers at the San Francisco and New York offices tend to earn the most - due to the exceptionally high cost of living in these cities.
Bonuses
Some employees at Figma can earn performance bonuses, and software engineers also fall into this category. However, the amount an employee will get from their bonus will depend on their performance, job title, and experience.
Stock Vesting Schedule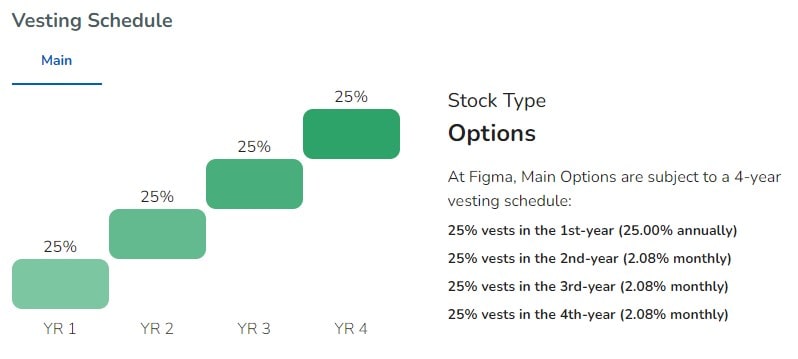 Source: levels.fyi
On top of bonuses and base salaries, software engineers at Figma often earn equity in the company through restricted stock units. However, there's a vesting period before you can purchase the equity. The stock vesting schedule is as follows:
25% of stock vests in the first year (25% annually)
25% of stock vests in the second year (2.08% monthly)
25% of stock vests in the third year (2.08% monthly)
25% of stock vests in the fourth year (2.08% monthly)
How much do Figma employees earn on average by department?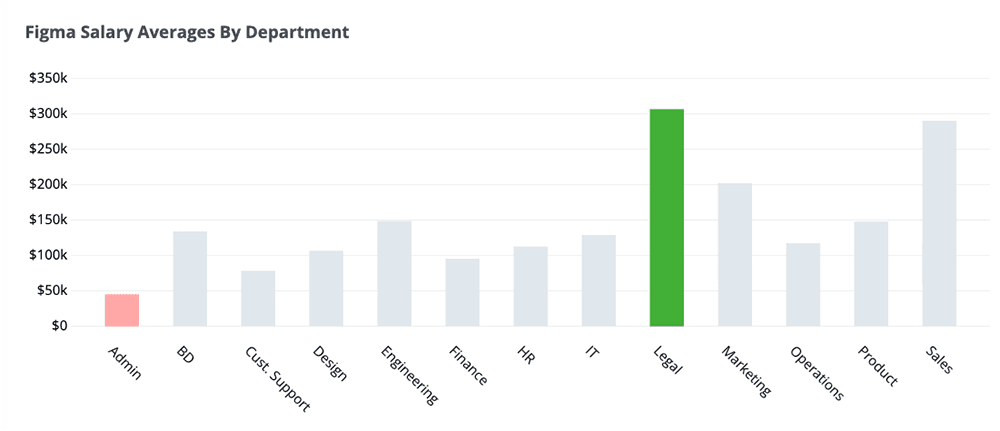 Source: Comparably
The average salary for each department is as follows:
Product department: $148,204
Engineering department: $148,849
Marketing department: $202,356
Design department: $106,842
Operations department: $117,447
Admin department: $45,327
Business development department: $134,021
Finance department: $95,520
Customer support department: $78,471
HR department: $112,735
IT department: $128,963
Legal Department: $306,715
Sales department: $290,290
What Benefits and Perks Does Figma Offer to Its Employees?
Figma offers a wide range of benefits to all its employees. These benefits include:
Insurance
Health insurance
Vision insurance
Dental Insurance
Disability insurance
Life insurance
Mental health care insurance
Health savings account
Retirement
Time off
Maternity leave
Paternity leave
Family medical leave
Bereavement leave
Sick leave
Sabbatical leave
Paid time off
Perks
Free lunch or snacks
Pet-friendly workplace
Gym membership
Mobile phone discount
Commuter checks and assistance
Professional support
Job training
Diversity program
Professional development fund
Final Thoughts
Now that you have read our extensive salary guide, you may be interested in pursuing a career at Figma. The attractive compensation, extensive perks, and valuable on-the-job training make Figma a suitable career choice.
So, if you're a software engineer looking for your next move, Figma is a great company to work for.
However, if you'd prefer a job with a better work-life balance, check out our jobs with a better work-life balance.
Would you like a 4 day work week?