DevOps salaries: The complete rundown & how to get a raise
DevOps and Site Reliability Engineers are in high demand. But what do they get paid? In this article we discuss the average salary for DevOps Engineers and how to get a raise.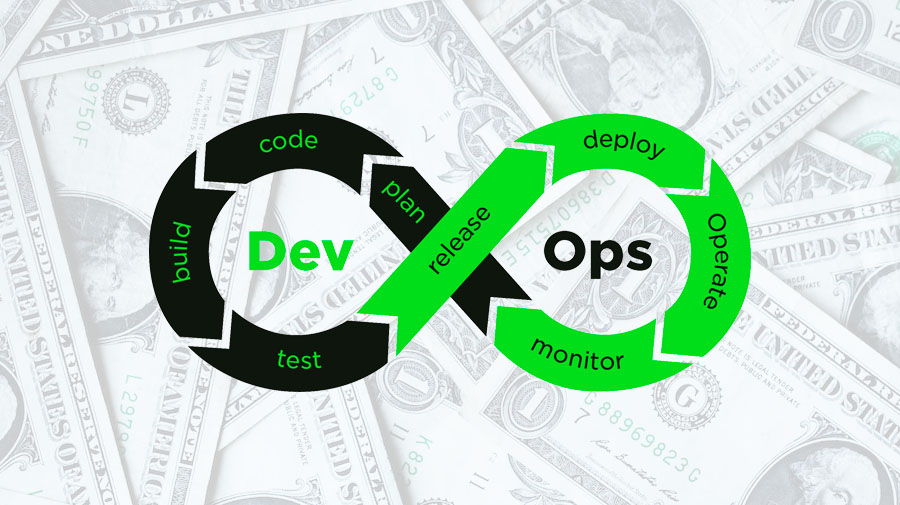 Thinking of becoming a DevOps engineer? We don't blame you. The DevOps engineer role is in the top 10 of Glassdoor's 50 best jobs in America report. DevOps engineers are some of the highest-paid tech professionals globally. Not only do they command lucrative 6 figure salaries but they're also highly sought after.
This article walks you through what you can look forward to earning in this role and the factors that determine DevOps salaries. When you're ready to accelerate your DevOps career, have a look at open DevOps vacancies at 4 day week . Let's get started.
Demand for DevOps engineers
You may be wondering this: what's fueling this demand for DevOps engineers and why are their salaries so high? For starters, we're using technology for everything from work, to school, and home.
As famously put by Mark Andreesen:
"Software is eating the world".
Looking specifically at the DevOps engineering role, the job involves creating streamlined, automated processes for fast and improved releases in the software development lifecycle.
This is to ensure that we get those important software updates, and new features for the apps we use in everyday work and life among other things.
To paint a clearer picture, here are just some of the factors that contributed to the demand for DevOps engineers and how that relates to the high salaries they command.
1. Digital transformation
When you look at the ICT industry as a whole, there's been an increase in demand for IT professionals in the last 15 years. This has been because companies have been implementing digital transformation plans in order to gain a competitive advantage.
However, the effects of the pandemic accelerated digital transformation to new heights. It's no longer an advantage, it's critical for business survival in this economy.
2. Job growth
The Bureau of Labor Statistics projected the growth rate of certain computer and Information technology roles to be 25% from 2021 to 2031. This is higher than the projected growth rate for all other occupations. According to Bain& Company's 2021 technology report, job postings that required DevOps as a skill grew by a whopping 443% from 2015 to 2019. Machine learning skills came in second with a 417% growth followed by data science and software engineering.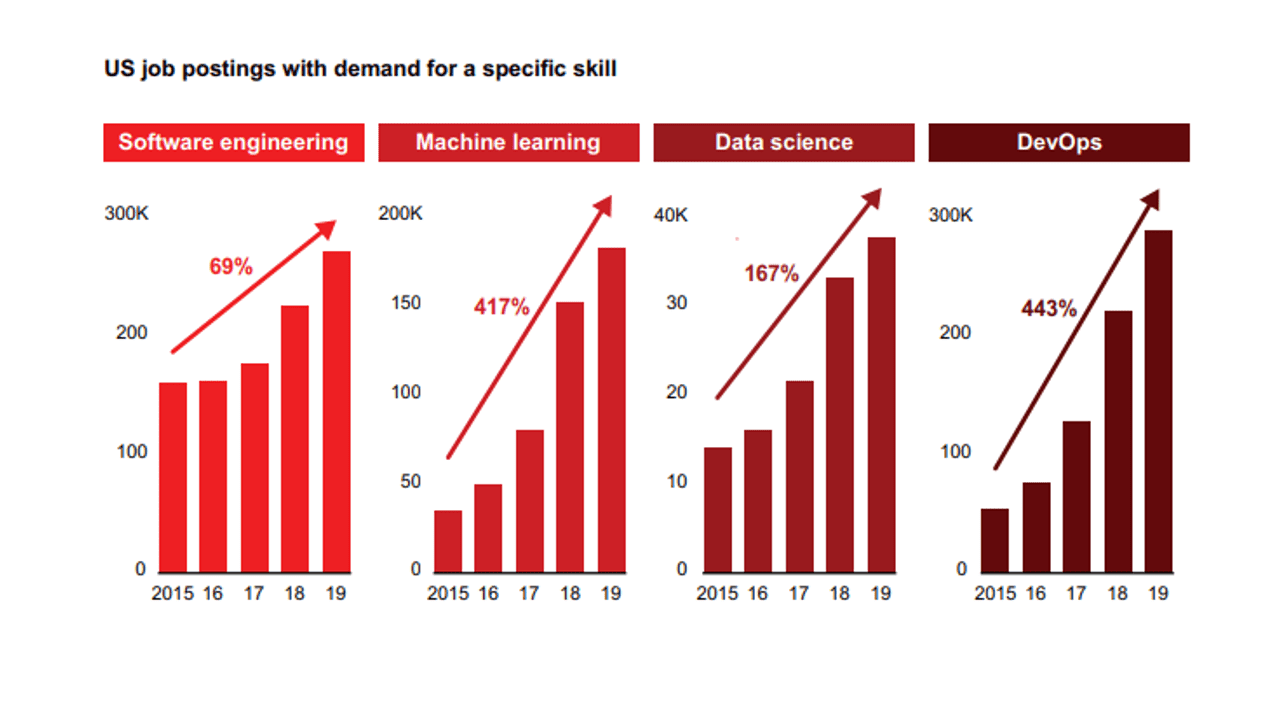 3. Critical skills shortage
As more companies adopt the DevOps philosophies, they look for skilled and experienced DevOps engineers to implement those philosophies. But companies are finding it difficult to scale DevOps, with 48% saying that finding skilled talent is the biggest challenge according to the 2021 Technology report.
It's not just tech companies vying for the best talent. From pharmaceuticals, and manufacturing to real estate, competition is fierce. As companies compete to attract the best candidates, they beef up budgets to offer attractive salaries, and this competition by companies for talent is what drives up salaries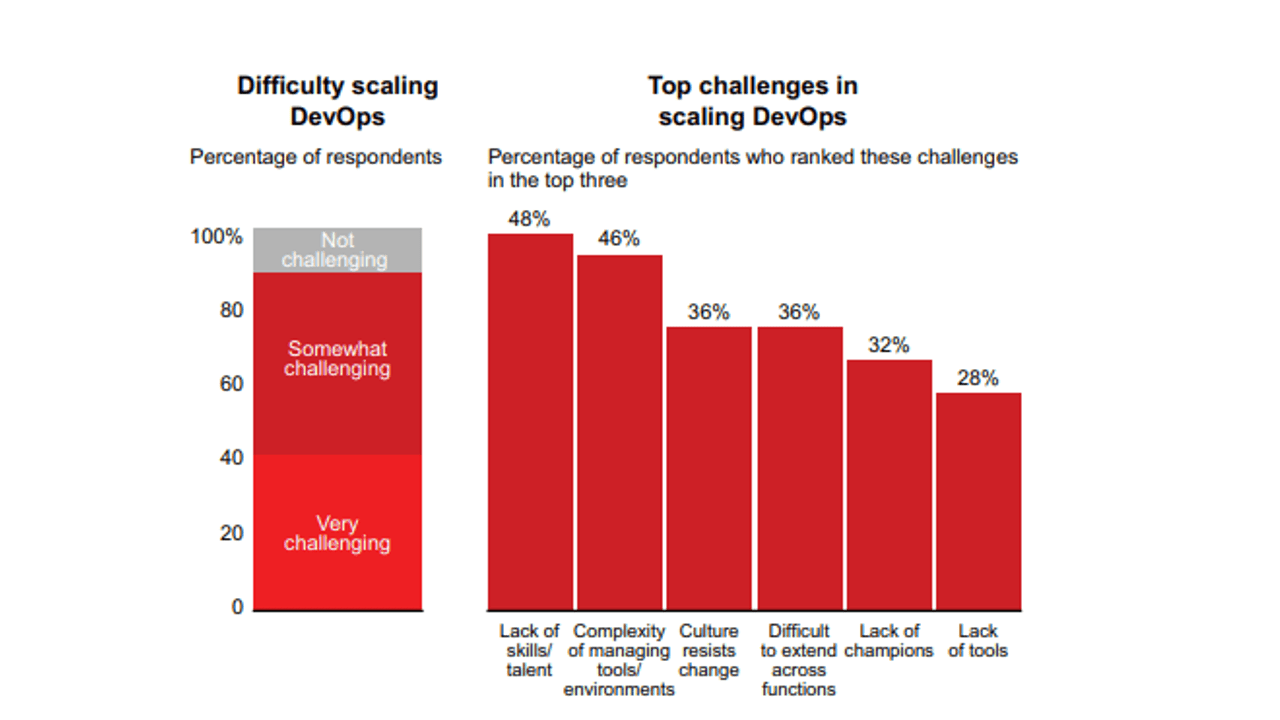 Let's take a closer look at what the average DevOps engineer earns.
The average salary of a DevOps engineer
This is based on salary data obtained from platforms that conduct surveys of the people working in DevOps roles across the US.
On Builtin, the average salary of a DevOps engineer is $127,030 with the minimum recorded salary being $56k and the maximum being $325k. When you add an additional cash compensation of $15,402, the total compensation package goes up to $142,411. We can also see the salary ranges below with the $130-$140k range being the most common among respondents.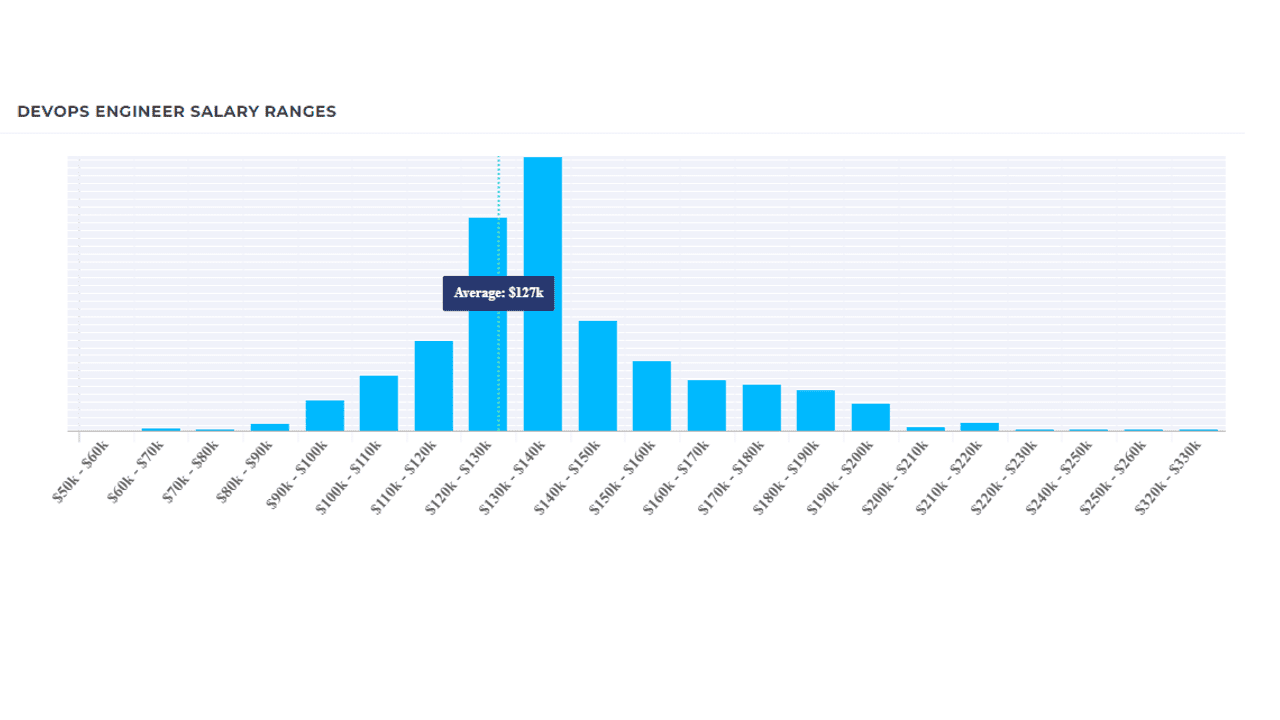 Payscale's median salary for a DevOps engineer was $99,234 based on 2704 profiles. The total pay ranged from $67k to $151k. Total pay included base salary, bonuses, and profit sharing (but excludes equity and non-cash benefits).
Glassdoor reported the base pay to be $103,615 with an average additional pay of $28,139. This brings the total pay for an average DevOps engineer to $131,754 excluding non-cash benefits.
The average pay from these 3 platforms becomes $124k. This is still quite high considering we haven't included any benefits. Let's compare this average salary with related jobs in the field with data from Glassdoor.
| Job Title | Salary |
| --- | --- |
| Linux Administrator | $115,221 |
| Site Reliability Engineer | $124,818 |
| Linux system administrator | $102,031 |
| Release engineer | $117,825 |
The DevOps engineer salary is high compared to other related jobs. Why? A DevOps engineer has to know and understand these jobs and possess the related skills to perform their DevOps role. For example, they need to maintain the infrastructure and know the basics of how to manage a server as would a Linux administrator. These wide-ranging skills and proficiency with the many DevOps toolsets are what contribute to the high pay.
Factors that determine DevOps salary
DevOps salaries are determined by your level of experience in the role, the company size, industry, location, as well as your skills and qualifications, and job rank. Let's look at how pay varies for each of these factors.
Would you like a 4 day work week?
1. Level of experience
The average salary of a mid-career DevOps engineer with 5-7 years of experience is $142k. As expected the salary range is lower for someone starting their career. Junior DevOps engineers with between 1-3 years of experience are relatively well paid, making close to $100k.
Someone starting their career as a DevOps engineer with less than one year of experience can expect a salary in the range of $60-$80k.
In this instance, entry-level isn't necessarily someone fresh from school with no experience. This is because to be a DevOps engineer, you still need significant experience and an in-depth understanding of both development and operations.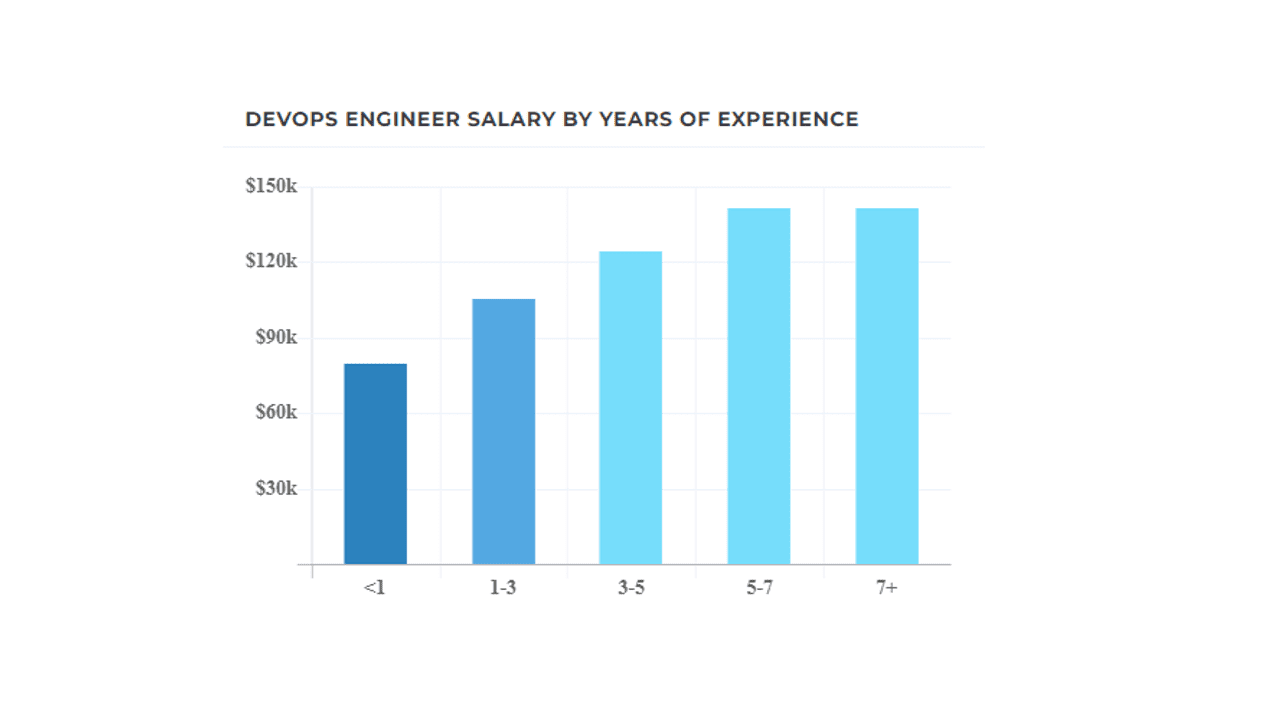 Most DevOps engineers transition into the role from either having experience in operations or development, for example, as a system administrator or a developer. There are conversations around whether there's even such a thing as an entry-level DevOps job considering the extensive experience you still need to qualify even at entry level.
If you're getting excited at the prospect of becoming a DevOps engineer, have a look at our DevOps vacancies. At 4 day week we list remote engineering jobs that offer a 4-day week with no salary reduction.
2. Location of the job
The location of a job can influence the salary because of factors such as cost of living and local demand for work.
Places like San Jose and San Francisco are known for their big tech presence. Silicon valley- the high-tech business area that's home to 30 of the biggest tech companies attracts some of the best tech talent worldwide. It's no wonder the median household income is $117,324. S
o it comes as no surprise that California is the state with the highest DevOps engineering salaries followed by Washington.
3. The company size and industry
This 2020 State of DevOps Report by Puppet showed that DevOps engineers working at companies with well-established DevOps practices reported the highest salaries.
Salaries also varied by company revenue size. 22% of respondents working at companies with more than $1 billion in revenue reported earning salaries between $150k-$250k. Notably, industries with the highest reported salaries were measured based on the percentage of practitioners earning more than $100k.
The top 3 industries were Life Sciences, Healthcare, and Pharmaceuticals (LSHP) with 64%, followed by Finance with 53%, and Technology with 45%.
4. Skills and qualifications
The average job posting for a DevOps engineer required, at a minimum, a bachelor's degree in computer science or related field with more emphasis placed on professional training certificates. Professional certificates prove your competence in DevOps practices and tools such as AWS, Linux, Kubernetes, etc. Here's an example of the qualifications and skills required by employers, as well as the tools you'll be required to work with.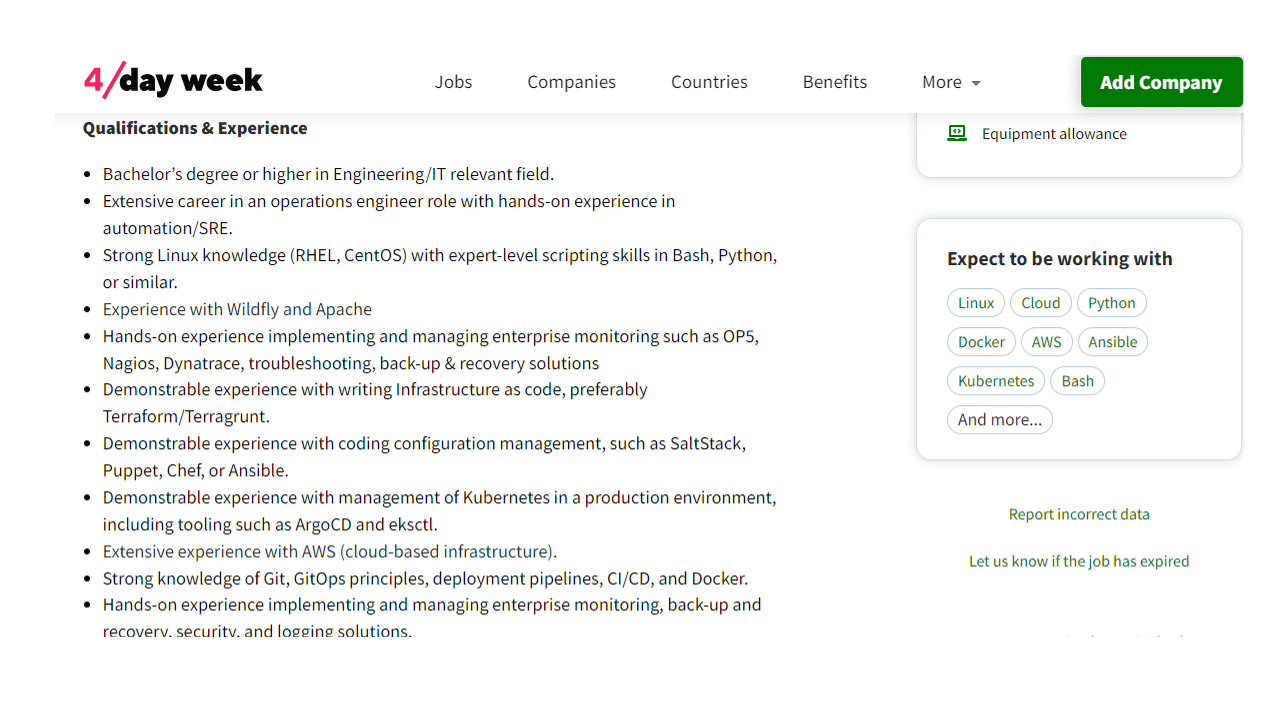 You can see the effect that certain skills have on the salary with the image below from Payscale. Proficiency in the Go programming language can increase your earning potential by as much as 31%.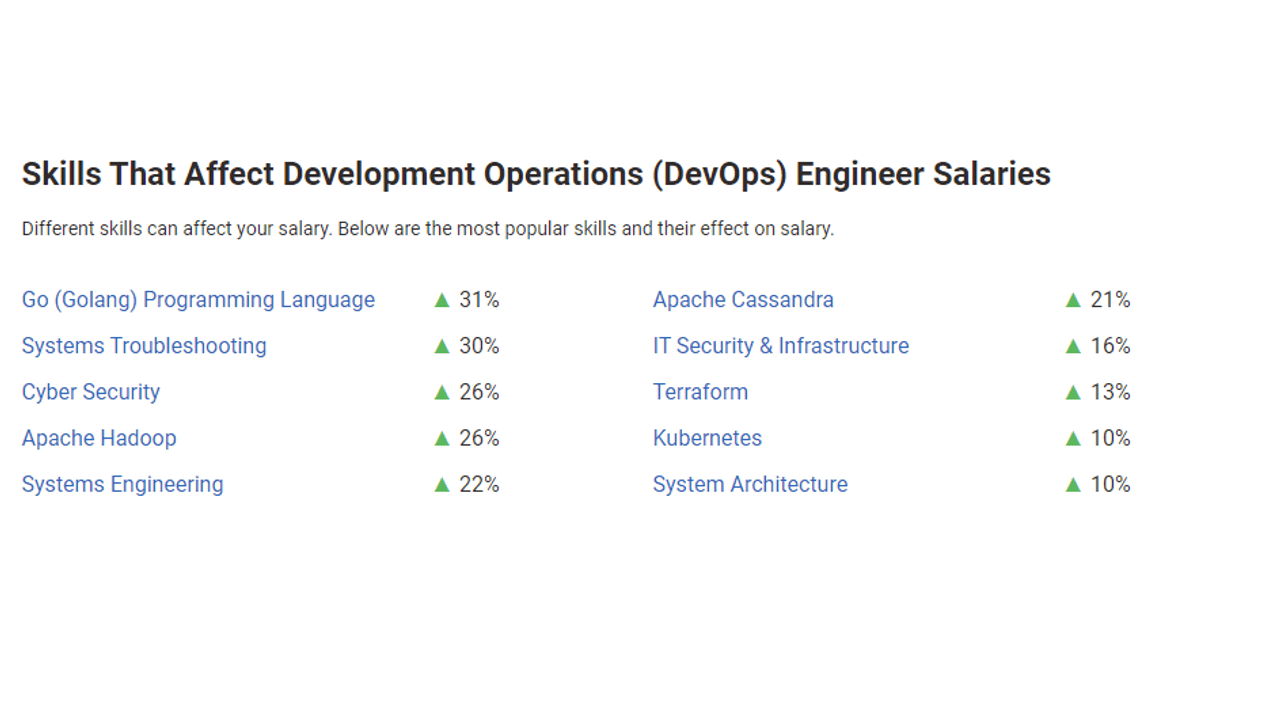 5. Job rank
There are plenty of opportunities for upward mobility as a DevOps engineer. With 2 or 3 years of experience in the role and the necessary skills, you could become a Lead DevOps engineer and manage a small team of juniors. On Glassdoor, a lead DevOps engineer made on average $158,007 which is a 20% increase from the DevOps engineer role.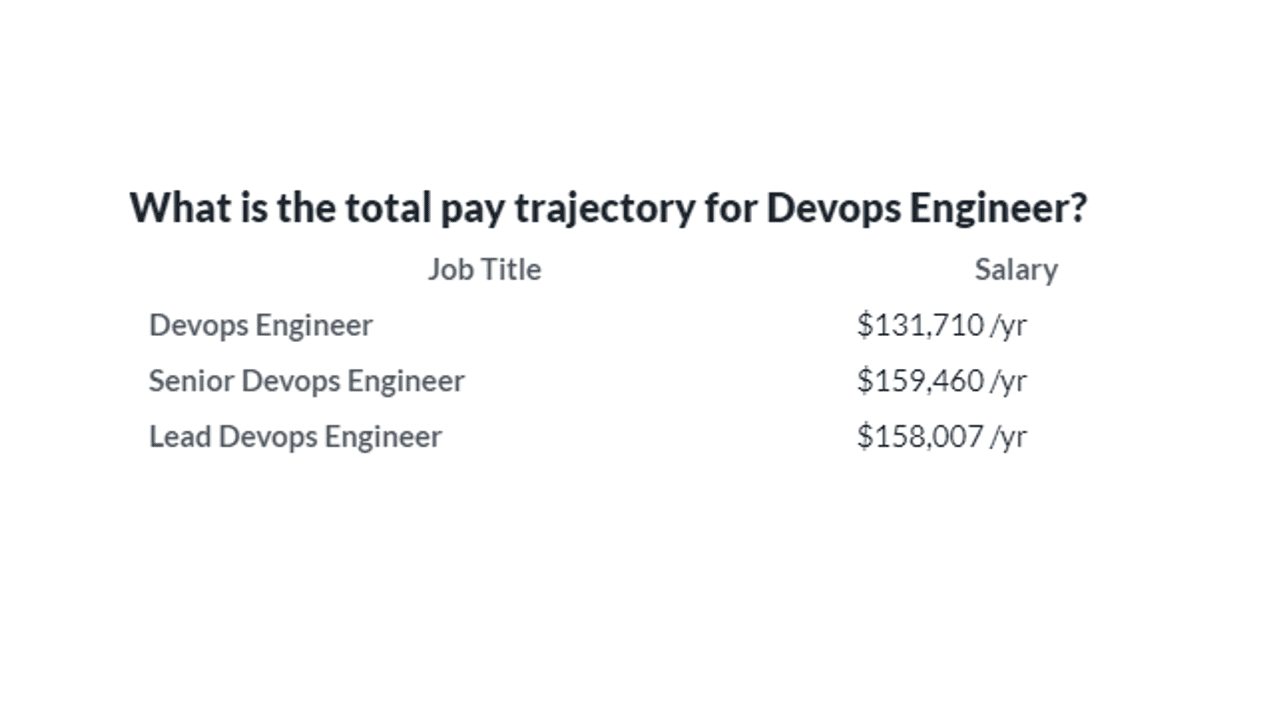 Tip for increasing your earning potential as a DevOps engineer
1. Know your worth
Knowing what you're worth means taking inventory of your skills, your qualifications, your unique abilities, and the value that you contribute to the team and the organization. With everything you offer, compare what you're earning and how it relates to the market trends.
Use platforms like Glassdoor, Payscale, and Fishbowl to see what other DevOps engineers are earning. This should put you in a position to negotiate an attractive salary with even better benefits.
2. Upskill
When you look at DevOps, there are so many skills that you can do. It can be difficult deciding which one to start with. For guidance, the DevOps institutes' Upskilling IT 2022 report listed some of the must-have technical skills according to employers and practitioners in the DevOps space.
It's no surprise that security topped the list, upskilling here can take you into the DevSecOps space which is equally lucrative.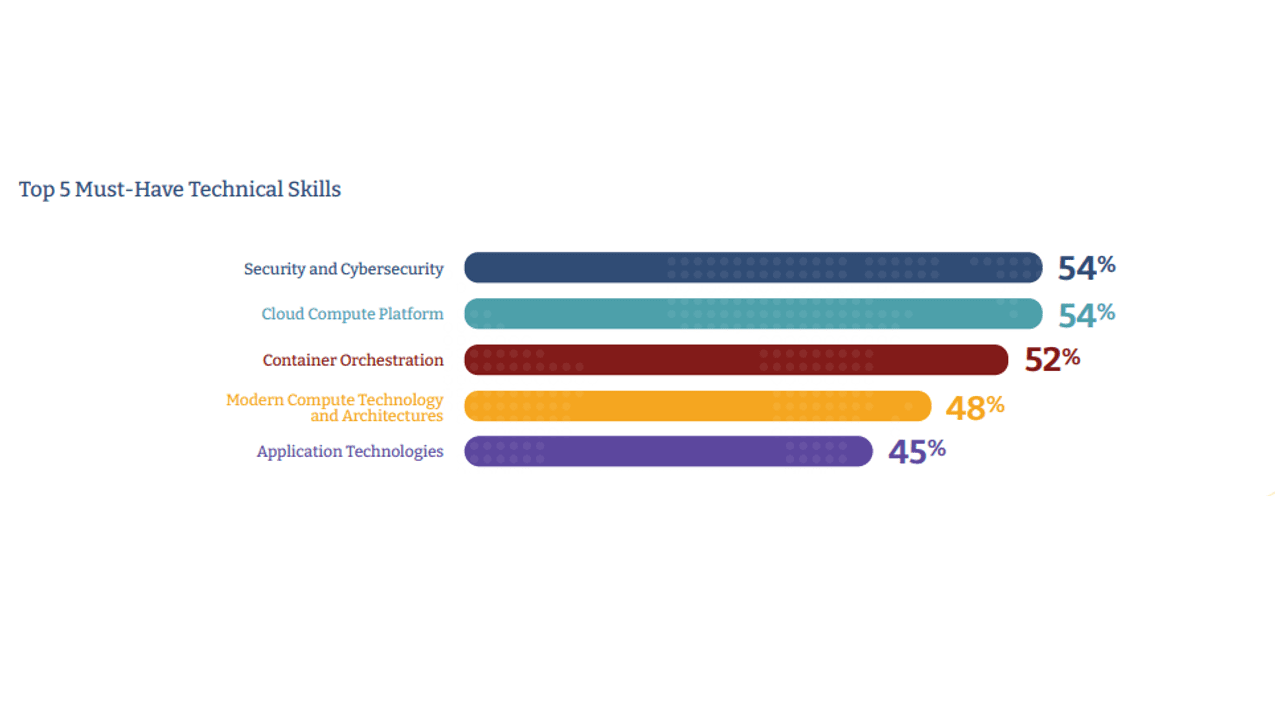 AWS is also a good place to start your professional training. A word of advice: taking industry-related training and earning relevant certifications is not enough. You need to be able to demonstrate how you've applied that knowledge in your job, and the resulting improvements in your work.
3. Keep an achievement log
Your achievement log is a compilation of all the evidence that you're achieving and even exceeding the requirements of your role. You can use it to support salary negotiations or to beef up your resume and land a new job with higher pay. Here are a few tips to help get you started:
Think about the measurable successes in your team and how you directly contributed to those wins.
Look at significant challenges you've faced and how you overcame them. Ask your team members for feedback if you can't think of anything.
Take note of your unique accomplishments that display your skill set, like winning a hackathon, etc.
Consider what else your team always comes to you for help with, write it down - it means you're an expert at something.
Use the STAR method to tie it all together. It will come in very handy during interviews.
4. Get a promotion
Getting a promotion is the easiest way to get a significant increase in your salary. But sometimes it may not be possible to get the increase you want from your existing employer. If the budget doesn't allow it, you can ask for a promotion instead. A promotion in name without the salary increase to go with it may seem pointless. But you're setting yourself up for better opportunities. Perhaps it's something as simple as moving from Junior DevOps engineer to DevOps engineer or from DevOps engineer to Senior DevOps engineer.
The change in title on your resume means you're now able to target those roles when it's time to test the waters. Just make sure you know the market-related salary range for that role. This way, if you get a new offer from a different company, the salary increase will reflect your new position.
5. Change job location
Some of the highest paying jobs are clustered in specific locations. So widen your job search to different states or target remote opportunities. Changing your job location could very well help double your salary in a short amount of time. To attract highly skilled candidates employers are now offering remote positions to look for candidates outside of their geographical location.
The beauty of remote working means you can work for an employer in San Francisco and take advantage of the top salaries paid by tech companies there while working from home in Atlanta (or anywhere really).
Conclusion
The upward trajectory in salaries for DevOps engineers is not changing anytime soon. But it's important to understand that a high salary isn't the only thing you should be chasing. Look at the company culture, the fulfillment you get from the work you do, and the benefits that will help you achieve a better work-life balance. There are even remote jobs that will offer you 4-day weeks with no reduction in pay and you can find them right here at 4 day week.
Would you like a 4 day work week?