Discover Datadog's Software Engineer Salaries & Benefits
Curious about how much Datadog pays their Software Engineers? Discover the latest salary data, benefits, and company perks in our comprehensive guide.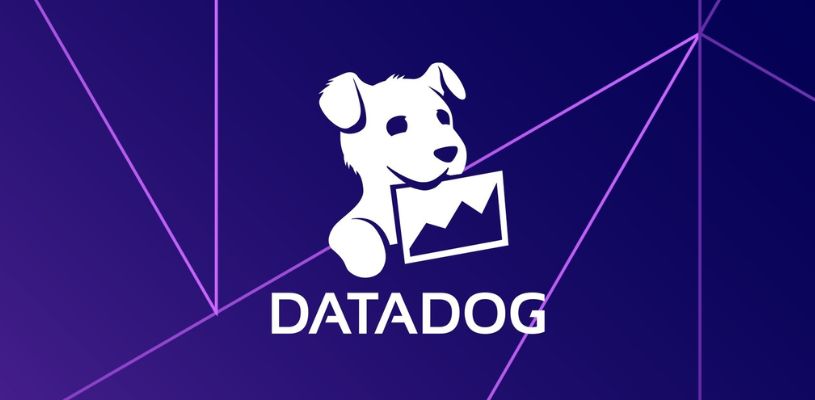 Datadog has positioned itself as a leader in cloud-scale monitoring and analytics platforms. Its esteemed client base includes renowned entities like Airbnb, Shopify, and Samsung.
What sets Datadog apart is its cutting-edge technology, employee-friendly policies, and extensive benefits package, making it an attractive workplace for software engineers.
So, let's delve into the details of Datadog's software engineer salaries and benefits and gain insights into the company's core values and the experience of working there as a software engineer.
Salaries by Level
The salary for a Software Engineer at Datadog varies by level. According to the data from Levels.fyi, Datadog pays significantly above the average for each level.
Here is the breakdown of the salaries by level:
| Level | Total | Base | Stock (/yr) | Bonus |
| --- | --- | --- | --- | --- |
| Software Engineer I | $186K | $140K | $34K | $12K |
| Software Engineer II | $250K | $171K | $58K | $22k |
| Senior Software Engineer | $369K | $214K | $125K | $32k |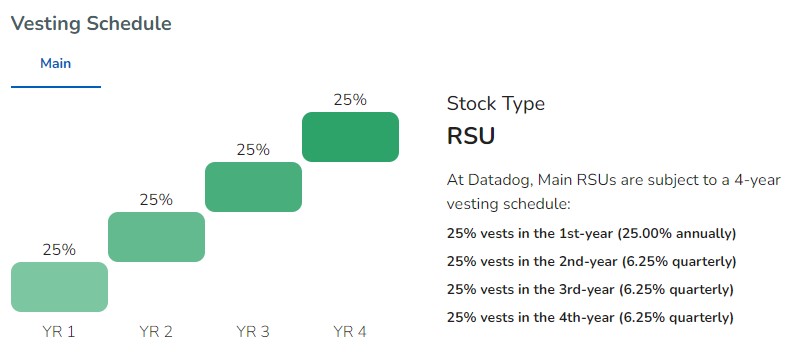 Source: levels.fyi
Software Engineer I
As an Entry Level Software Engineer at Datadog, you can expect to earn a total compensation of $186K. This includes a base salary of $140K and $34K in stock per year. While the base salary is quite competitive, the stock makes up a significant portion of the compensation package.
Software Engineer II
Software Engineers at this level have a total compensation package of $250K. The base salary at this level is $171K, with an additional $78K in stock options per year.
Senior Software Engineer
Senior Software Engineers at Datadog earn a total compensation of $369K. This includes a base salary of $214K and $155K in stock options per year. At this level, you can expect to significantly impact the products and services Datadog offers.
Would you like a 4 day work week?
Staff Software Engineer
As a Staff Software Engineer, your compensation package will vary based on your experience and the specific role you are hired for. However, you can expect to be compensated higher than a Senior Software Engineer. Unfortunately, the exact figures for this level are not available.
Datadog offers a highly competitive compensation package for Software Engineers at all levels.
Salary Variations by Location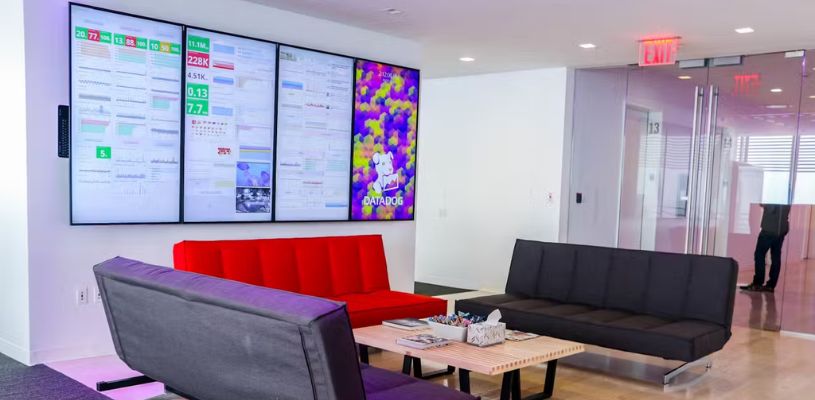 Source: Dwell
Salaries for Software Engineers at Datadog vary by location. Here are some of the factors that can influence the salary range for this role:
Cost of living: Salaries in cities with a higher cost of living tend to be higher to account for the increased expenses.
Industry demand: Cities with a higher demand for software engineers may offer higher salaries to attract top talent.
Competition: The presence of other tech companies in a city may influence the salaries offered by Datadog to remain competitive in the market.
In short, Datadog offers competitive salaries for Software Engineers across all locations, reflecting the company's commitment to attracting top talent worldwide.
Career Progression at Datadog

Source: levels.fyi
At Datadog, software engineers have several job levels, and each level comes with its career progression. Here is a list of promotions and what one can expect from each in terms of salary increase and responsibilities:
Promotion from Software Engineer I (Entry Level) to Software Engineer II
Salary Increase: $64K
New Responsibilities: More complex projects, experience with software design and architecture, mentorship of junior engineers.
Promotion from Software Engineer II to Senior Software Engineer
Salary Increase: $119K
New Responsibilities: Lead larger projects, take ownership of systems, and coordinate efforts with other teams and departments.
Promotion from Senior Software Engineer to Staff Software Engineer
Salary Increase: N/A (compensation package is customised for each Staff Software Engineer)
New Responsibilities: Act as a technical leader, drive major projects, and make technical decisions that affect the entire company.
It is worth noting that Datadog has a culture of internal promotion and many opportunities to grow and advance one's career within the company. With each promotion comes increased responsibilities and new challenges, and Datadog ensures that all its employees are prepared for these transitions.
Top Benefits Offered by Datadog
Datadog offers a variety of benefits to its employees, including but not limited to:
Health Insurance: Datadog provides HDHP, EPO, and PPO coverage to its employees through UnitedHealthcare. Moreover, they also offer a health savings account (HSA) with a contribution of $1,800 per year from the employer for individuals and up to $3,000 per year for families.
Unlimited PTO: Employees can take as much paid time off as they need.
Maternity and Paternity Leave: Datadog offers new parents up to 16 weeks of paid maternity leave and 12 weeks of paid paternity leave.
Employee Stock Purchase Plan (ESPP): Allows contributions up to 15% of base salary, with a 15% discount on the stock purchase price.
Tuition Reimbursement: Employees are offered access to over 3500 top-rated business, technical, and personal development courses through Udemy.
Transport Allowance: Datadog offers a pre-tax commuter benefit of $270 per month for bus, ferry, and rail (all public transportation), $270 per month for qualified parking, and $540 per month for public transportation and qualified parking.
Free Lunch: Employees are provided free lunch thrice weekly.
Gym and Wellness Reimbursement: Datadog offers their employees $100 monthly for gym and wellness expenses and 75% of qualified fitness-related expenses.
Child Care Subsidy: Datadog provides up to $2,000 annually to assist with child care.
Referral Bonus: Employees can earn up to $10,000 when Datadog hires a candidate they referred.
Spring Health: Personalized mental health solution in the form of six free appointments per year.
Flexible Spending Account (FSA): Employees may set aside up to $5,000 before tax per year for a Dependent Care FSA if they are unmarried or married and filing a joint tax return, or up to $2,500 before tax per year if they are married and filing separately.
Working Culture at Datadog

Source: Comparably
Datadog's working culture is known for being collaborative, fast-paced, and innovative. The company values transparency and encourages employees to communicate openly with each other. This creates an environment where everyone feels heard and valued, and ideas can quickly turn into action.
One unique aspect of Datadog's culture is its emphasis on work-life balance. The company offers unlimited PTO and remote work options to ensure that employees can take the time they need to recharge and maintain a healthy work-life balance.
Another important aspect of Datadog's working culture is its focus on employee growth and development. The company offers numerous opportunities for employees to learn new skills and take on new challenges. For example, they offer tuition reimbursement and access to thousands of courses through Udemy.
Datadog's working culture fosters collaboration, innovation, and growth while valuing work-life balance and employee well-being.
Wrapping Up
With over 5,600 employees and a presence in New York and worldwide, Datadog offers a great opportunity for software engineers looking to join a dynamic and exciting team.
Not only does Datadog offer competitive salaries and a comprehensive benefits package, but they also provide a culture that values creativity, collaboration, and innovation.
If you're interested in joining the Datadog team as a software engineer, check out the current job openings at 4dayweek.io
With a focus on remote work and a commitment to offering 4-day workweeks, 4dayweek.io is the perfect platform for job seekers looking for a better work-life balance.
Apply today and take the first step towards a fulfilling career with Datadog!
Would you like a 4 day work week?