Unleash Your Earning Potential: Understanding Airtable Salaries
Curious about Airtable staff salaries in 2023? Discover the latest earnings insights and salary trends in this comprehensive blog post.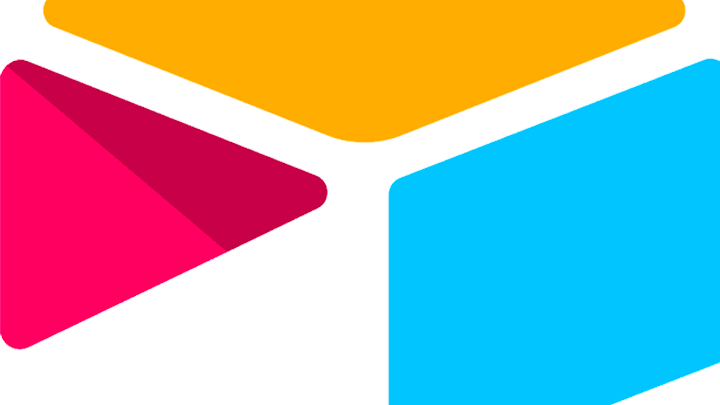 Airtable is one of the leading low-code cloud collaboration services, letting businesses accelerate their workflow and unleash their full potential. Being a popular tech startup, getting a job at Airflow is a lauded prospect for most.
However, how much can you expect to earn at Airtable? Is the salary right for your aspirations?
In this article, 4DayWeek will look at the salaries you can earn at Airtable in various roles and positions.
What's the Verdict on the Airtable Salaries?

Source: Glassdoor
Salaries are correct as of 14th May 2023
Airtable's salary and compensation are quite favourable all around.
With even the lower-end compensation for roles such as Technical Recruiter being at an estimated $106,897 per year ($64,654 of that being salary), Airtable is averaging above other similar tech companies in compensation level.
At Airtable, you can find the highest compensation as a senior software engineer, which pays an estimated average salary of $217,202.
The company has physical offices in San Fransisco, Los Angeles, London, Mountain View, and Austin, but they regularly hire staff remotely from across the world.
Factors that Influence Airtable Salaries
Being such a large organization with many different roles and locations, the salaries you can find working at Airtable will often vary. Let's look at some of the critical factors that can influence this.
Credentials
First, workers with credentials that put them ahead of other workers in the same occupation will warrant a higher salary than those with lower credentials.
This can include a higher level of education, achievement, or certification and licensing, all of which will be sought after by employers worldwide, such as Airtable.
Certain certifications and licenses could also be a major factor in this, as having specialization in certain areas makes you a better asset to the company and shows you have the discipline you need to take on new challenges in your role.
Years of Experience
At any job, the more years of experience you have, the more you can expect to earn. Companies prefer to hire candidates with relevant experience in the field as it helps demonstrate your capability to do the job well.
At Airtable, however, this is even more important. Many Airtable's career listings require 8+ years of IT experience, meaning you'll usually need a good amount of experience even to get your foot in the door.

Source: Glassdoor
For instance, the average salary for a software engineer with 0-1 years of experience is $113,186. However, this jumps to $145,244 with 7-9 years of experience.
Location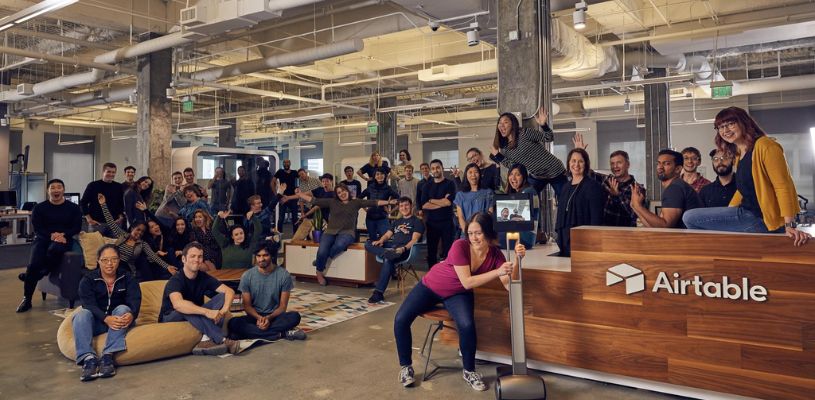 The salary you can expect from companies like Airtable will depend on where you live, as the cost of living can be much higher in urban centers and tech hubs like San Francisco and New York City.
Airtable has multiple headquarters where you can apply for jobs. Whichever location you pick will undoubtedly affect the salary that you could earn.
For example, according to Airtable themselves, the salary for an IT System Engineer (Airtable Specialist) is
$146,252 - $180,482 for work locations in San Francisco, Mountain View, Seattle, NYC, and LA.
$131,627 - $162,434 for all other work locations, including remote.
Negotiation
Negotiation is a great tactic to try to raise your salary. Especially as you gain more experience and credentials in your field, you'll become a valuable asset to any company. This will make you highly sought after.
At this point, negotiation will ensure you get the salary you want and deserve. Negotiating is a normal part of the hiring process to ensure both parties are happy, so you shouldn't be afraid to raise the salary issue during entrance interviews.
If you're looking to ask for a raise, here are some steps that you can take to ensure that you're successful in your request:
Make your achievements from your time with the company apparent: Showcasing why you've been an asset to the company, especially in the past six months, I'll make it near impossible for your manager to turn down your request.
Know what salary you're looking for: By researching competitive salaries for your role, you can ensure you know what you should be earning. So, instead of underselling your skills, you'll be able to ensure your raise aligns with your needs and skills.
Be Confident: Confidence is key for any request. In asking for a raise, however, you should be confident and able to sell yourself and your skills effectively. After all, if you feel you deserve a raise, there's no reason to fear. The worst that can happen is staying where you are.
Put your request in writing: Make sure that your request is in writing. This will ensure that your request looks more professional and is a paper record of the discussion (if there are any disputes).
Airtable Compensation Review
One of the best ways to find out how Airtable handles its salary and benefits is by looking at online employee reviews.
You can use sites like Glassdoor to get some brilliant insights into salary, company culture, work-life balance, and more!
With a 3.9/5 rating on Glassdoor, 62% of reviewers would recommend working at Airtable. Many reviews on Glassdoor speak highly of the compensation and benefits and that they're truly proud of the product they are working on.

Source: Comparably
However, some reviewers have criticized AirTable's review upper management team.
For instance, a past employee wrote: "Advice to Management: Get on the ground with your employees more. Be present in conversations.", which might explain why some employees wouldn't recommend Airtable to others.
Would you like a 4 day work week?
Total Airtable Compensation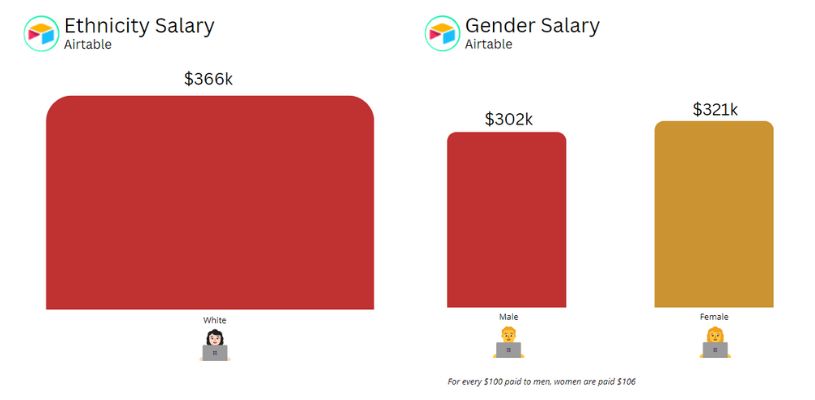 What's the total compensation package for Airtable employees? On average, employees can earn $327k, ranging from $240k to $599k based on 23 profiles from 6figr.
This, however, will vary depending on location. Due to the different costs of living in some of the locations offered by Airtable (such as Los Angeles and San Fransisco), the higher salaries make sense.
On top of location, salaries also vary depending on skill and experience and the role being undertaken.
How Do Airtable Salaries Differ Between Different Positions?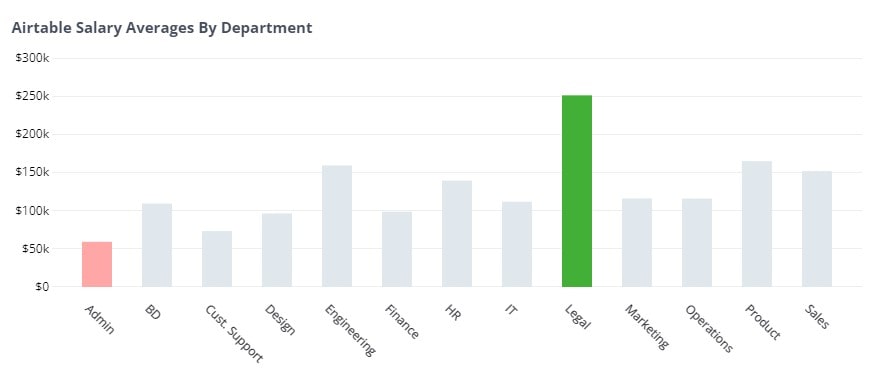 Source: Comparably
Account Executive
The estimated average salary for an Account Executive at Airtable is $126,044 per year, with the range falling between $103k and $148,446.
This includes salary and benefits you'd typically expect from a company such as Airtable.
Product Manager
A product manager at Airtable can expect to earn an average of $169,818 per year. This is the total salary, which is the base salary with additional bonuses:
A base pay of $121,683 a year.
Bonuses of $48,135 a year.
This can vary depending on location and other factors.
Customer Success Manager
The estimated total salary for a Customer Success Manager at Airtable is $120,903 per year. This is the median of the total salary and additional compensation:
The estimated base salary is $80,074 per year.
The estimated additional compensation is $40,829 per year.
Technical Recruiter
A Technical Recruiter would expect to earn an estimated average of $106,897 per year. This is the combined base salary and additional compensation:
The estimated base salary is $64,654 a year.
The estimated additional compensation is $42,244 a year.
Senior Software Engineer
The estimated total pay for a Senior Software Engineer is $217,202 per year. This is the combined base salary and additional compensation:
The estimated base pay is $147,631 per year.
The estimated additional compensation is $69,570 per year.
How do Airtable Salaries Compare to Other Companies?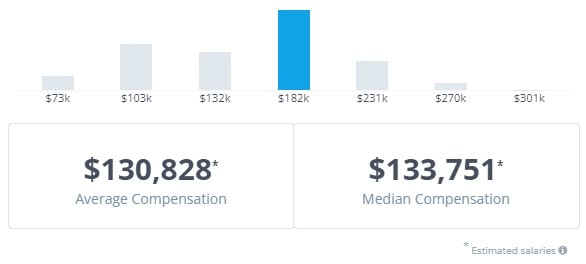 Source: Comparably
Bubble
Verdict: Airtable salaries are higher
The average estimated annual salary at Bubble is $101,086. The estimated median salary is $111,156.
Zoho
Verdict: Airtable salaries are higher
The average annual pay at ZOHO in the United States is $50,388 per year.
Asana
Verdict: Airtable salaries are higher
At Asana, the average salaries per department include:
Sales: $166,111 per year
Engineering: $168,879 per year
Admin: $56,705 per year
Marketing: $127,751 per year.
Smartsheet
Verdict: Airtable salaries are higher
Smartsheet pays an average salary of $97,350 per year. Salaries range from a low of $84,513 to a high of $111,696.
Find Your Next Dream Job with 4 Day Week Today!
Airtable is a tech startup with many locations and roles available across the US and beyond. With average salaries of well above $100,000 a year for most roles, Airtable is a lucrative company to work at.
However, salary compensation isn't the only factor to take into account. Employees enjoy a much better work-life balance and are more productive in a 4-day or 32-hour work week.
Want to explore jobs that offer these wonderful benefits? Start looking for the ideal job through 4 Day Week today!
Would you like a 4 day work week?