Switzerland
According to an OECD report, Switzerland has the 4th shortest average working week in the world (34.6hrs)
Short average workweek (35hrs)
Europe
4 Day Work Week in Switzerland
To date, Switzerland has not adopted the 4 day work week nor taken part in a 4 day work week pilot program, although some Swiss unions are campaigning for the change. In Switzerland, there is still some skepticism surrounding the idea of the 4 day work week, especially for large businesses.
Although the 4 day work week has not been sponsored nationally, there are some small businesses in Sweden who are experimenting with the 4 day work week on their own.
Working Hours in Switzerland
According to an OECD survey, workers in Switzerland enjoy the 4th shortest work week in the world, coming in at 34.6 hours. However, the average hours worked in Switzerland vary based on industry and employer. Working time should not exceed 45 hours per week, according to Swiss law.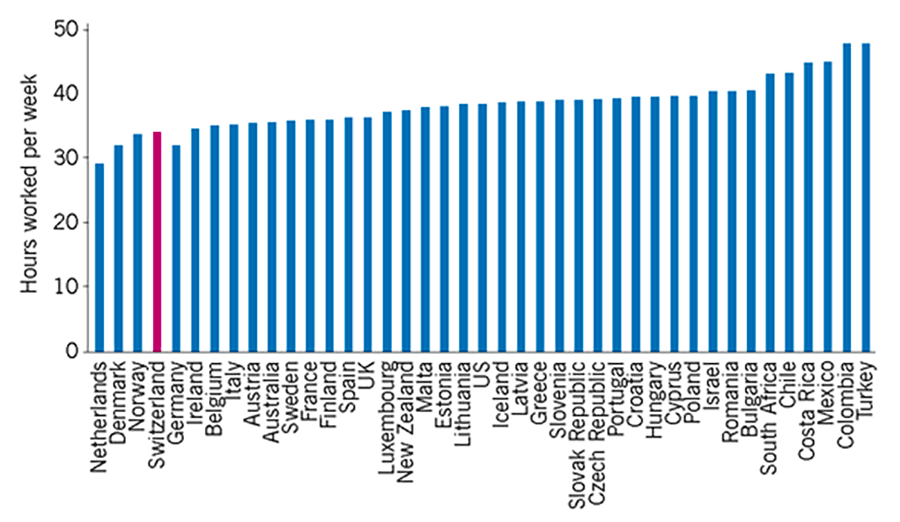 Employees who work in the medical or hospitality fields generally work longer hours than workers with jobs in other industries.
Under Swiss law, employees can't work more than 170 hours of overtime per year. Overtime work is compensated at either 125% of the employee's normal rate or with paid leave.
Vacation Policy in Switzerland
Workers in Switzerland are entitled to a minimum of 4 weeks of vacation time per year, regardless of whether or not they work full time. Workers under 20 years old are allotted an additional week of vacation time. An employer can choose to provide additional vacation time to employees if they wish to do so.
Switzerland celebrates several public holidays each year although these vary from region to region - the only national public holiday is Swiss National Day (August 1st). For example in Geneva there are 10 public holidays which include New Year's Day, Easter Monday, Christmas Day St. Stephen's Day. Most businesses, schools, and government offices are closed.
However, some companies may have policies and procedures that require employees to be available. Whether Swiss employees are entitled to time off or additional pay depends on their rights and job responsibilities.
Part Time Working in Switzerland
As of 2021, 43% of Switzerland's total workforce was comprised of part time workers, a 5% drop from the year before. 59% of the total female employment in Switzerland are classified as part time workers, while only 28% of Switzerland's total male employment worked part time.
Part time employees in Switzerland enjoy some benefits, such as vacation time. According to a Swiss study, Swiss parents who worked part time reported better mental wellness and less stress.
Remote Working in Switzerland
According to a study done by the Robert Walters recruitment firm, Switzerland was ranked as the European country most ready for remote work, with 71% of Swiss employers providing the necessary support for their employees to work from home during the onset of Covid-19 in 2020. By comparison, only 55% of companies in other European countries were able to support their employees in the same way.
As of mid-2020, 78% of Swiss organizations were planning to continue remote work after the Covid-19 pandemic restrictions were reduced.
Would you like a 4 day work week?