Norway
According to an OECD report, Norway has the 3rd shortest average working week in the world (33.6hrs).
Short average workweek (34hrs)
Europe
4 Day Work Week in Norway
Although Norway hasn't officially adopted the 4 day work week, at 34 hours, Norway's work week is shorter than many other countries.
To date, Norway hasn't taken part in any official 4 day work week pilots; however there are several companies across the country that have chosen to adopt the 4 day work week on their own.
Working Hours in Norway
Standard working hours in Norway are usually between 8 or9 AM to 4 or 5 PM, including a lunch break, which is not paid. Workers must have at least 11 hours off between shifts. Any time worked beyond 9 hours in one day, or 40 hours a week, is considered overtime and must be compensated.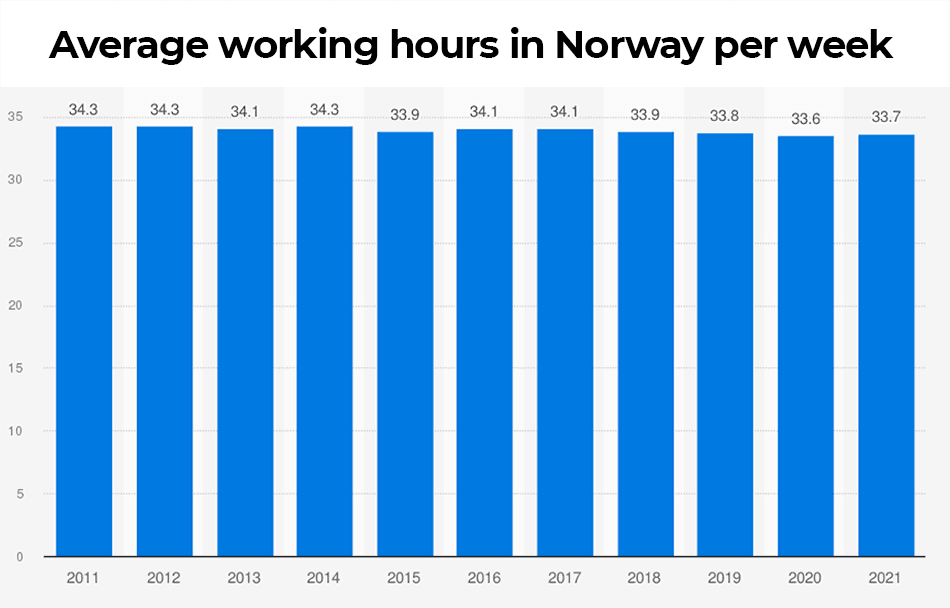 Although some countries offer the option for workers to opt out of the maximum working hours rule, Norway does not. Norway's overtime regulations are strict, and employees must work less than 200 hours per year. By law, overtime work must be compensated by at least 140% of the employee's normal rate.
According to the law, the maximum working hours per day is 9 hours, and the maximum working hours per week is 40 hours. Overtime is defined as any work that exceeds these limits.
Additionally, workers in Norway are not permitted to work nights (anytime after 9 PM and before 6 AM) or on Sundays unless it's a necessity in their line of work.
Vacation Policy in Norway
According to the Norwegian Holiday Act, workers in Norway are entitled to 21 days (or 4 weeks and 1 day) of paid vacation each year. For most employees, the holiday pay rate is a minimum of 10.2%. Employees in Norway can transfer up to 10 days of unused vacation to the next year.
Many employees in Norway take their vacation during the summer months (the first of June through the end of September). Employees are allowed to use up to 3 consecutive weeks of their vacation during this time.
There are 10 national holidays in Norway, although employers are not required to compensate employees for these days.
Part Time Working in Norway
Approximately half (49%) of Norway's workforce is part time employees. Of the total female employment in Norway, 58% of employees work part time, while part time workers comprise 41% of the total male workforce in Norway. The cities with the lowest percentages of part time workers are Oslo and Viken.
Remote Working in Norway
Norway supports remote work and has policies protecting remote workers. For example, employers are required to provide the necessary equipment for an employee's home office to be functional and ergonomically friendly. Employers are also required to provide equal benefits to remote employees as they do to employees who work on site.
Would you like a 4 day work week?