VERSA
Digital transformation agency powered by conversational AI.
4 x 8hr days
10-50 employees
100% remote
South Yarra, Australia
Who are we
At VERSA, we specialise in digital transformations powered by conversational AI. We are experts at helping businesses understand, design, create and manage unified, omni-channel experiences that put the customer first.
We build scalable conversational relationships by seamlessly combining conversational AI and human understanding, supporting businesses and consumers to engage in better and more effective conversations.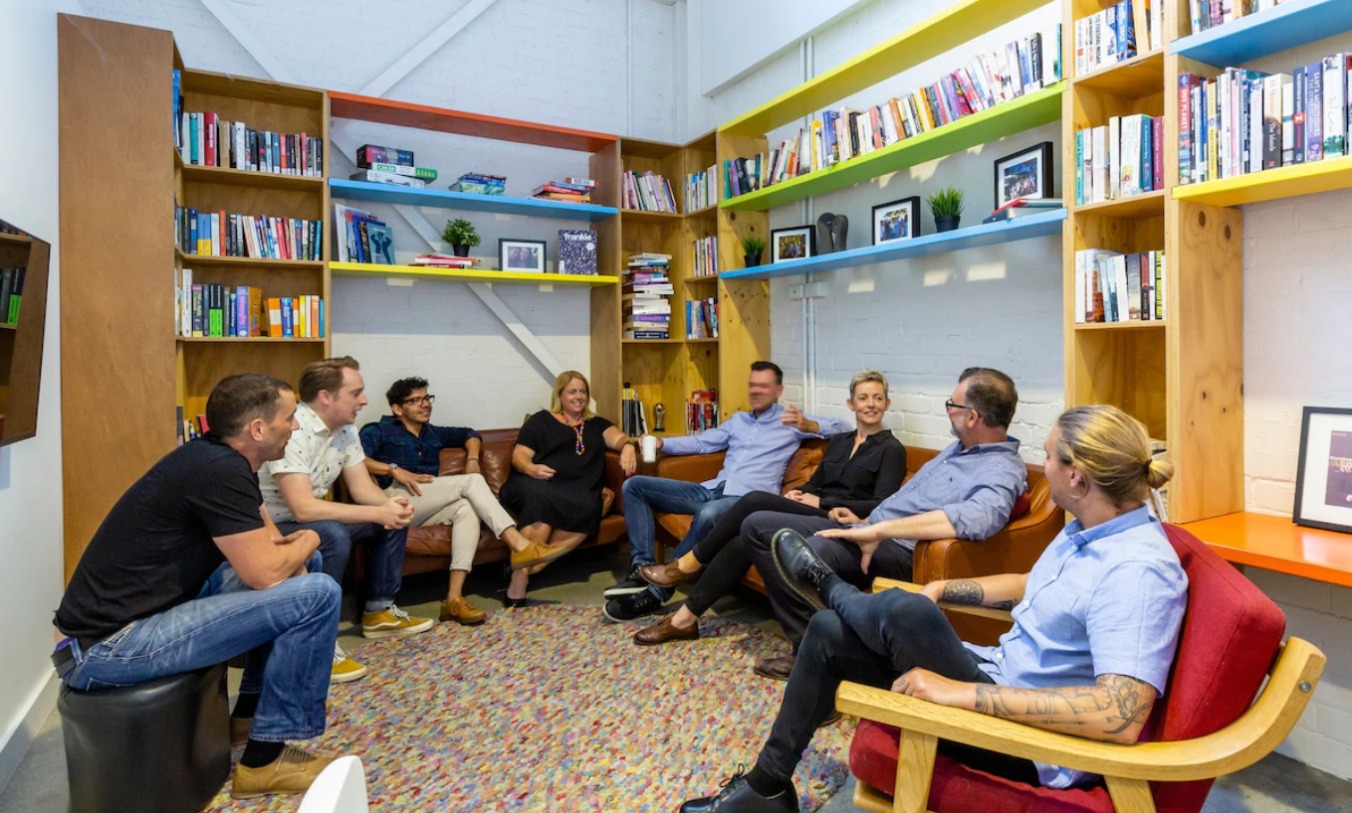 We are a large team of thinkers, strategists, designers and developers. Whilst our head office is in Melbourne our staff are located around the globe in Sydney, Perth, Brisbane, New Zealand, Seattle, Singapore, Nicaragua and Mumbai.
Our vision is for a future of intuitive, accessible and efficient Conversational AI-powered customer service. Where customers don't need to search — they just need to ask! We are leading the way with these tenets.
Working at Versa
VERSA has always believed that happy people create outstanding work. It's why we made our four-day working week initiative permanent in 2019. In 2020, that idea of happiness at work became more important than ever. To support and stay connected to our team while working remotely, we implemented a range of strategies to optimise the mental health and wellbeing of our employees.
This is what a regular week looks like at VERSA. As you can see by the image, we have broken down our day. Core, Available & Flow hours. We are conscious that every employee works differently, and because we promote work where you are most productive, we believe in capturing hours that staff feel they are delivering their best. Putting ownership and control back on the employee. We are all about productive hours and delivering high quality – however, that looks.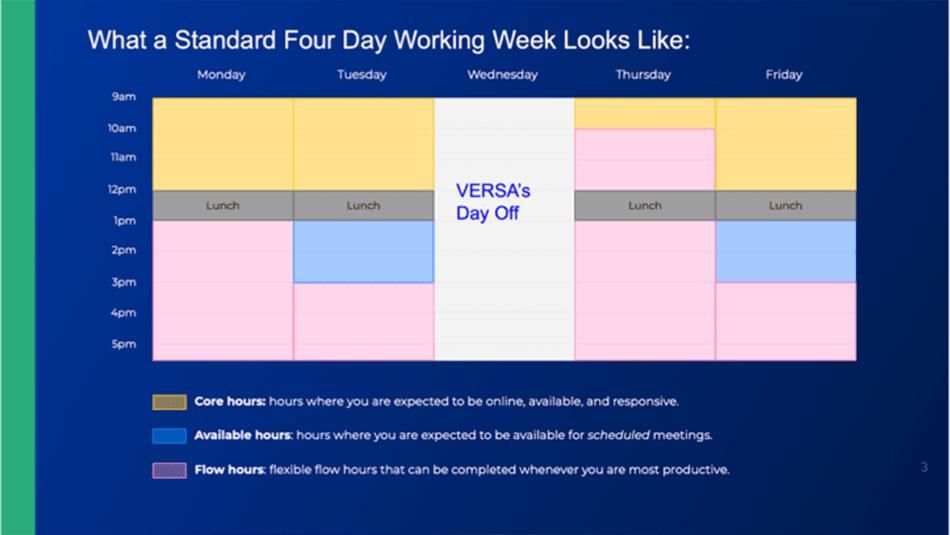 Our 4 day work week
Our 4-day work week is set out in our policy as Wednesday as a 'Versa-Day (the day off). We don't call it a day off; it is a bonus. We currently work 30 hours and get paid 37.5 hrs.
So normal standard working days are Mon, Tue & Thur, Frid. The "Versa-Day' is our bonus (give-back to staff) day if we have been productive and reached our outcomes/targets for that given week/fortnight.
Wednesday is there if you have deadlines and work that needs to be completed. We have reminded staff that they are still being paid full-time and accrue leave accordingly. The ad-hoc Wednesday work is sometimes a must. This does change if there are public holidays that fall in that particular week.
Employee Benefits
At Versa, we value having a great work-life balance - that's why we offer:
4 day working days (Wednesdays are off)
100% Fully Remote working
Flexible working hours
EAP (Employee Assistant Program)
And much more
Would you like a 4 day work week?