The Financial Diet
Earn more, spend less, and live better with what you have.
4 x 8hr days
10-50 employees
100% remote
New York, United States
Who we are
We are the premier destination for women to learn and talk about money. With a highly-engaged community on YouTube, web, and social media, we are leading a conversation with millions of women every day.
Started in late 2014 as writer Chelsea Fagan's personal budget Tumblr, TFD has since grown into a powerful community where young women come to be honest about money. We are narrative, community-oriented, and driven by stories — not boring tips on how to become a millionaire by 30 (because you probably won't).
We are the brand that combines strong voices, beautiful visuals, and hard truths to make money talk something everyone can be a part of, no matter where they're starting from. We provide useful facts and expert advice, but we know that's not why readers come back every day, or why thousands of young women come to us to share their finance stories for the first time. Money is human, and when you talk about it right, just as interesting as sex or dating.
Our 4 day work week
We started our 4-day workweek experiment in June 2021, when we shifted our team schedule from 40 hours/week to 32 hours/week, giving everyone Friday off, without any drop in pay.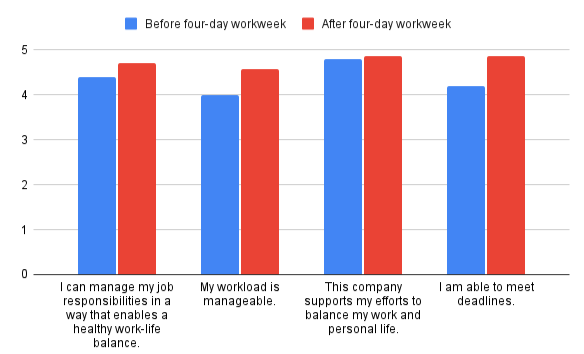 In the 12 months since then, we've seen no drop in revenue from the 12 months prior, and employee work-life balance satisfaction metrics, especially around workload and ability to meet deadlines, have improved.
Our benefits
4 day work week (32hrs)
Remote working within the USA
Flexible hours
Open positions
Fetching 4 day work week jobs...
Would you like a 4 day work week?