GooseChase
GooseChase is an online platform that helps you run real-world scavenger hunts.
4 x 8hr days
10-50 employees
100% remote
Toronto, Canada
Who we are
GooseChase is an online platform that helps you run real-world scavenger hunts. We think the world needs more fun, so we built GooseChase for people to create engaging, goofy and out of the ordinary experiences to be enjoyed from anywhere.
Our long term vision is to be the platform that allows people to create unforgettable, exceptional experiences for their communities.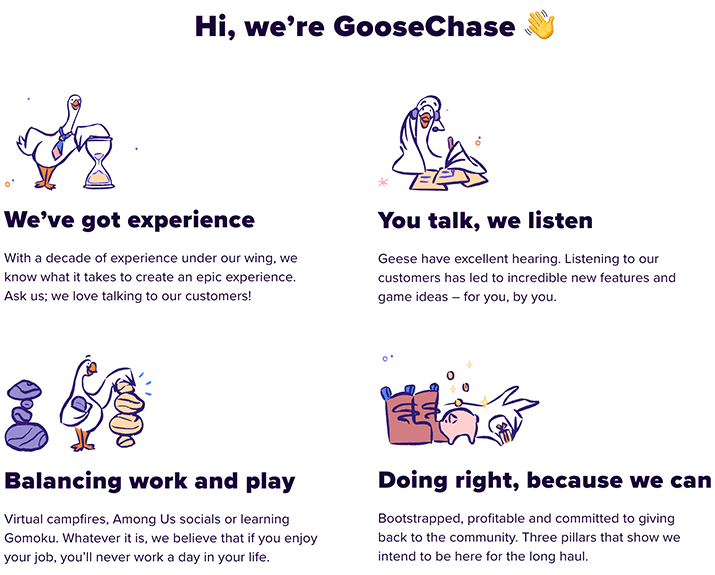 Our Team
We are a fully remote team working from Canada, the USA, the UK, Hungary and where ever else we happen to find ourselves. On any given company-wide meeting, there is bound to be at least a couple team members dialed in from a new AirBnB in a new country. The best puzzles have different pieces, or else they would be terrible puzzles.
We're made up of engineers, designers, product managers, marketers, account managers, sales execs, customer support, HR, Finance and Legal. We think work should be a place to share hilarious GIFs, Instagram-worthy food and hidden talents. Let's be real; actual geese can be a little bit naughty, so we make it our goal to deliver joy in every interaction to balance the scales a little bit.
We're proudly 100% bootstrapped, profitable and committed to giving back to the community.
Working at GooseChase
Happy Team = Happy Customers. Geese may not be the best at math, but this is an equation we can get behind! Work-life balance is at the core of our culture because we know that there are fun things to do outside of work - even if we don't like to admit it. We take the time to recharge, so we have even more energy to put into our product and delight our customers.
So by working at GooseChase you can expect:
Four day work week (32hrs)
Fully remote: work where ever you like
Flexible hours: work any 8 hours
Company-wide profit sharing
Personal & professional development funds
Competitive, regularly reviewed compensation
Benefit options for all team members
Co-working & desk setup funding
Our Interview Process
We typically have a 4 stage interview process, depending in the role:
Website application: include a cover letter, resume & answer 2-4 short questions
Screening call: with the hiring manager
Short task: related to the role (2 hours max)
Zoom interview: with 2 members of the team
We don't take ourselves too seriously, but we're serious about the commitments we make. We champion what we believe and we collaborate, doing our best for our customers and each other. Interested? Come join our flock!
Open positions
Fetching 4 day work week jobs...
Would you like a 4 day work week?