Consultwebs
Law firm marketing BEYOND the campaign. .
4 x 8hr days
100-500 employees
100% remote
Raleigh, United States
Who we are
Consultwebs was one of the first companies to focus on law firm search engine optimization. Now, over two decades later, we are proud to have helped hundreds of law firms build their book of business and their brands.
We use internet marketing to ensure law firms are taking advantage of every opportunity ─ mobile-first designs, SEO, PPC, online video advertising ─ to build their brand and bring in cases from the web.

Working at Consultwebs
For more than 20 years, the respected marketing experts at Consultwebs have been helping our law firm clients dominate search rankings, rack up top-quality leads, sign new cases, and reap the benefits of long-term strategies for online success.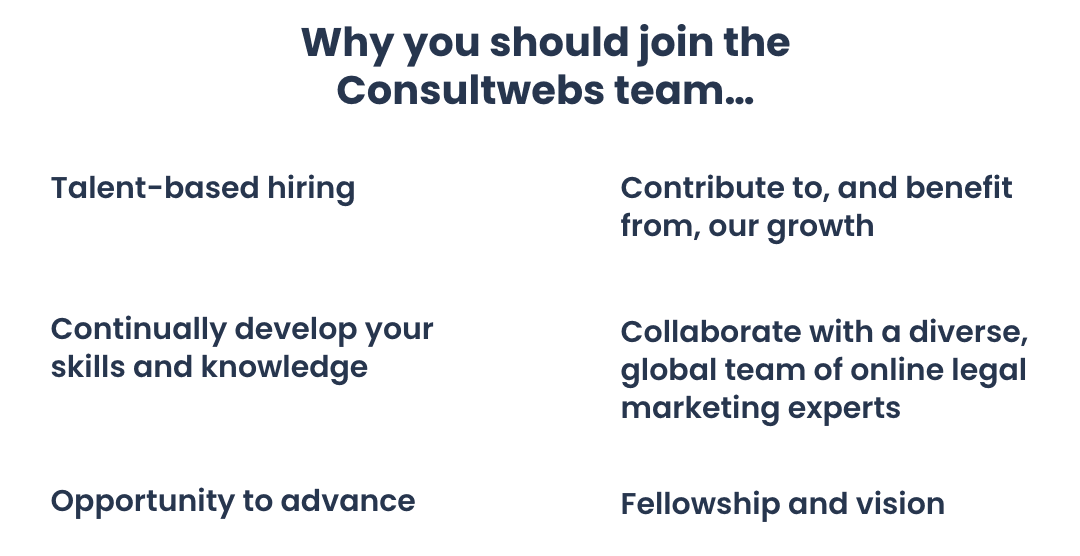 Consultwebs partners with selective clients in the United States and Canada, including highly competitive metropolitan markets such as New York City, Los Angeles, Chicago, Seattle, Atlanta, and Miami. Our highly experienced team has helped law firms achieve success in a wide range of practice areas, including personal injury, workers' compensation, family law, criminal defense, bankruptcy, securities law, immigration law, estate planning, special education law, and more.
Employee Benefits
Our company is devoted to winning for clients and our team members. We invest in our team both professionally and personally. Here are the following benefits you will enjoy:
4-day workweek (32hrs @ 100% salary)
100% remote work (almost anywhere in the world)
26 days vacation (PTO + public holidays)
Health + dental insurance
Parental leave
Very flexible working hours
Life & disability insurance
Professional development
Quarterly bonuses
Volunteer time off
and much more!
Would you like a 4 day work week?