15 "Thursday Memes for Work" to Help get you to the Weekend
The workweek is long - why can't Thursdays be the new Friday? Here are 15 of our favourite memes to get you through your Thursday work day. The weekend is almost here!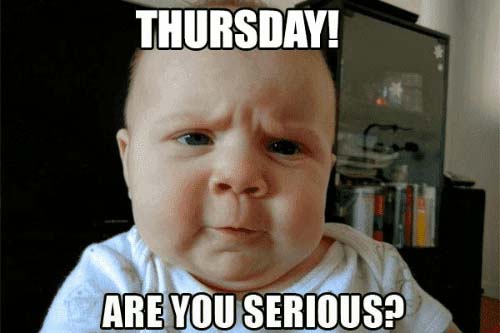 Many people are pushing for a four-day work week, which would effectively then make Thursday the new Friday. However, until that happens, Thursday is the day when we anguish that it isn't yet Friday, but at the same time have hope that the week is almost over. These memes help depict the way people often feel about Thursdays.
1. Lounging Bear
This meme shows a bear lying on its back with one arm raised in the air. He appears to be pretty happy about it being Thursday. The text says, "It's Thursday: Almost the weekend."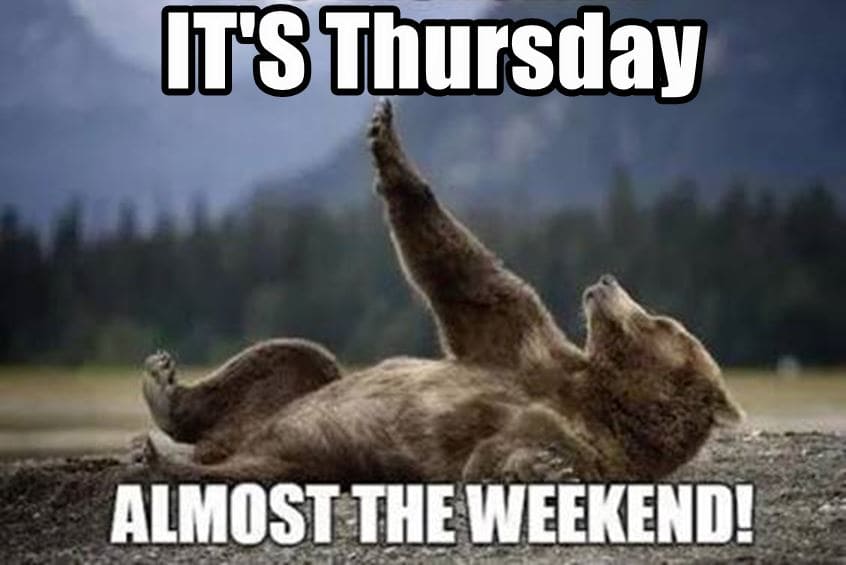 2. The Office
The show The Office is pretty popular and has quite a few memes based on it. This particular one shows a character standing around in the office saying, "Yeah, if Thursday could be Friday, that'd be great." Everyone can empathize with wishing the weekend came faster.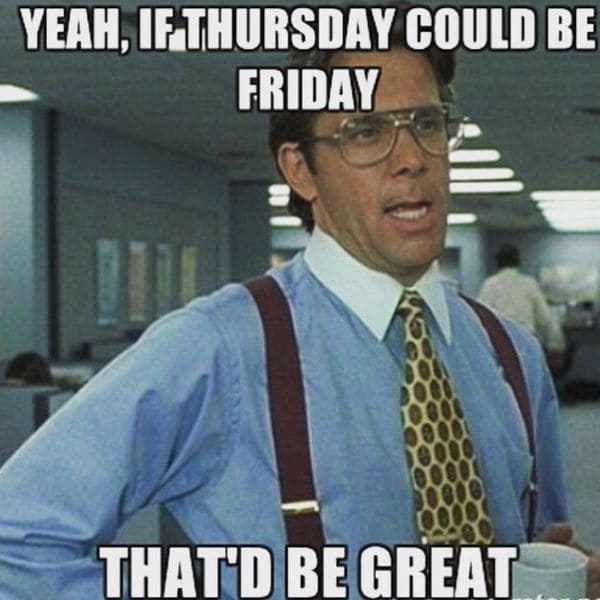 3. Computer Issues
Everyone has likely had an experience where they just don't have the desire to work. In this meme, a man is shown holding a cable, and the text says, "Thursday at work: Mysterious computer issues." Something tells me those issues aren't actually very mysterious.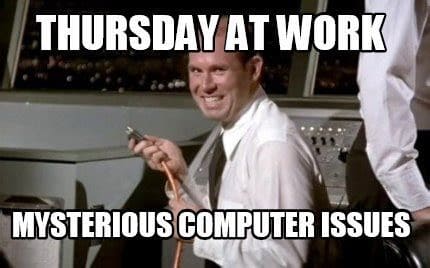 4. A Long Weekend
The best Thursdays are the ones where you don't have to come to work the next day. The elusive three-day weekend means you might actually get to rest and have some fun. This meme shows a young boy holding up a newspaper, and the tagline says, "Thursday news: Long weekend is coming."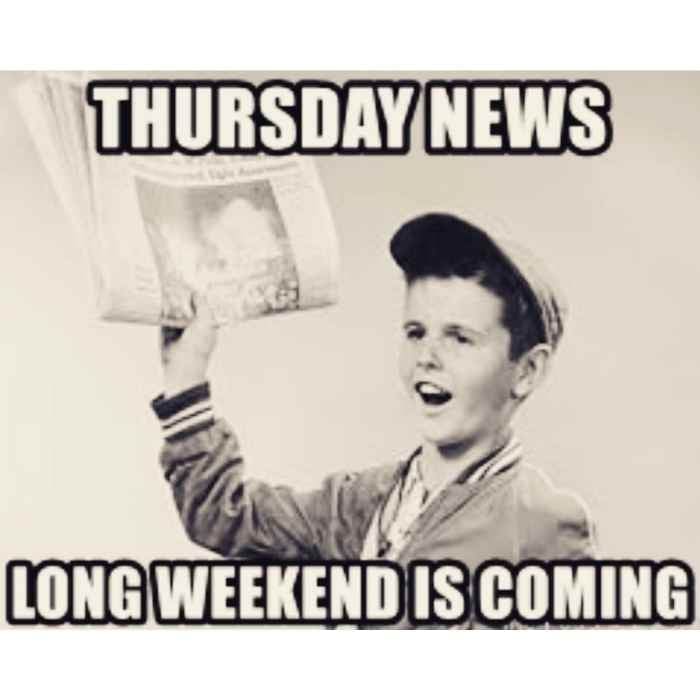 5. Bird Ready for the Weekend
This meme shows a large bird hovering above the water with its wings spread out. The text says, "Thursday today: Ready to weekend." The bird embodies everyone who is really ready for the weekend by Thursday.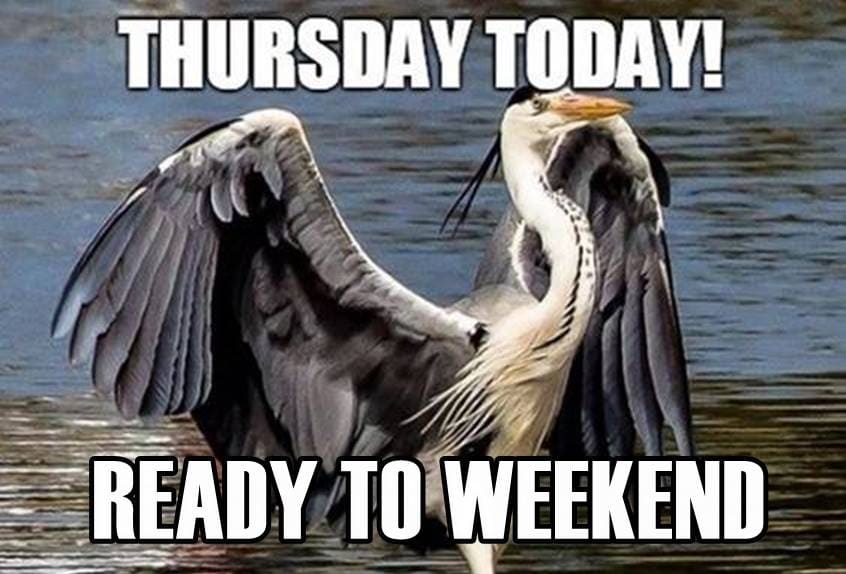 Would you like a 4 day work week?
6. Dog's Thoughts on Thursday
Who can resist an adorable little dog wearing sunglasses? This guy is ready to take on Thursday and get to the weekend. Let's all get some inspiration from this pup.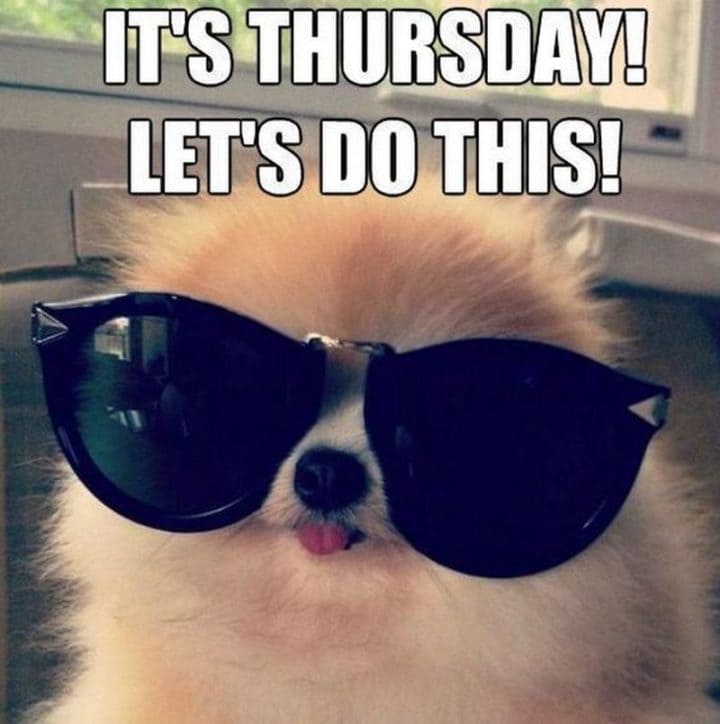 7. A Child's Excitement
Children tend to get excited about quite a lot of things, and adults have trouble matching their level of excitement. However, every adult can feel as excited about it being almost the weekend as this kid, who is happy that "It's Thursday!"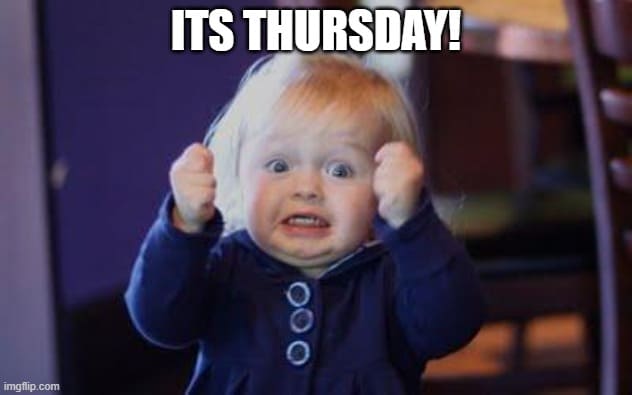 8. Thursday Exhaustion
On the other hand, most adults can also identify with the sheer exhaustion you often feel by Thursday. This dog is clearly worn out and passed out on the deck. The text says, "It's Thursday: Hang on in there."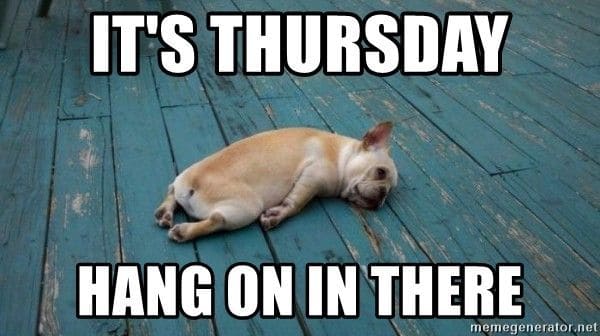 9. Toy Story
For those of us who enter Thursday with dread, Buzz Lightyear has some words of wisdom. "Don't look worried. It will be a great Thursday." Mindset is everything, after all.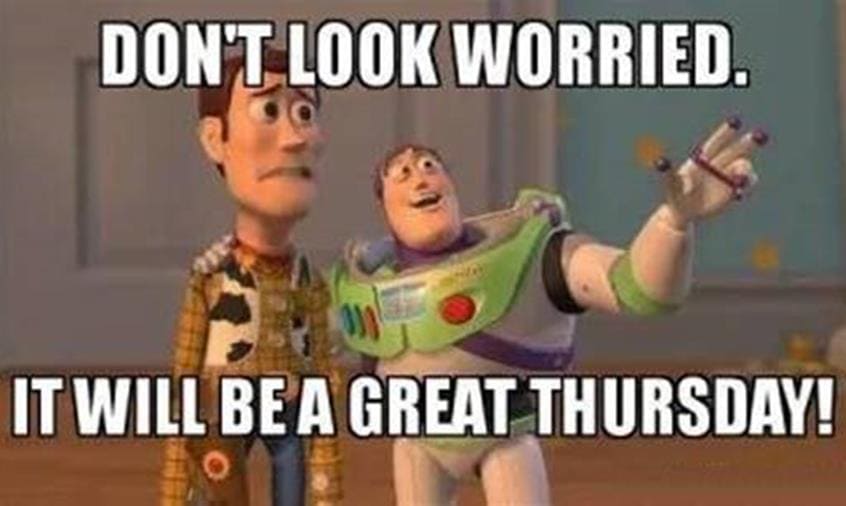 10. A Different Perspective
Life is all about how you look at it. This cute little horse prefers to look on the positive side of things. He says, "Some people call it Thursday. I like to call it Friday Eve."
11. Excited Baby
A positive perspective can really help make your day go better. This baby is pictured with a look of astonishment on their face. They can't believe that it is finally Thursday!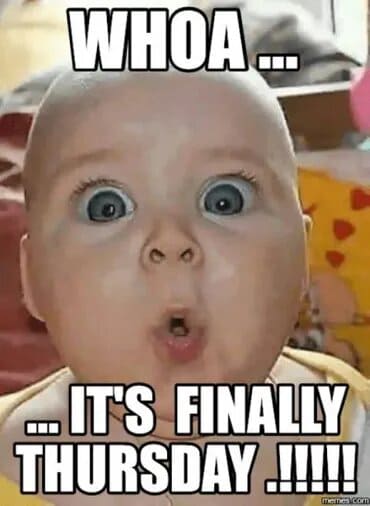 12. More Office Thoughts
Another meme from The Office shows a character looking thoroughly worn out. The text around him says, "When you realize you still have two work days until the weekend. I'm dead inside."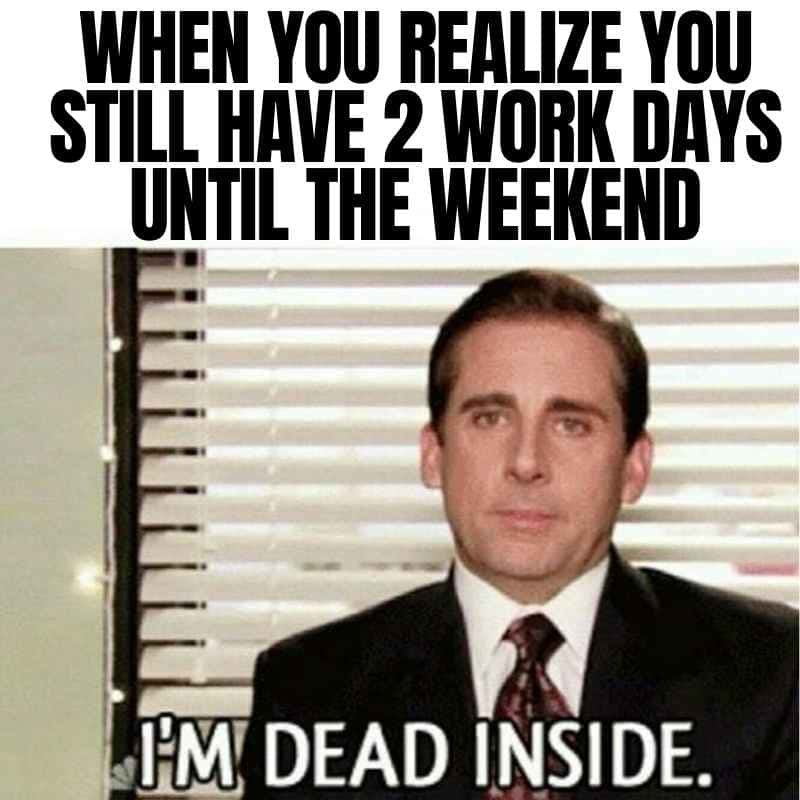 13. Hold It Together
This meme shows two cats, one of which appears to be holding the other one back. The text says, "Get a hold of yourself Bob...The coffee is almost ready and tomorrow is Friday." Many of us have been in the situation of finding ourselves a little angry that it's not the weekend yet.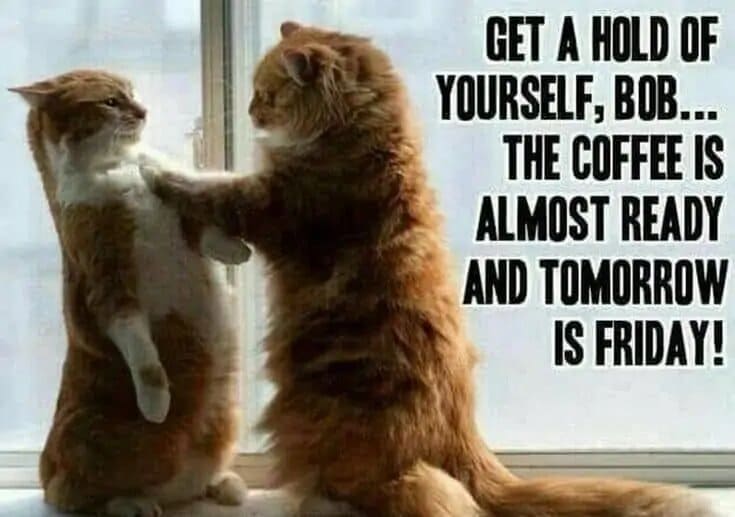 14. Workday Repetition
Some people are stuck thinking about the dismal reality that the weekend is only two days long, and then they have to go back to work. This ecard shows a man and a woman celebrating, and the text says, "Happy Thursday. You're only one day away from being two days away from doing the same work you're doing now."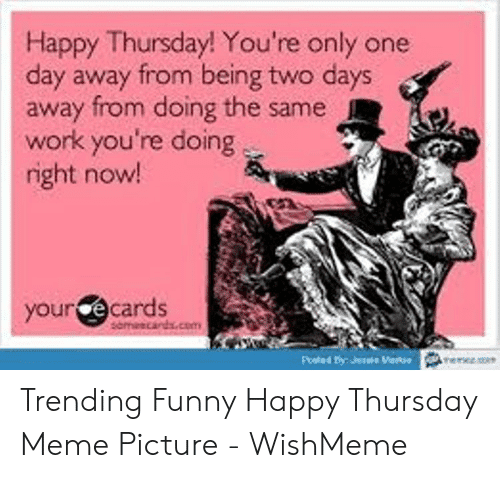 15. Incredulous Baby
Babies make some hilarious faces, and in this meme, a baby is seen looking incredulous. The text around him says, "Thursday? Are you serious?" You've probably had one or more of those weeks where it seems like it can't possibly only be Thursday.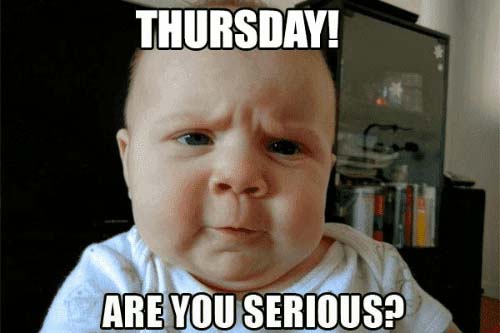 Would you like a 4 day work week?