23 Different 4 Day Work Week Infographics
Explore the benefits and impacts of the 4-day work week through insightful infographics. Discover how shorter weeks could reshape modern workplaces.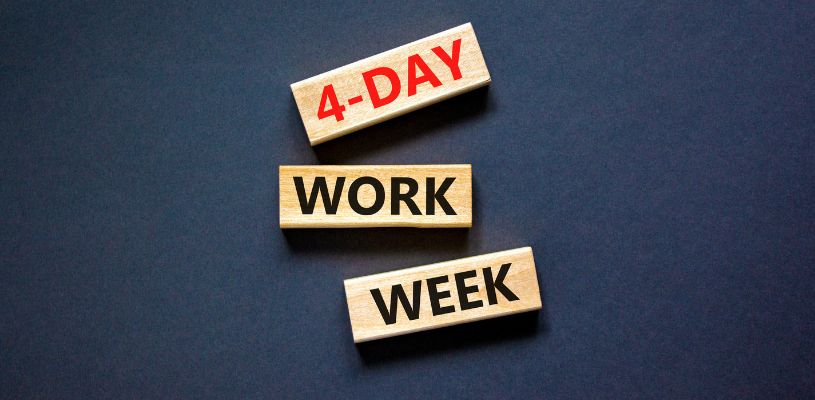 Here are 23 different infographics about the 4 day work week:
1. The Impact of the 4-Day Workweek: UK 2023 Results
The 4-day workweek has had a transformative effect on the UK's working culture, benefiting both businesses and their employees: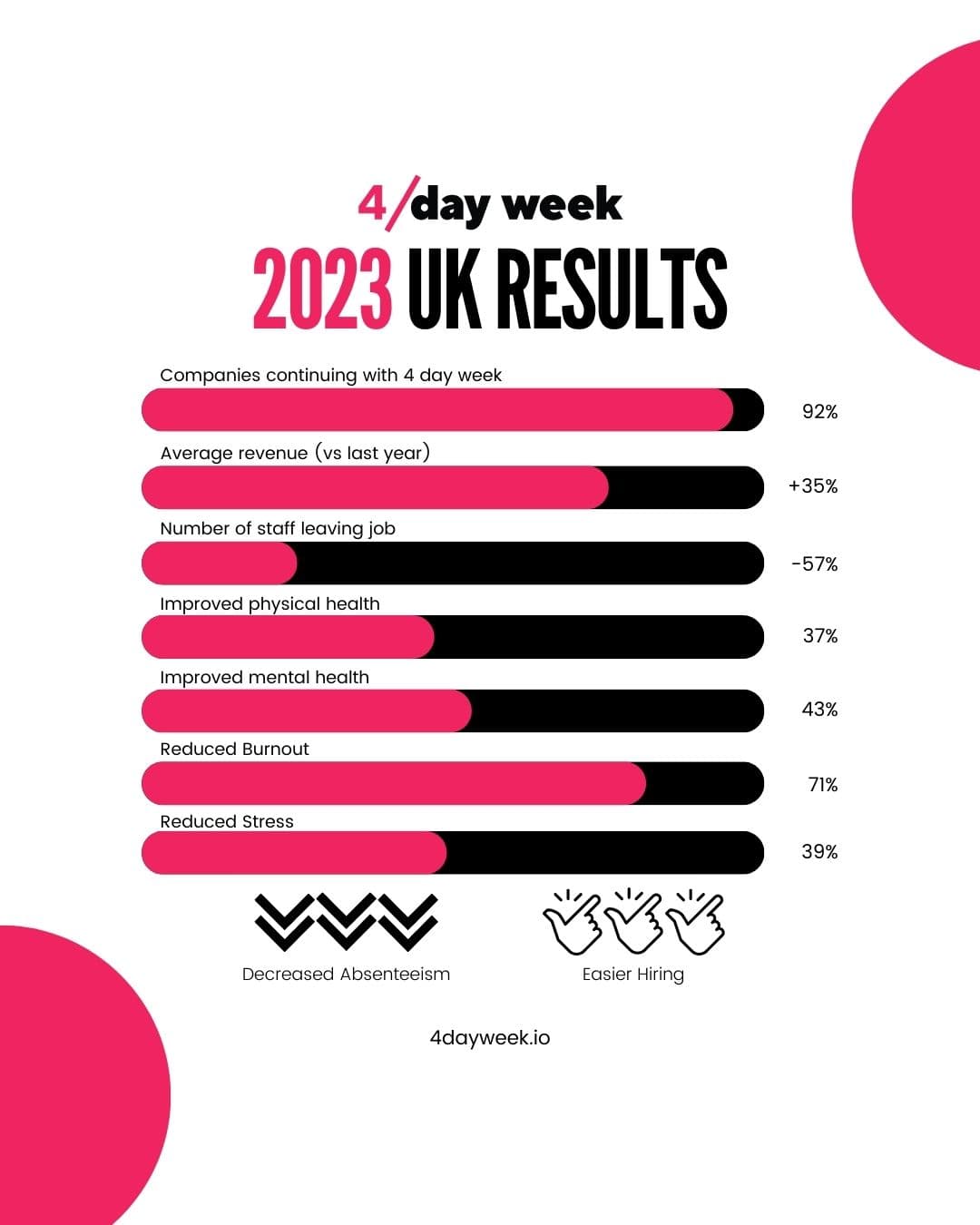 2. The Transformative Impact of the 4-Day Workweek
There was a noticeable shift before and after adopting the 4-day workweek. Feedback from employees following the adoption of the 4-day workweek indicates: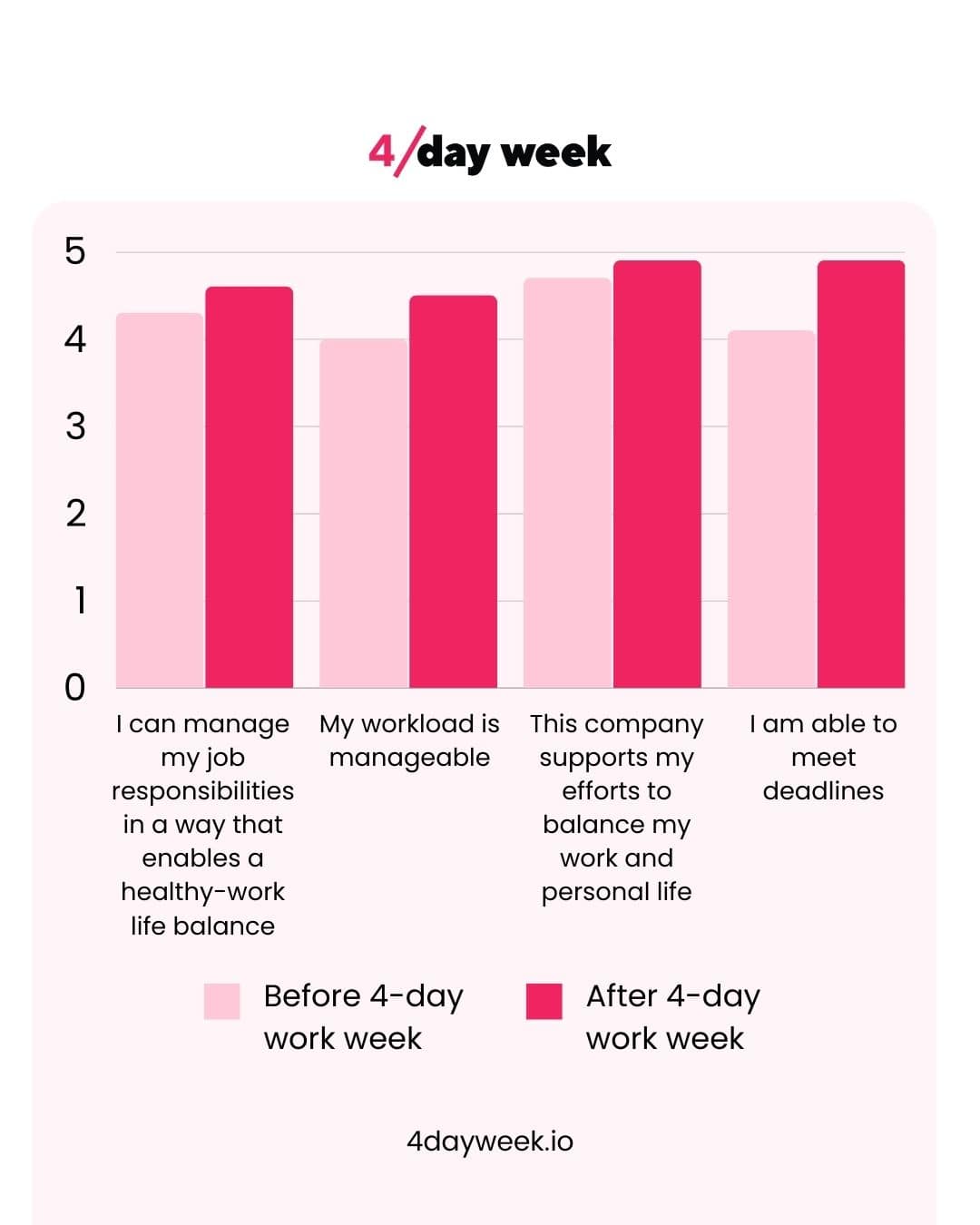 3. The 4-Day Week 32hrs Pilot in Numbers
The 4-day workweek, with a reduced schedule of 32 hours, has been a transformative pilot for companies, showcasing remarkable results in adoption and retention.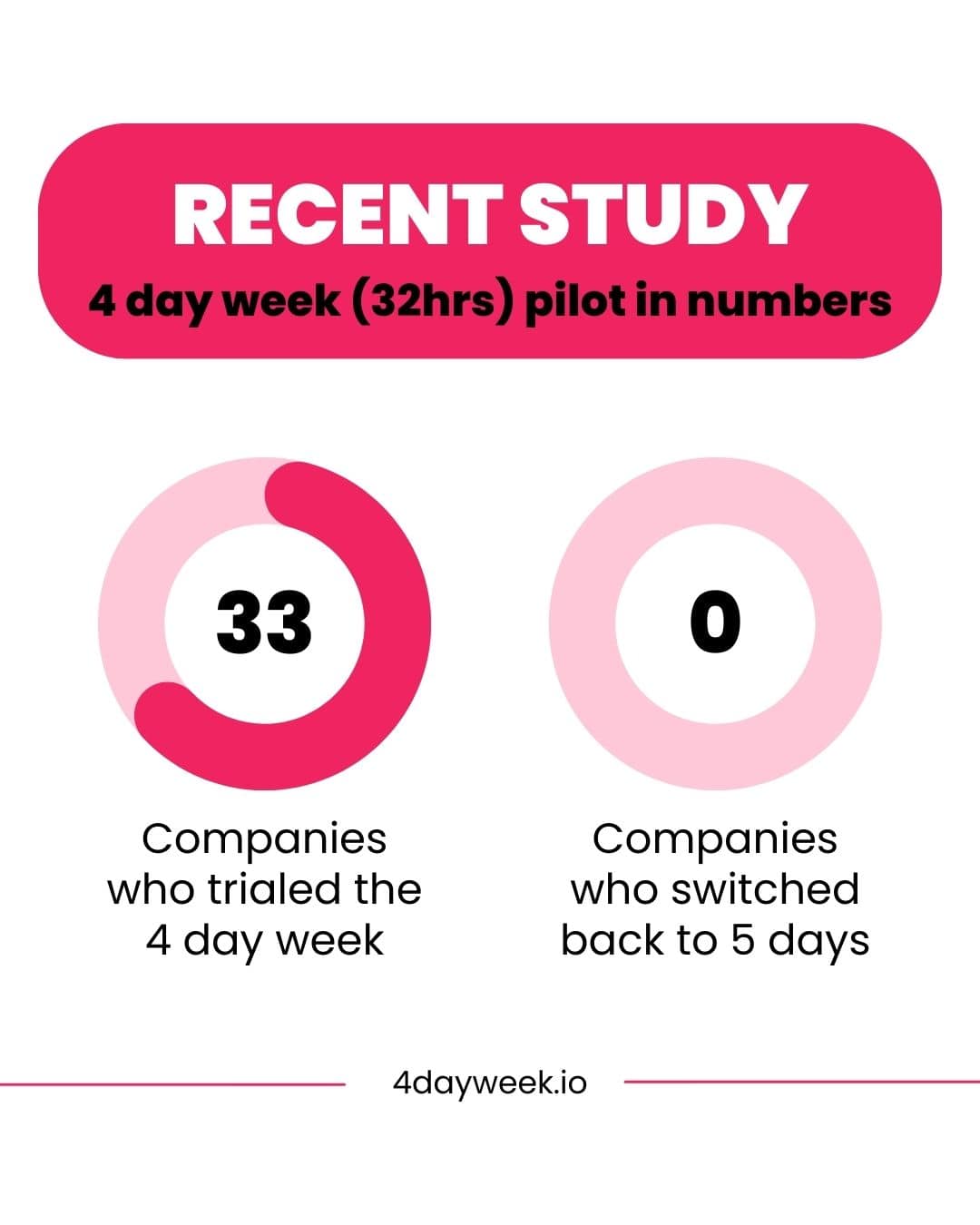 4. A 4-Day Week Pilot Result
The 4-day workweek pilot program yielded impressive outcomes: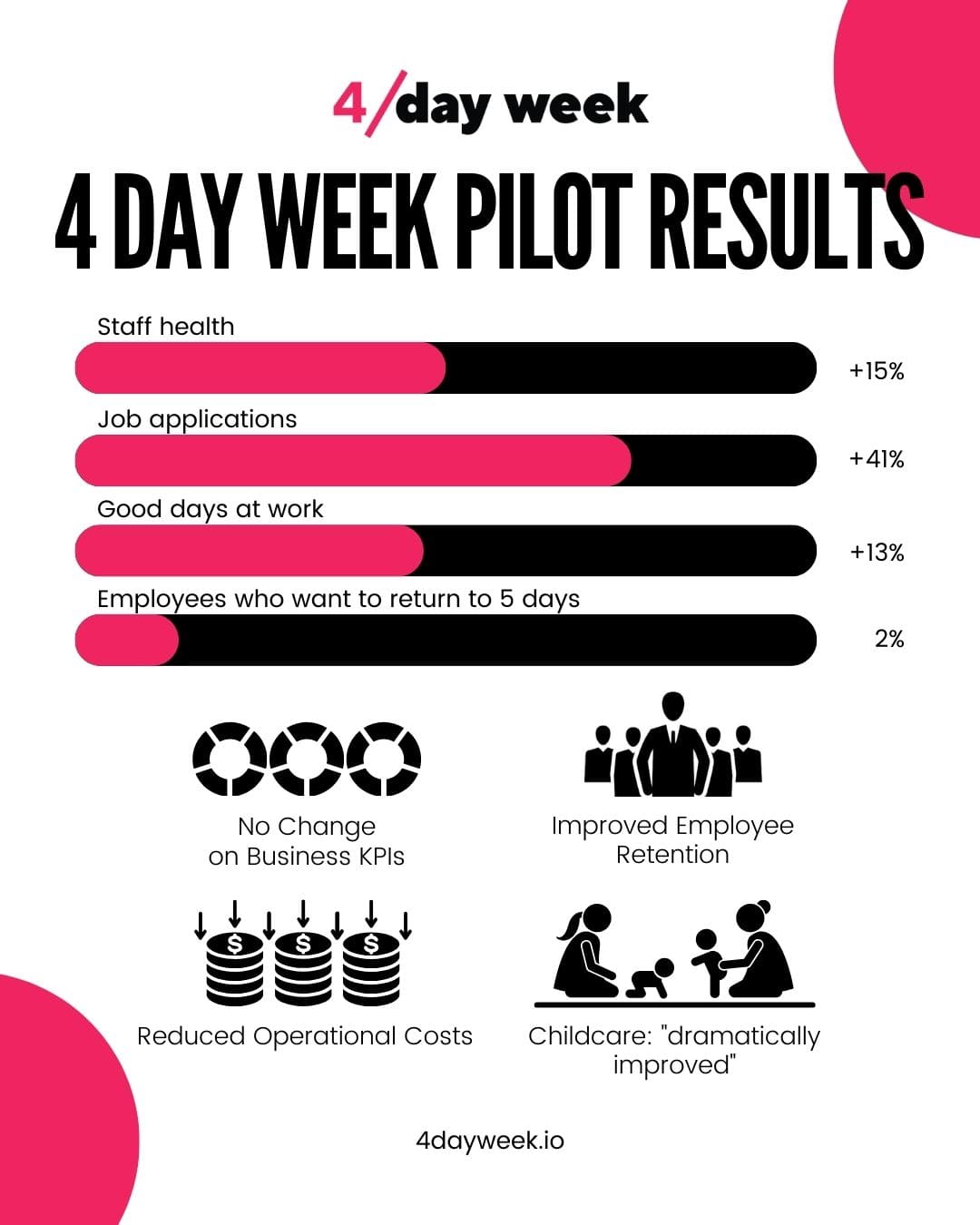 5. Improved Hiring Efficiency with 4-Day Workweeks
Since January 2022, an analysis of job postings mentioning 4-day workweeks and their time-to-fill statistics reveals:
Job postings with 4-day workweeks filled in just 24.4 days.
All other job postings averaged a 37.4-day fill time.
This shows that companies incorporating 4-day workweeks into job postings experience a 35% faster job-filling process, highlighting the appeal and efficiency of this approach in talent acquisition.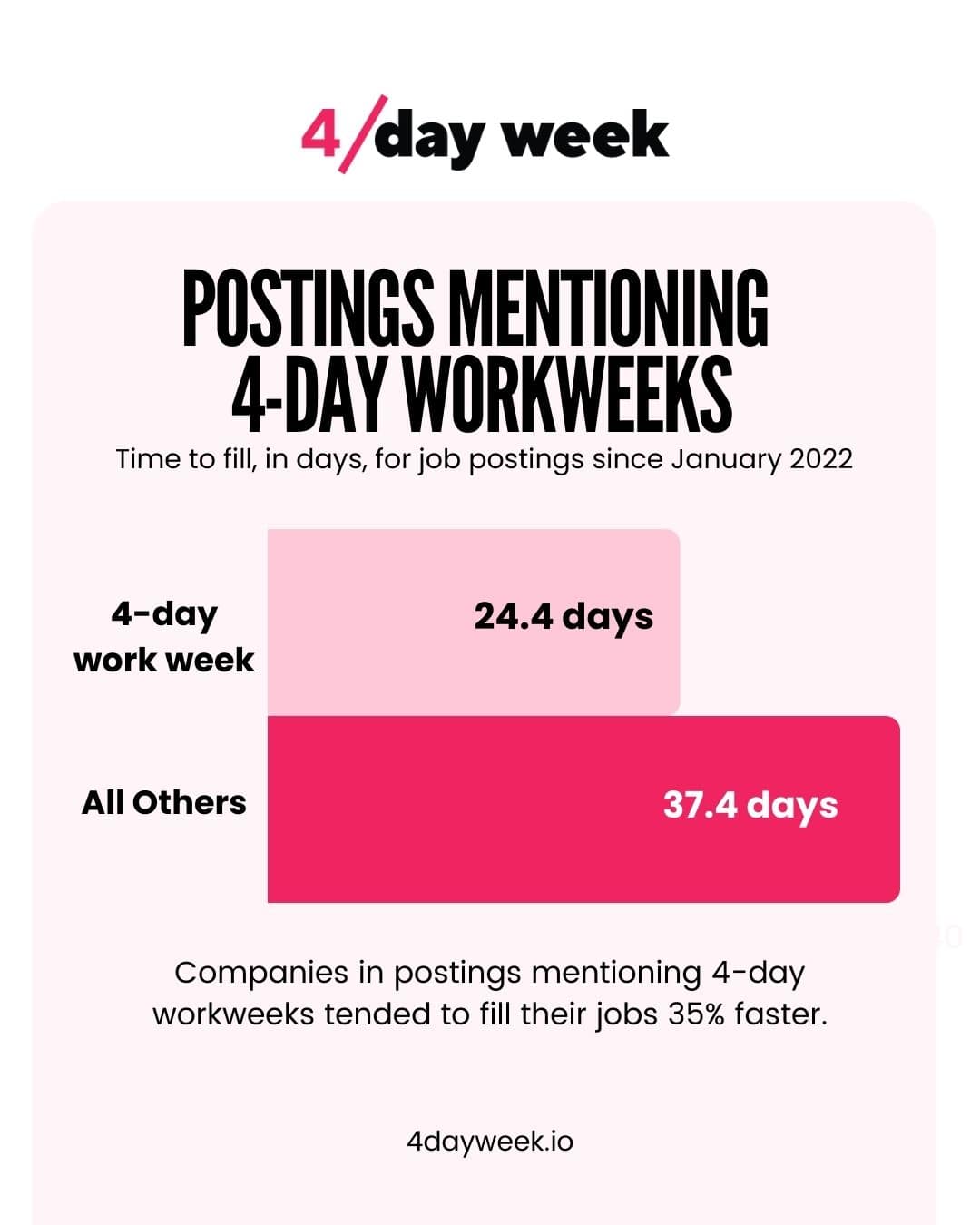 6. Countries That Have Embraced 4-Day Work Week
A 4-day workweek has been gaining momentum globally to improve work-life balance and increase productivity.
Here are some countries that have taken notable steps toward adopting this progressive work schedule: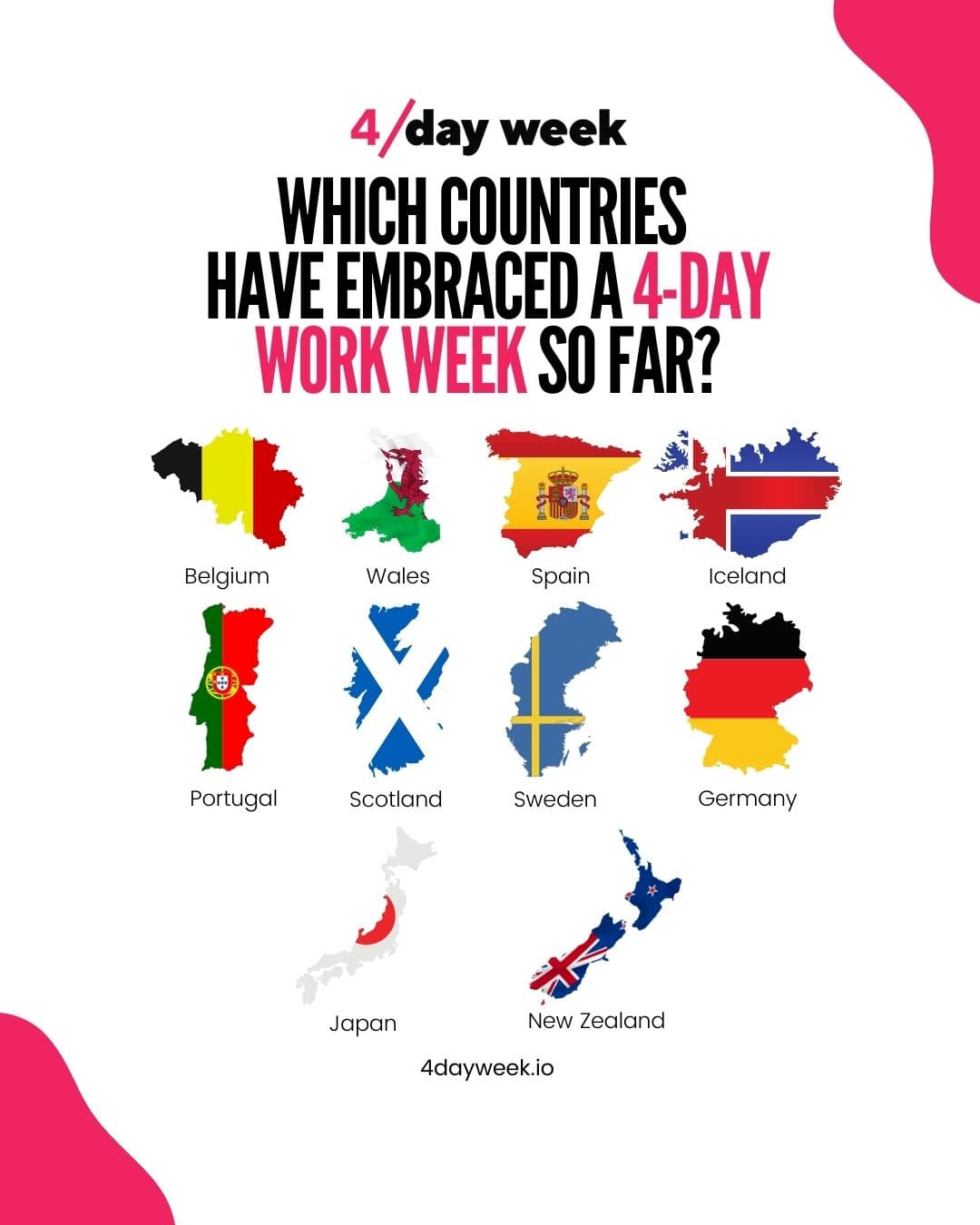 7. Reducing the UK's Carbon Footprint
The UK is contemplating transitioning to a 4-day workweek by 2025 to combat climate change and reduce its carbon footprint.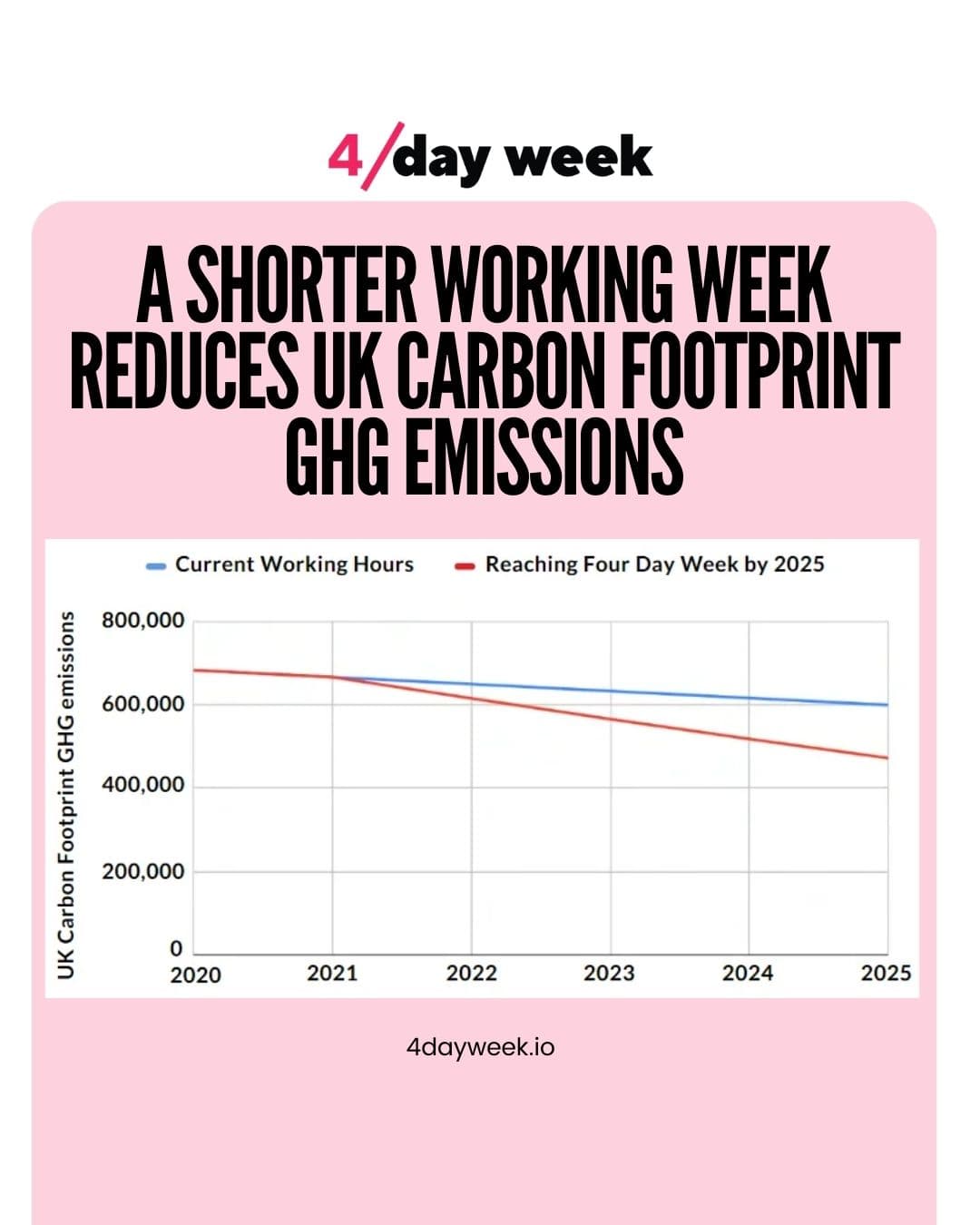 8. Employees Views on the 4-Day Work Week
A 4-day work week has sparked considerable debate, but what do the workers think?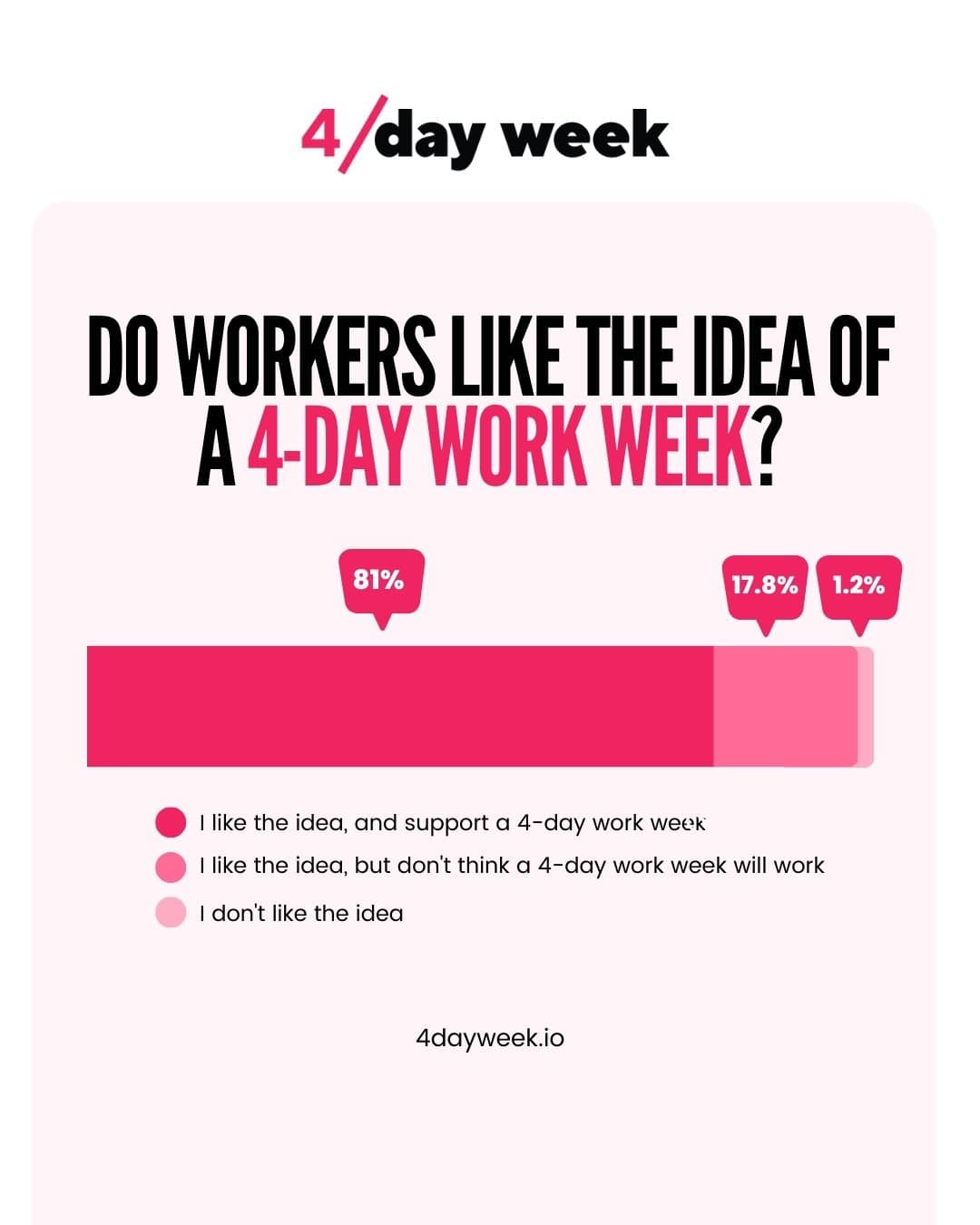 Would you like a 4 day work week?
9 Do Americans Work More Than Other Countries?
The US stands out when comparing average hours worked per week, including vacation and holiday times.
Americans work an average of 33.9 hours per week. Here's a snapshot of the weekly work hours in various countries: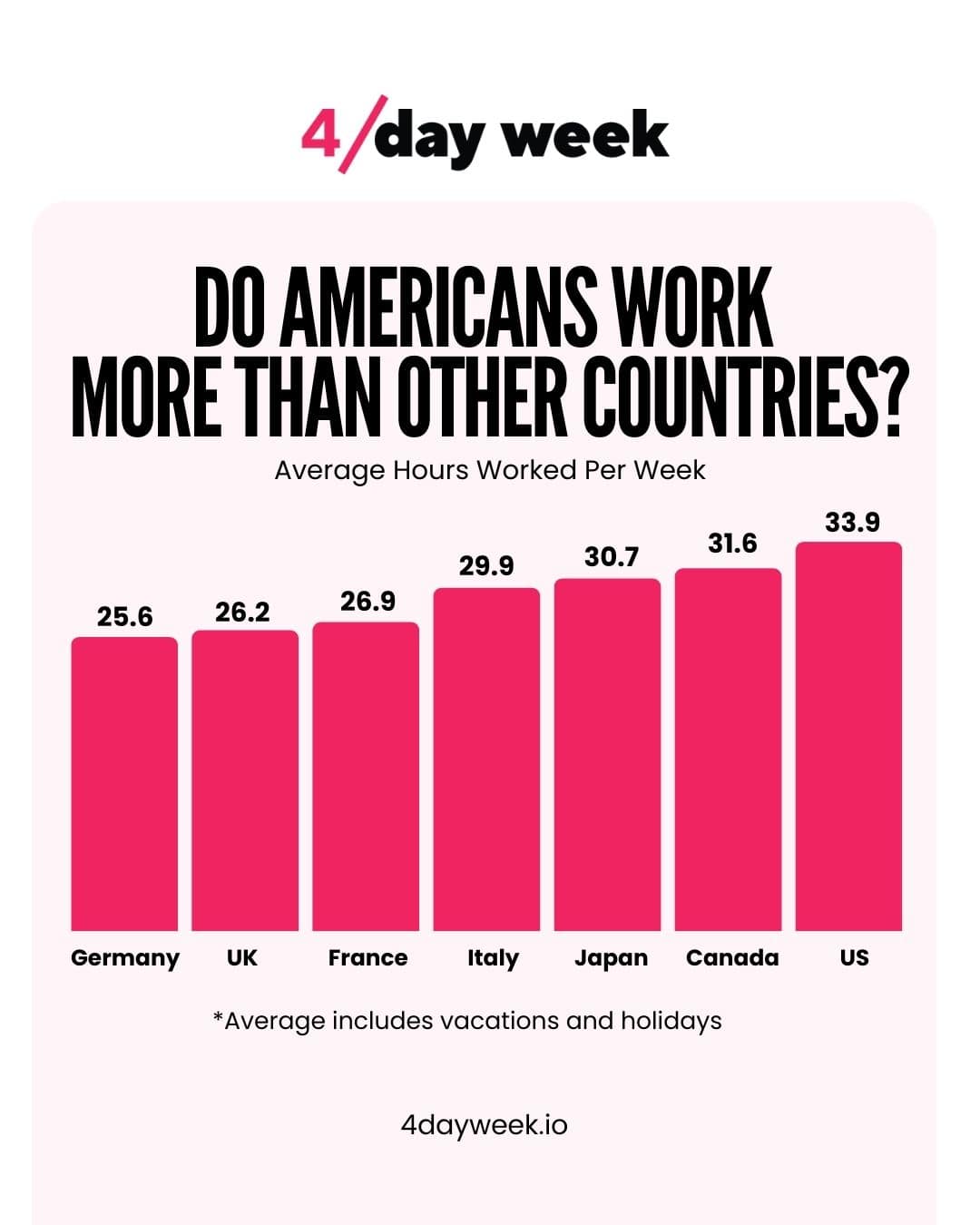 10. Perks of 4-Day Workweek: How Employees Benefit?
The buzz about the 4-day workweek has been growing, and the advantages are clear for many employees. Here's what they believe are the top benefits: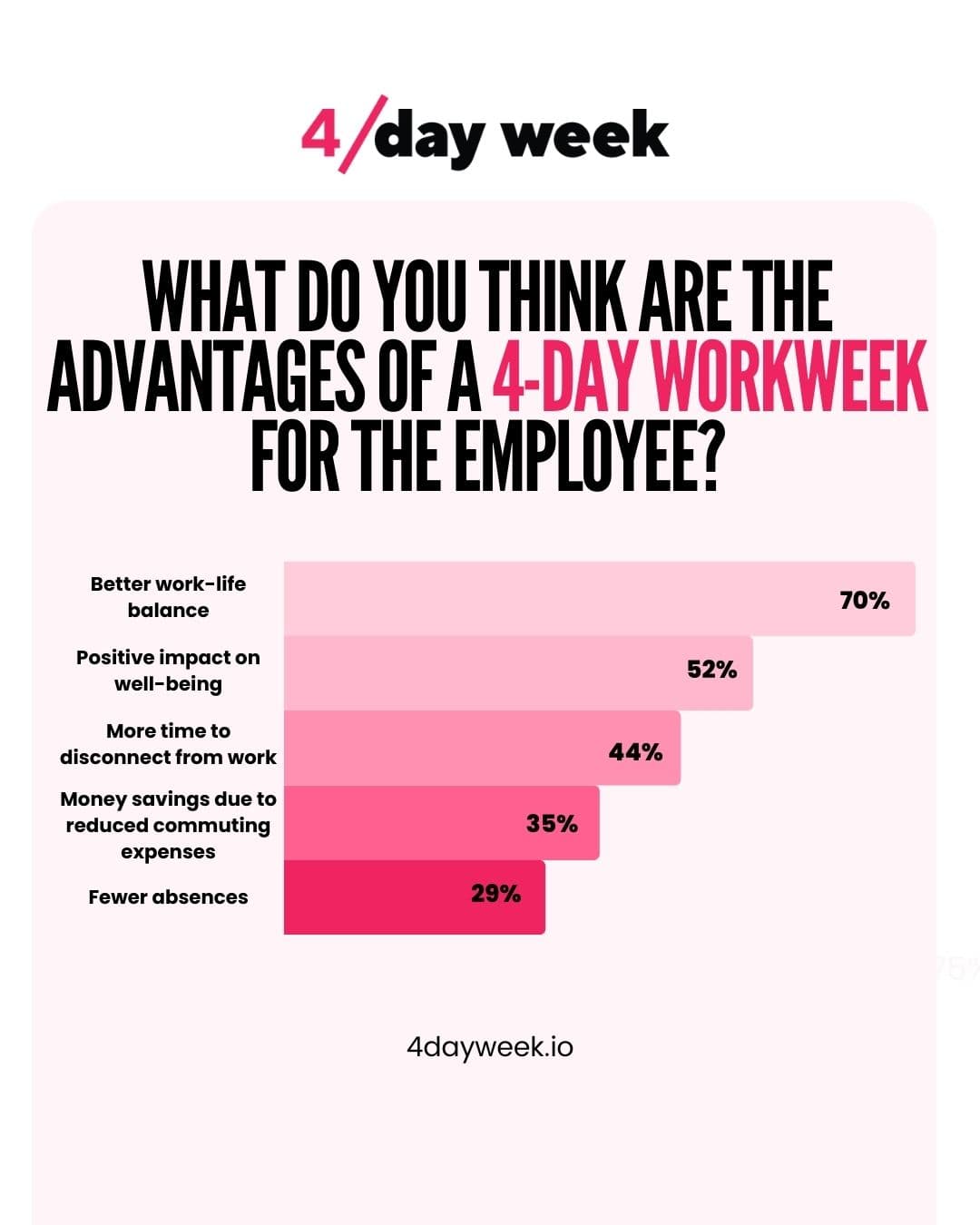 11. Employee Productivity and the 4-Day Workweek: A Snapshot
There's a rising sentiment among workers that a shorter workweek might be the key to unlocking greater productivity.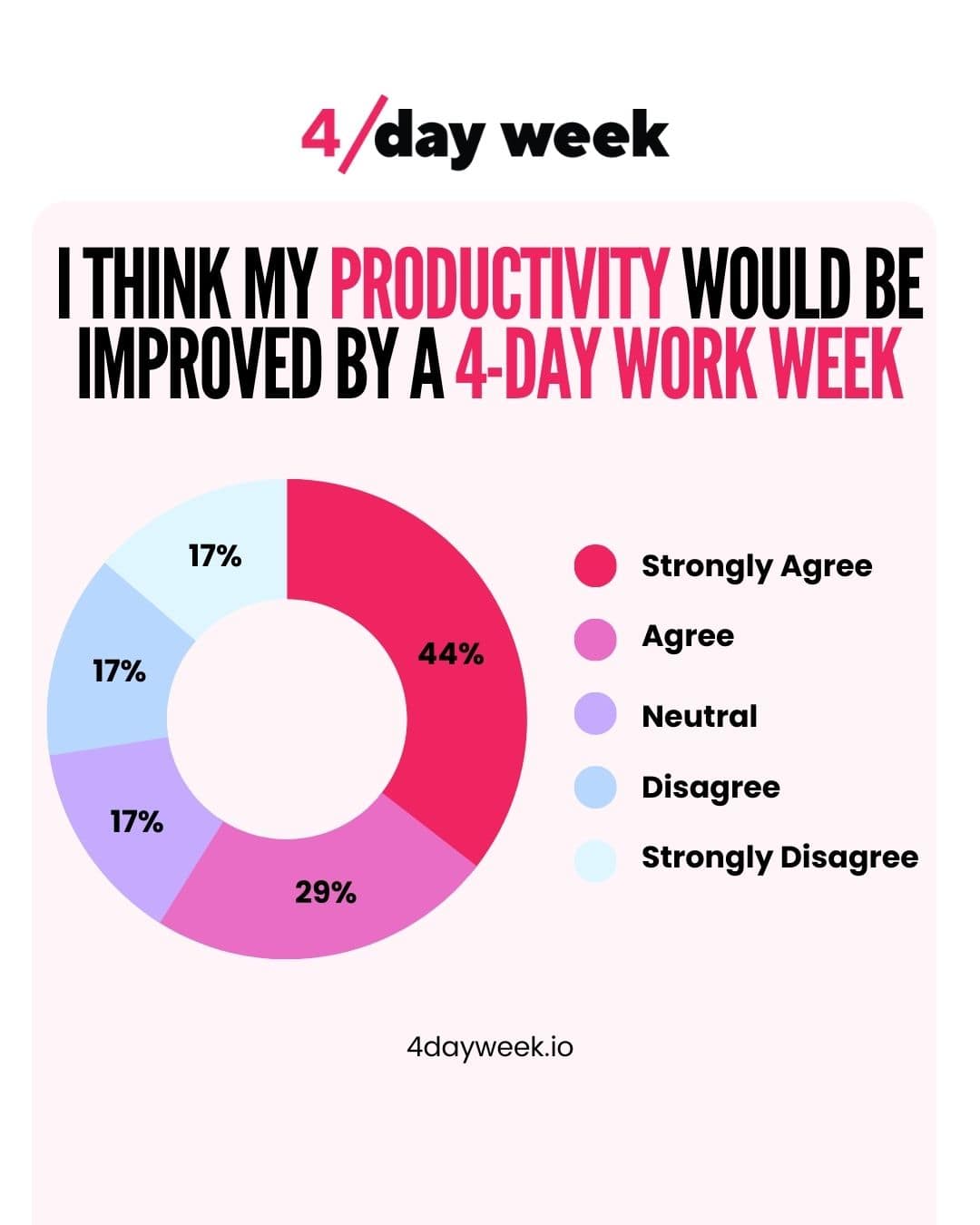 12. A Positive Impact on Job Performance
A recent trial exploring the benefits of a 4-day workweek has brought forth some illuminating results. Remarkably, job performance levels were maintained even with one less workday.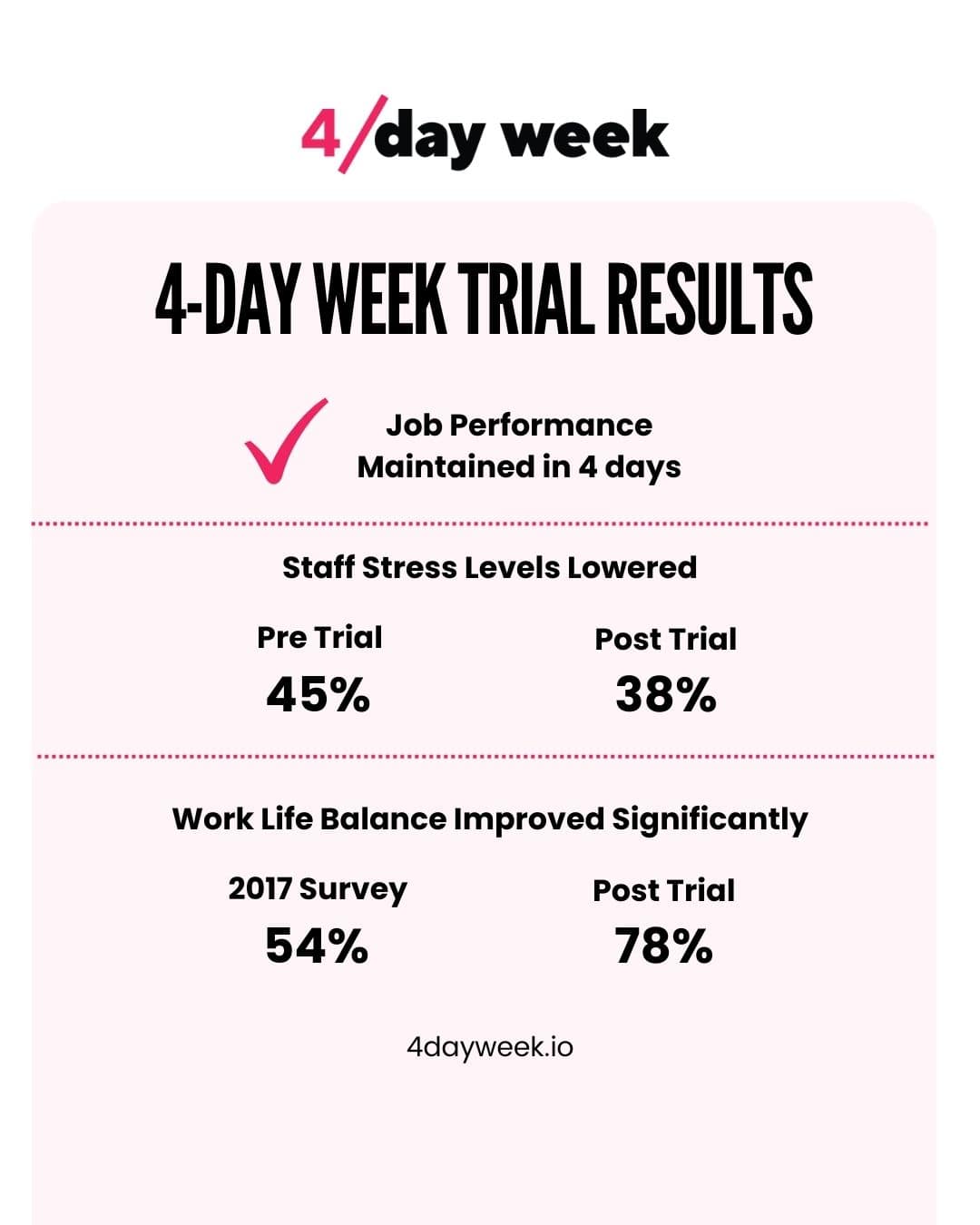 13. Boosting Team Engagement
The impact of a 4-day workweek trial on team engagement is undeniable: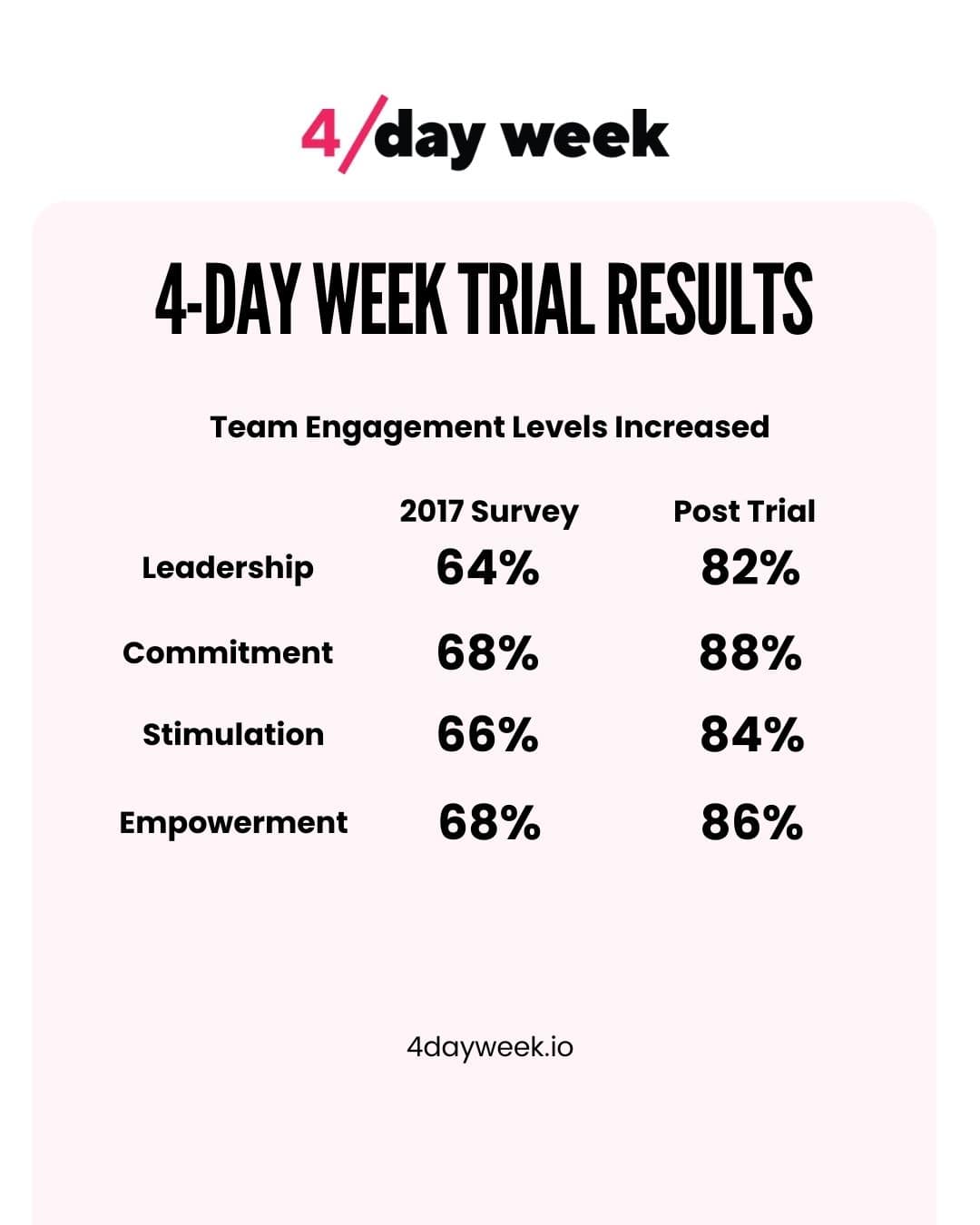 14. Boosting Productivity
The impact of a 4-day workweek on productivity at British companies is impressive: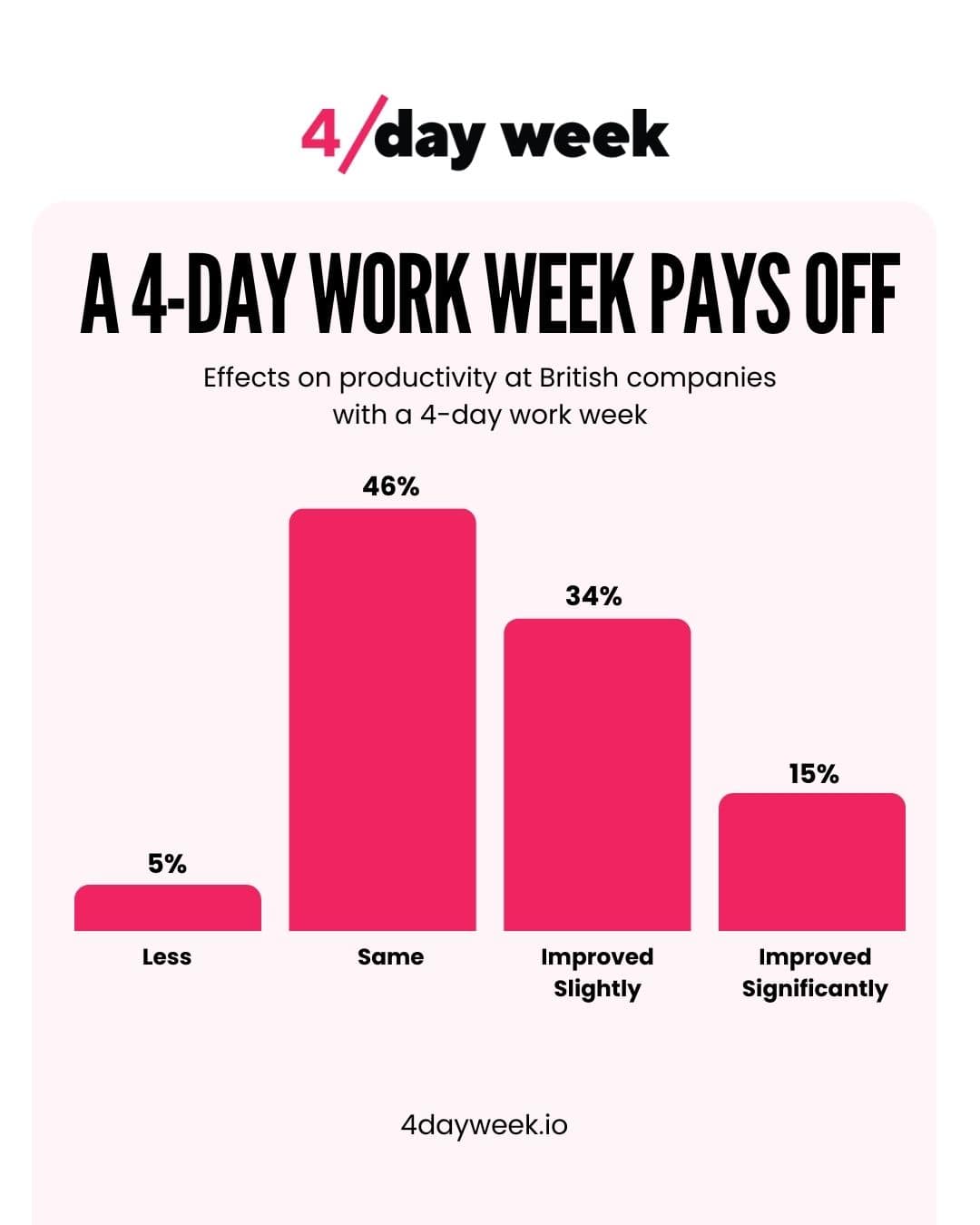 15. By the Numbers
The statistics surrounding the 4-day workweek are revealing. Let's break it down: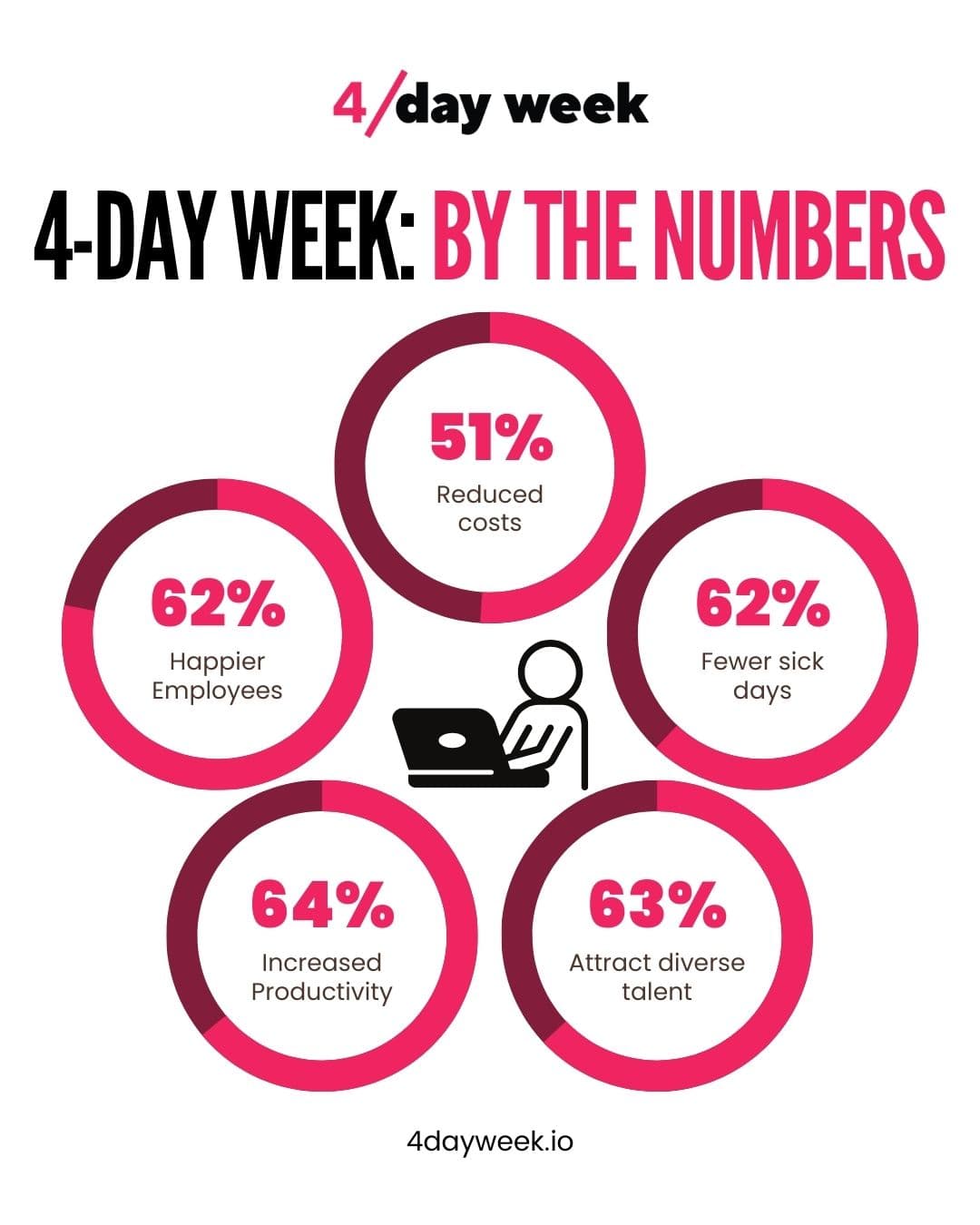 16. Work & Mental Health
Could a 4-day workweek be the key to better mental health and worker productivity? Worldwide results suggest the following: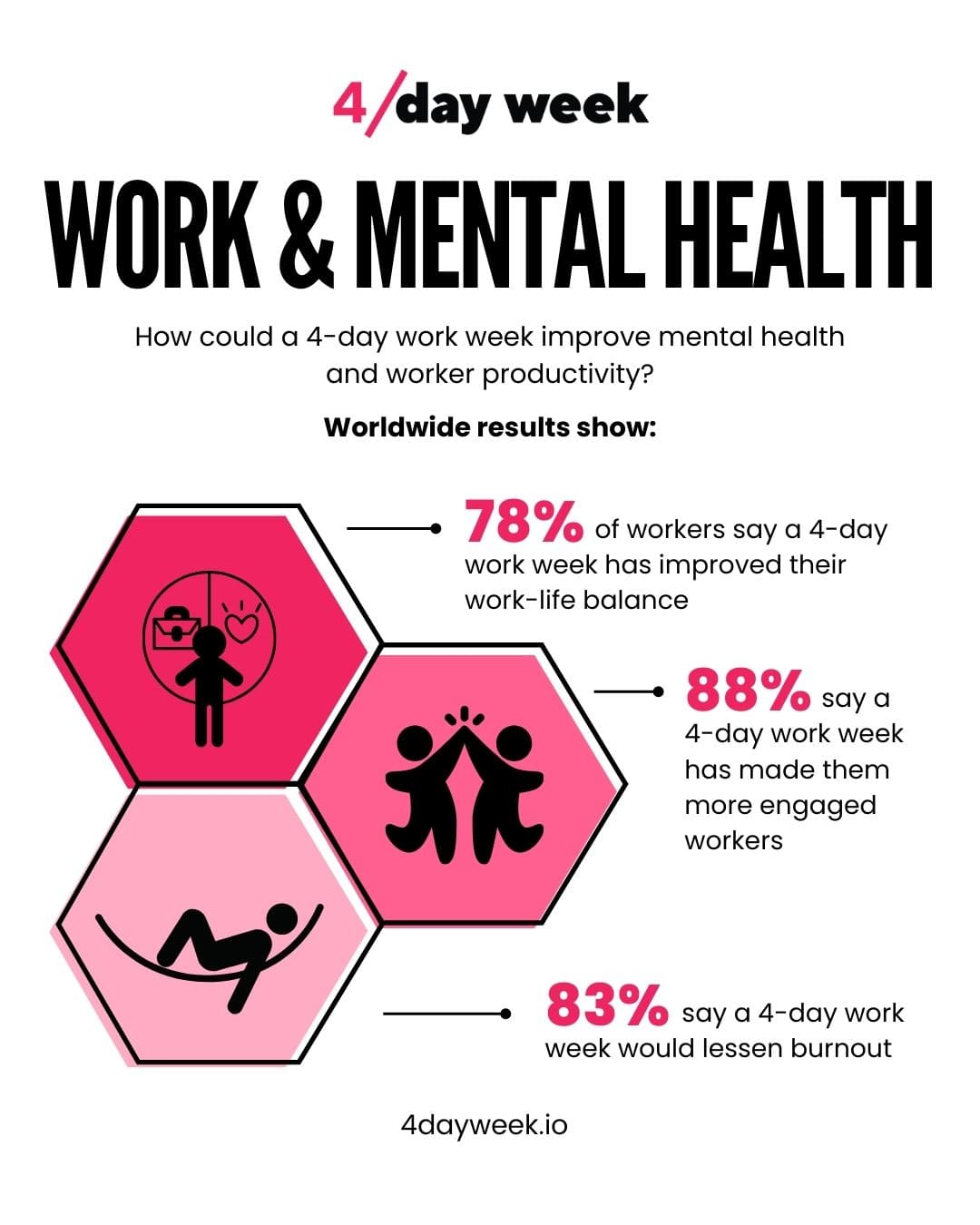 17. 6 Alternatives To a 'Fully Fledged" 4 Day Workweek
While the traditional 4-day workweek gains traction, some businesses are getting creative with alternative work arrangements to suit diverse needs: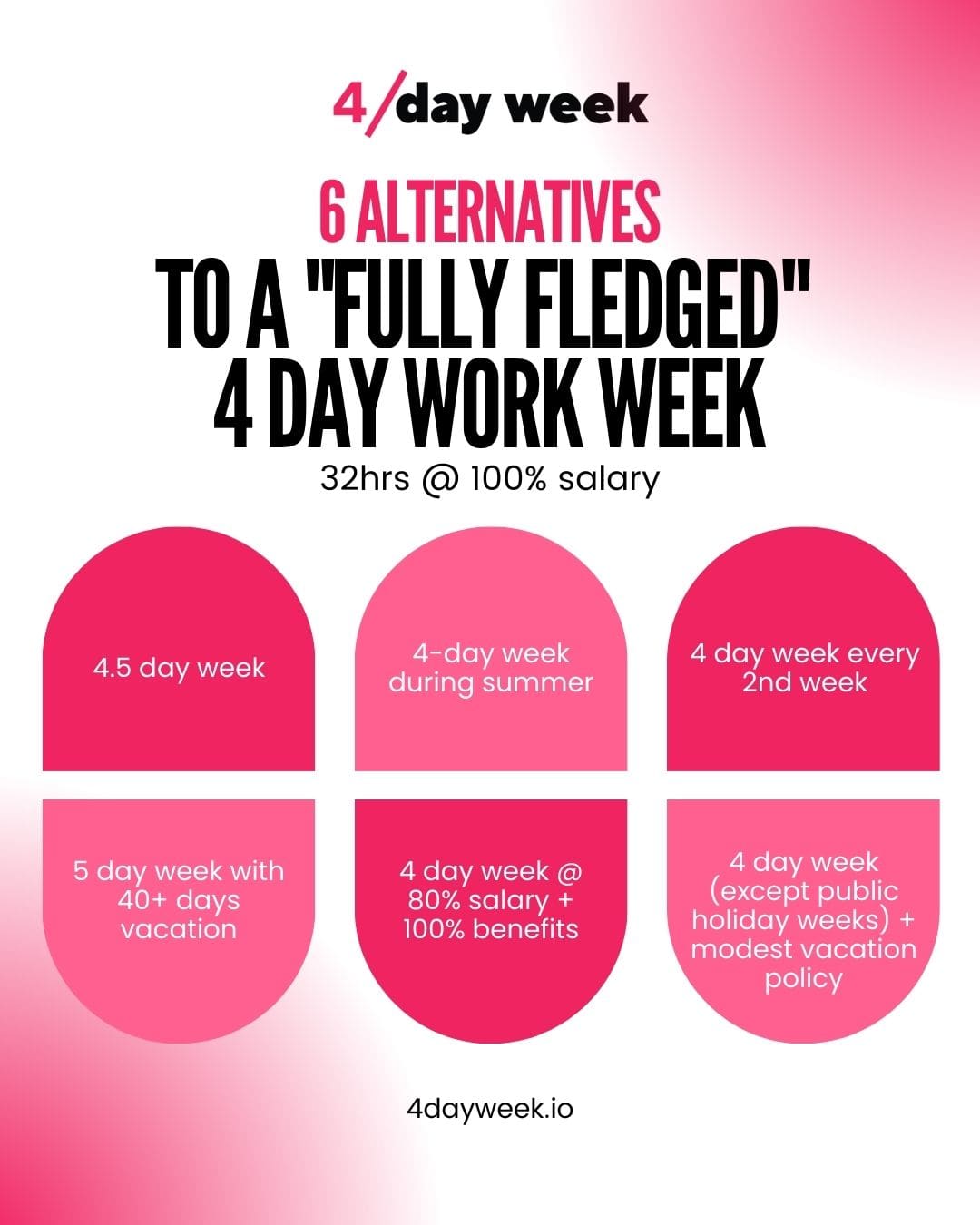 18. How Long Does it Take to Do Your Job to the Fullest Extent?
When it comes to doing their job to the fullest extent, workers have diverse opinions on the ideal work hours: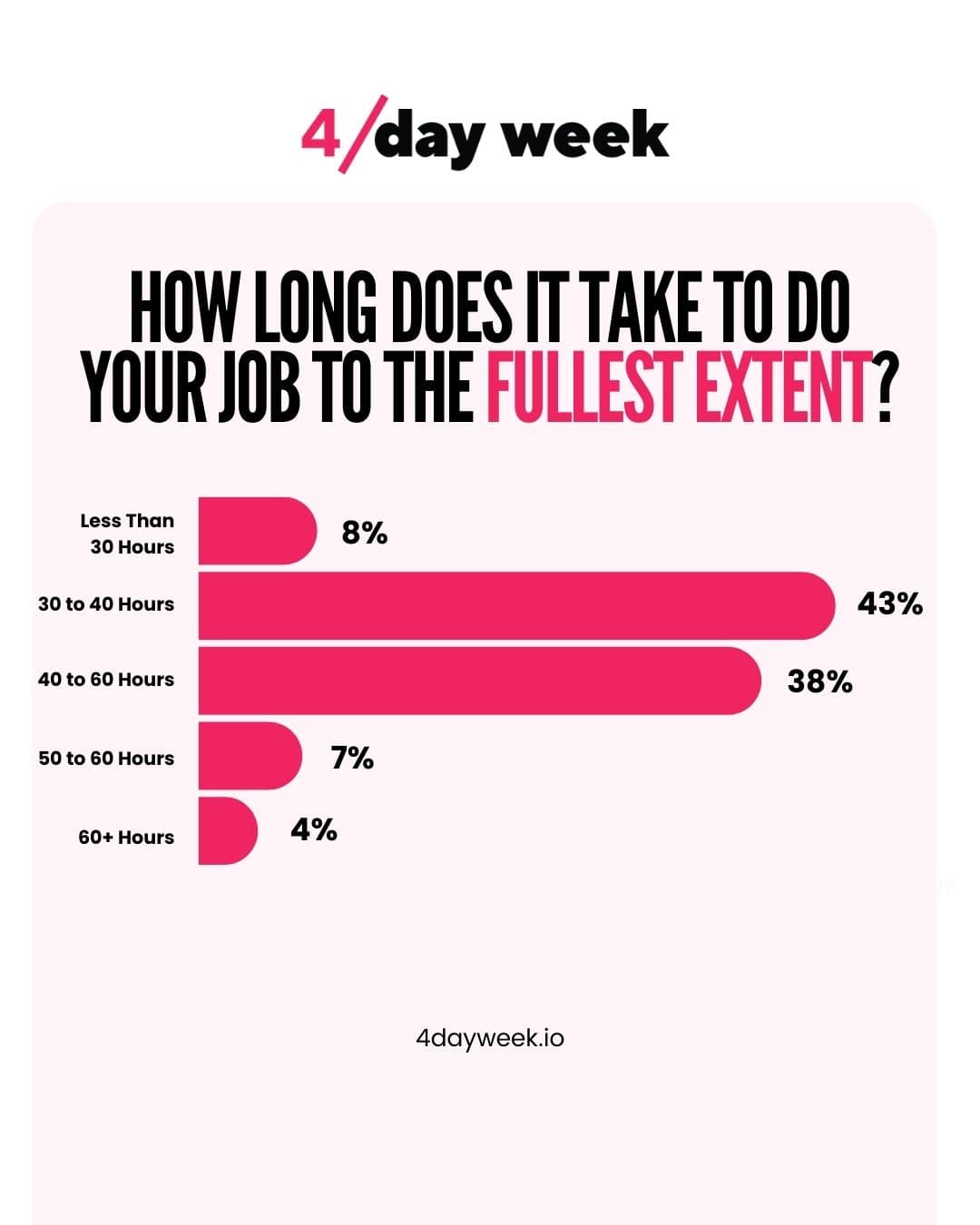 19. A Closer Look at Employee Preferences
In a recent survey, the idea of transitioning to a 4-day work week garnered significant attention from employees: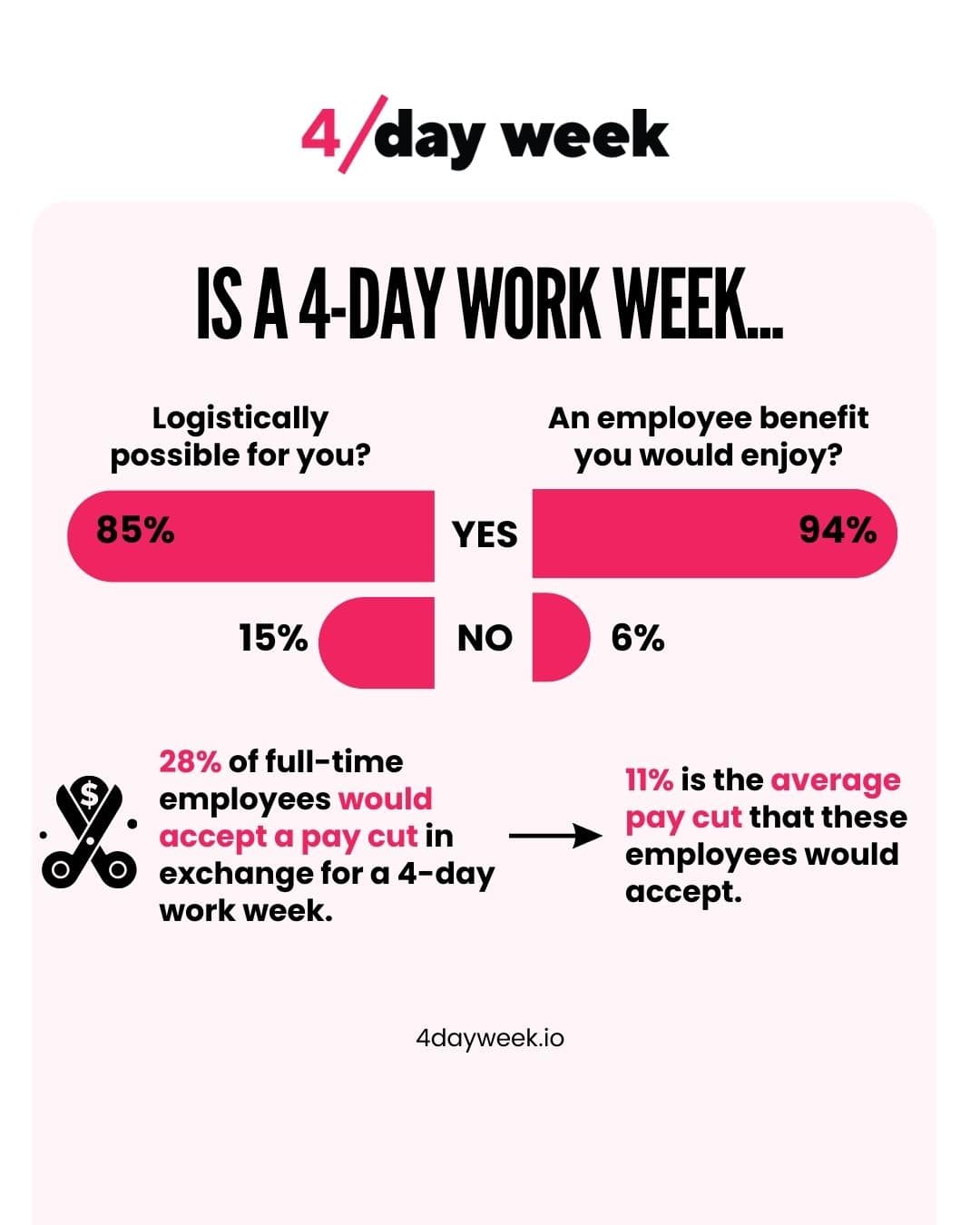 20. The Rise of the 4-Day Work Week
This shift promises improved work-life balance and increased employee productivity, signalling a significant change in our approach to work shortly.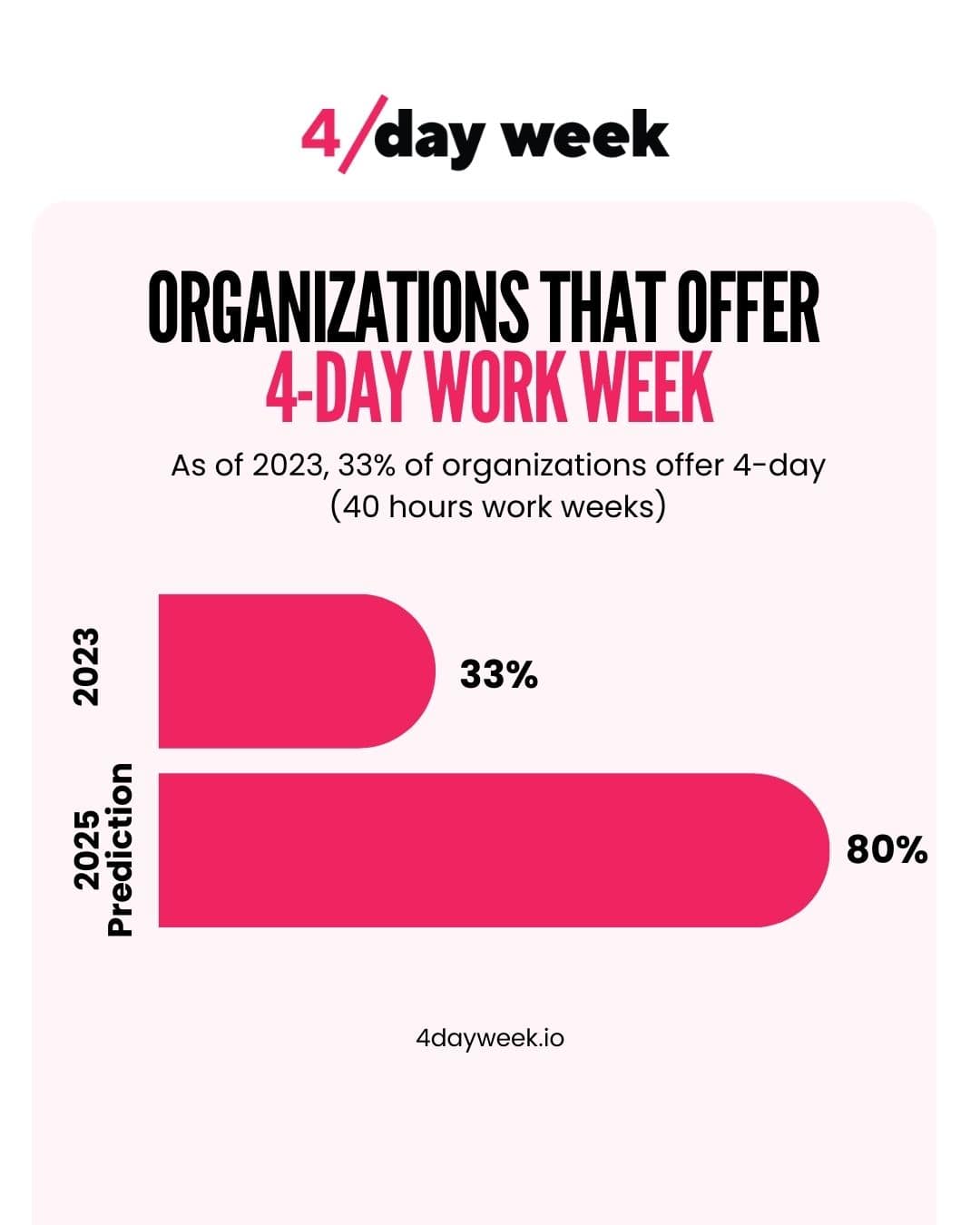 21. The Benefits of a 4-Day Work Week for Employees
Switching to a 4-day workweek offers several compelling benefits: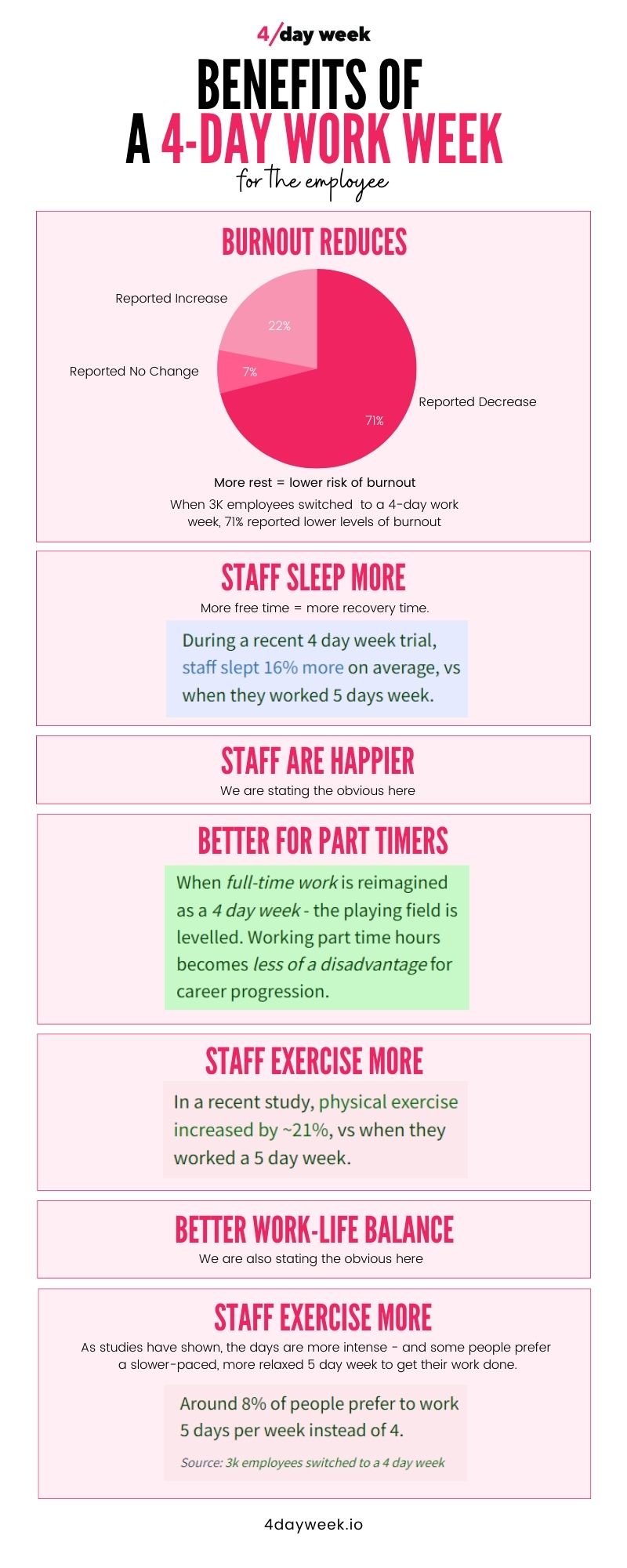 22. Benefits of a 4-Day Work Week for the Company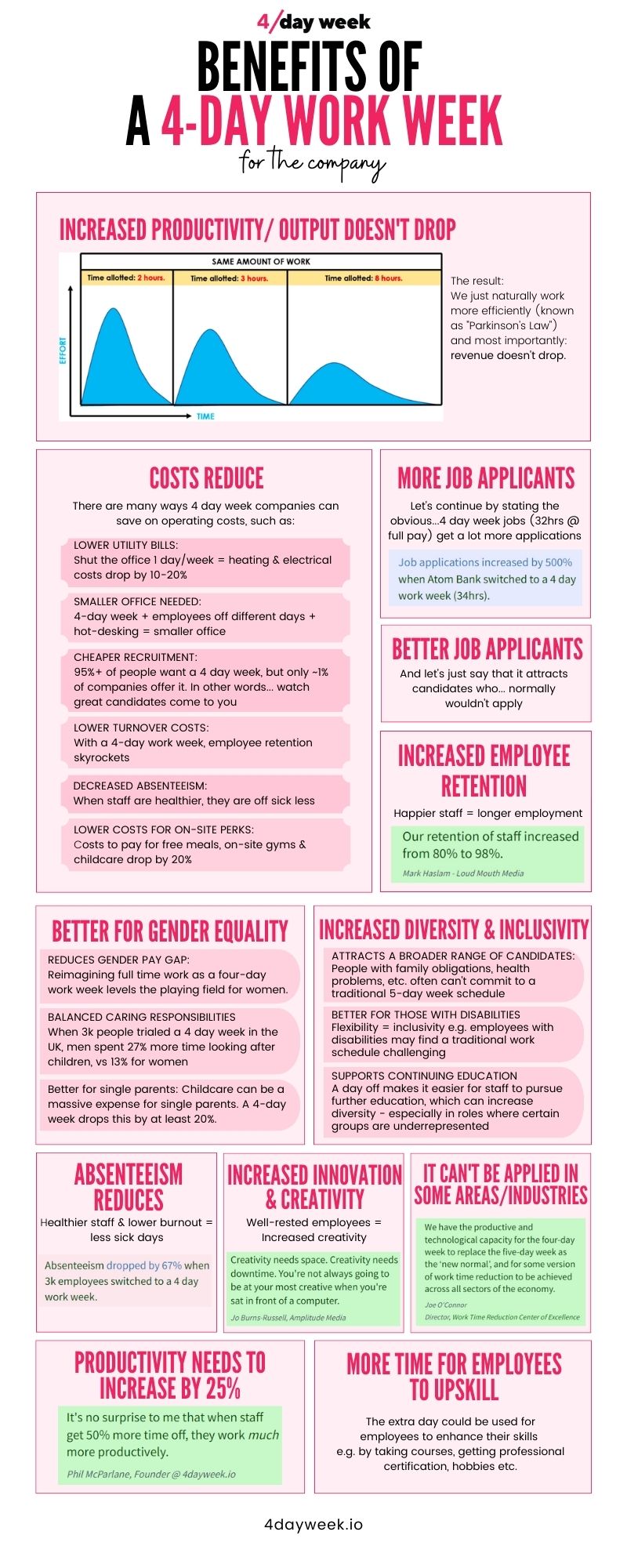 23. Benefits of a 4-Day Work Week for the World
Embracing a 4-day work week doesn't just benefit employees—it can have a far-reaching positive impact on our world.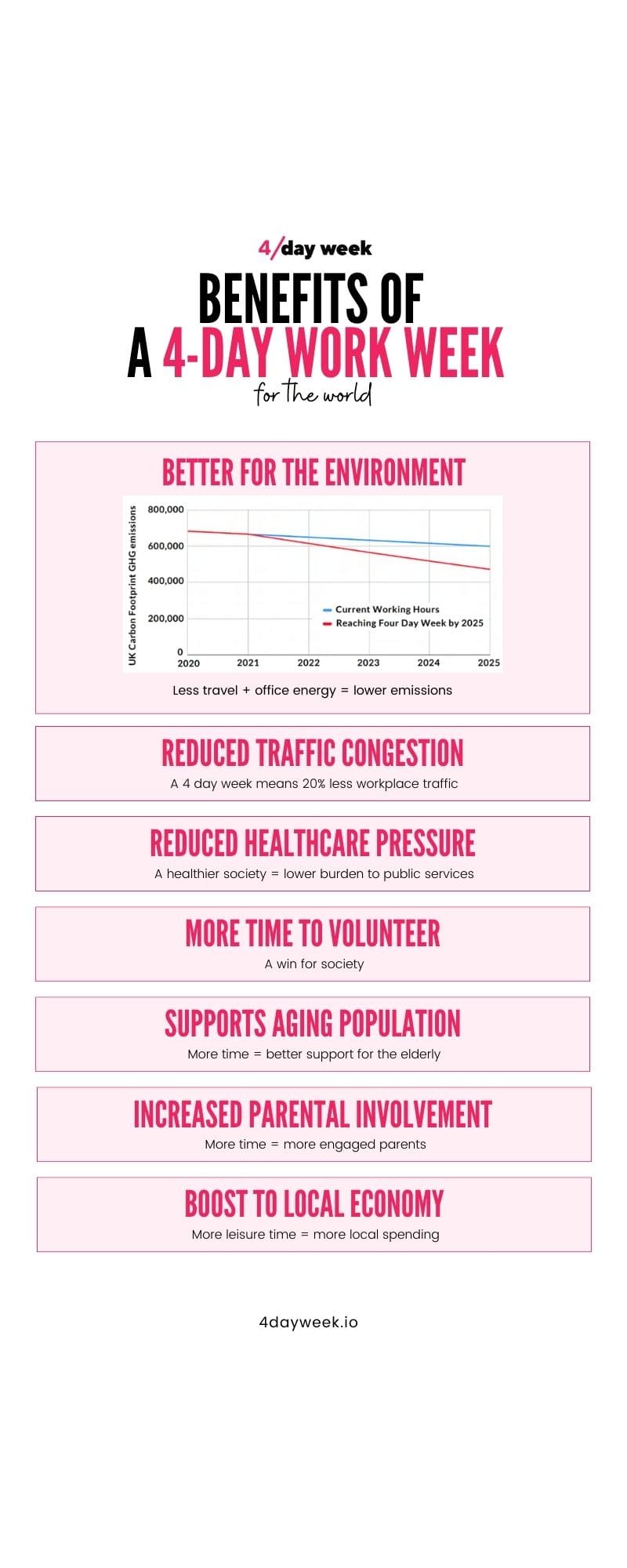 Would you like a 4 day work week?