6 Indeed.com Alternatives: Job Boards for Every Niche
Explore the best Indeed alternatives for every niche. From design to marketing, this blog post provides you with a comprehensive list of niche job search websites that can help you find your dream job.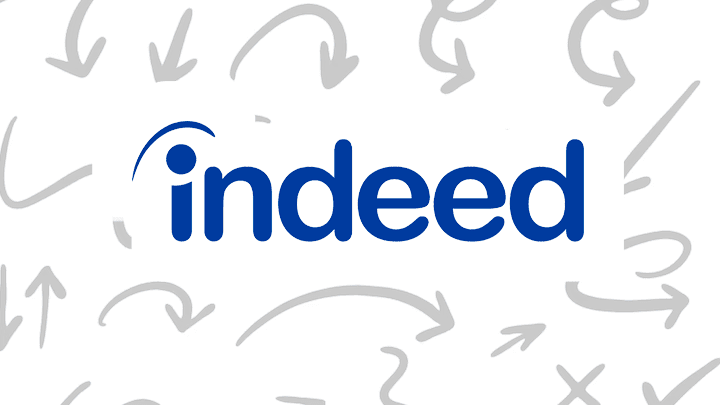 Indeed.com is one of the biggest job-posting sites in the world, with job opportunities in marketing, tech, engineering and many other industries. And while the amount of variety on the site is excellent, if you're looking for more niche opportunities, like roles within remote positions, or even a 4 day working week, you might find your options limited.
Sadly, when you scroll through job sites like Indeed, it's impossible to filter out only jobs that offer a 4-day work week as a potential perk. You could scroll for hours and only find a handful of potential jobs.
This is an area where 4 day Week can help. Our website is specifically for those companies and jobseekers that value a better work-life balance, as our job board is catered towards reduced work weeks and remote opportunities.
Without further ado, let's examine some excellent Indeed alternatives which can help you land your dream job!
Now that you have a set of criteria let's look at the best alternatives to Indeed.
1. 4 day week
Jobs with a better work-life balance
4 day week is a job board that specializes in connecting professionals with companies offering reduced working weeks, remote positions, and part-time work. The focus is on jobs with a better work-life balance.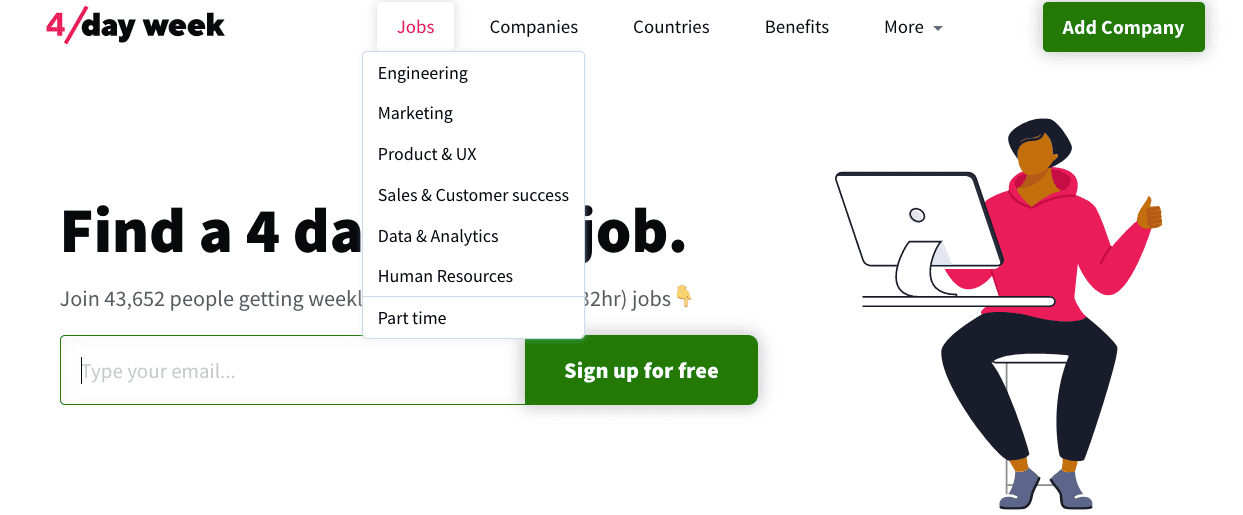 Whatever your industry, 4 Day Week will have you covered:
Plus, it's incredibly easy for companies to post jobs on their boards. You can add a company for free, after providing some details. These can include the hours of work per week (of which you can't exceed more than 36 hours), and whether you offer remote work, hybrid, or strictly onsite only.
Key Takeaways:
Jobs exclusively have a shorter work week (e.g. 4 day week, 9 days fortnight, part time etc)
Free to browse and apply for positions
There is a subscription feature to get notified
Pros:
Great choice of jobs for those seeking shorter work weeks or remote jobs.
Easy to use and free to browse and post a job
It has a list of 200+ global companies on the site, including Google, Yelp, Amazon, and others
Cons:
Would you like a 4 day work week?
2. Wellfound (previously AngelList Talent)
Jobs at startups
Wellfound is a job board and resource hub for startups, angel investors, entrepreneurs, and those who want to work for startup companies. It provides job postings, portfolio tracking, and pitch decks to help entrepreneurs, investors, and job seekers find the perfect opportunities within their niche!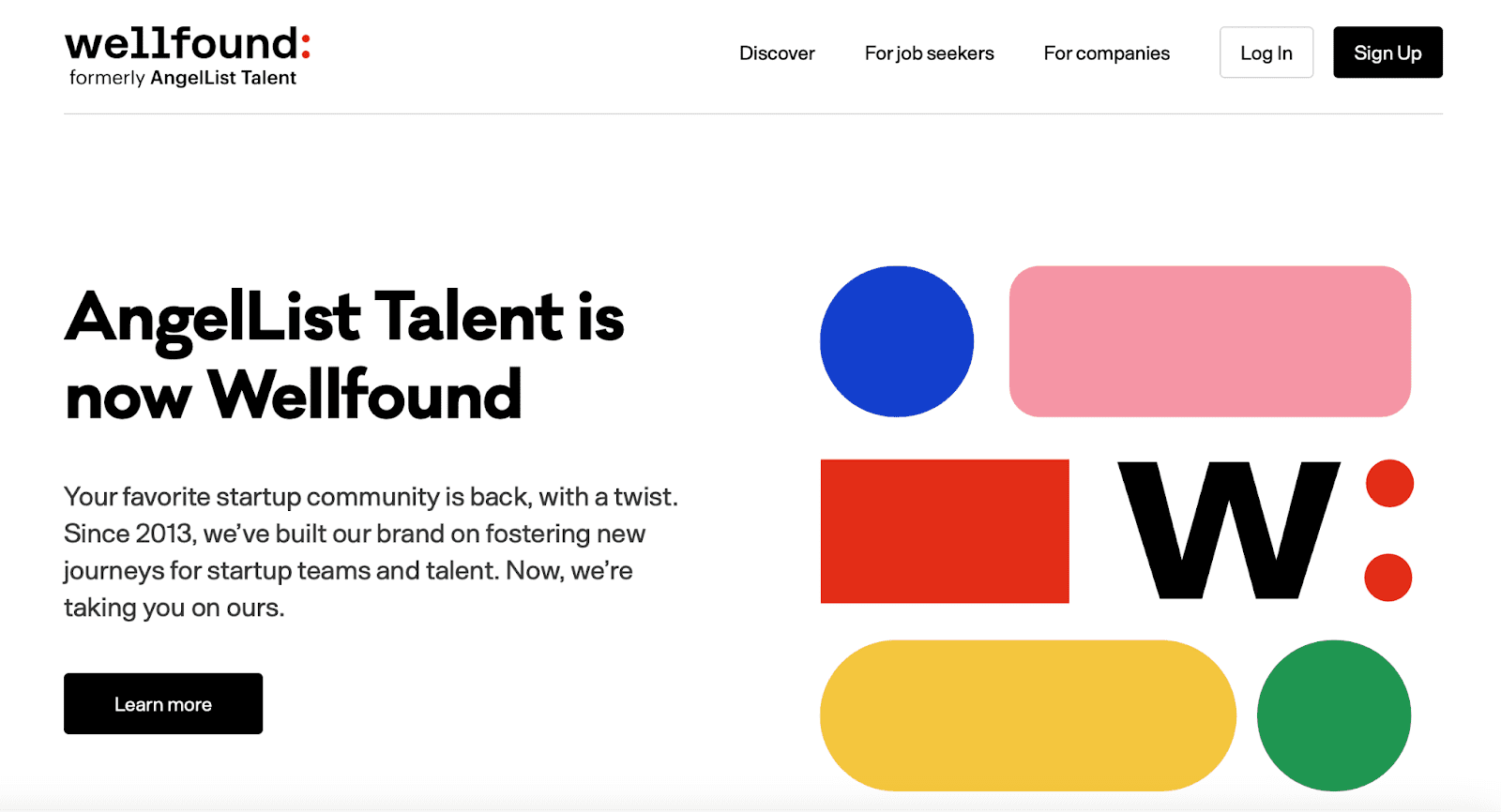 Key Takeaways:
Focused primarily on the startup space
Caters to employers, investors, and job-seekers alike
Allow workers to network with others in the industry
Featuring jobs from different niches, accounting to marketing and programming
Most jobs are remote-friendly and can be based around the world
Pricing:
It's completely free for jobseekers to access job posting boards, though if you're a company looking for the newest talent, you'll need to acquire a subscription. Subscriptions are broken down into two plans. The standard plan begins at $249 a month, and gives you access to applicant tracking, pitch templates, and instant scheduling.
There is a custom subscription plan, which comes with a dedicated account manager and a specially curated hire for your company, and more. However, you'll need to talk to a member of their team in order to get a final price.
Pros:
Free to use
Excellent platform for anyone working in the startup space, from entrepreneurs to investors and job-seekers
Dedicated networking functions
Cons:
Interface can be difficult to navigate
Doesn't have a lot of resources for job-seekers, like resume building
3. Dribble
Jobs for designers
The site proclaims they are the #1 job board for Graphic Design jobs, and they may be right. The site is designed to help graphic designers find jobs, increase their skills, and showcase their work.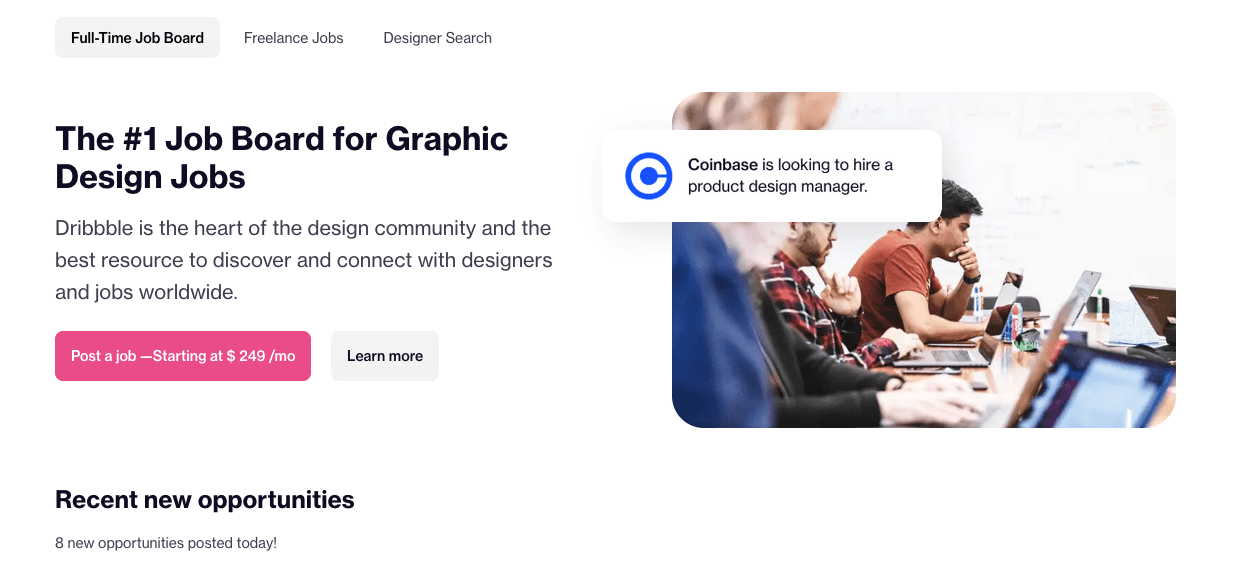 One feature we really like is that it has job boards for full-time, freelance, and a final board for companies to find designers on the site based on their profile or portfolio.
Key Takeaways:
Most jobs are remote-friendly
Free to browse and apply for jobs though there are options for selling on the site
Perfect job board if you're looking to get into the graphic design industry
Pricing:
As expected, it's completely free to browse and apply for jobs. But Dribble also offers an upgrade. This will set you back around $5/mo, but you'll be able to sell items on the platform and get noticed by potential employers.
Companies have the choice of posting on their job boards, or using their designer search function, both of which are priced separately and priced at $299. If you wanted access to both functions, you'll have to shell out $499 for the privilege.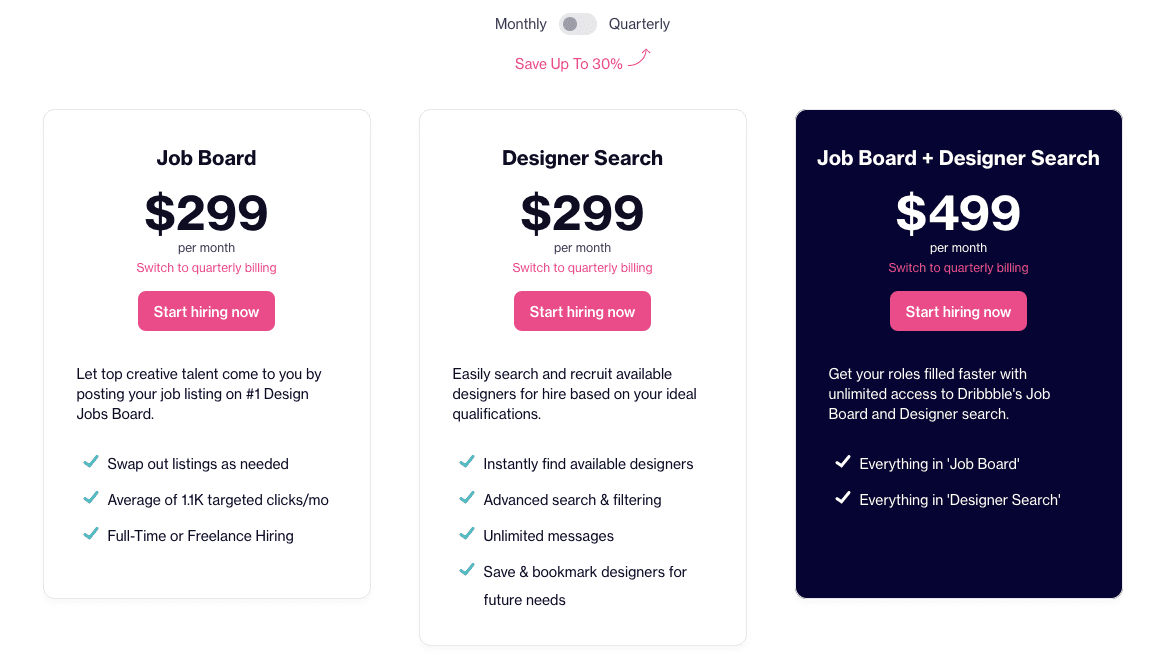 Pros:
It has all the benefits of a job board with the capabilities of a freelance site
The opportunity to share your work, build a portfolio, and receive freelance leads
They support your growth as a designer by offering courses and workshops as well as a shop to sell your work
Cons:
There doesn't appear to be a newsletter to receive updates
No free plan and can be pricey
4. Swipe Files
Jobs for marketers
Dedicated to marketers, Swipe Files (hosted by Pallet), is an excellent alternative to Indeed if you're within the marketing niche. The job board is specifically geared toward marketing roles and even highlights opportunities for freelance marketing opportunities too.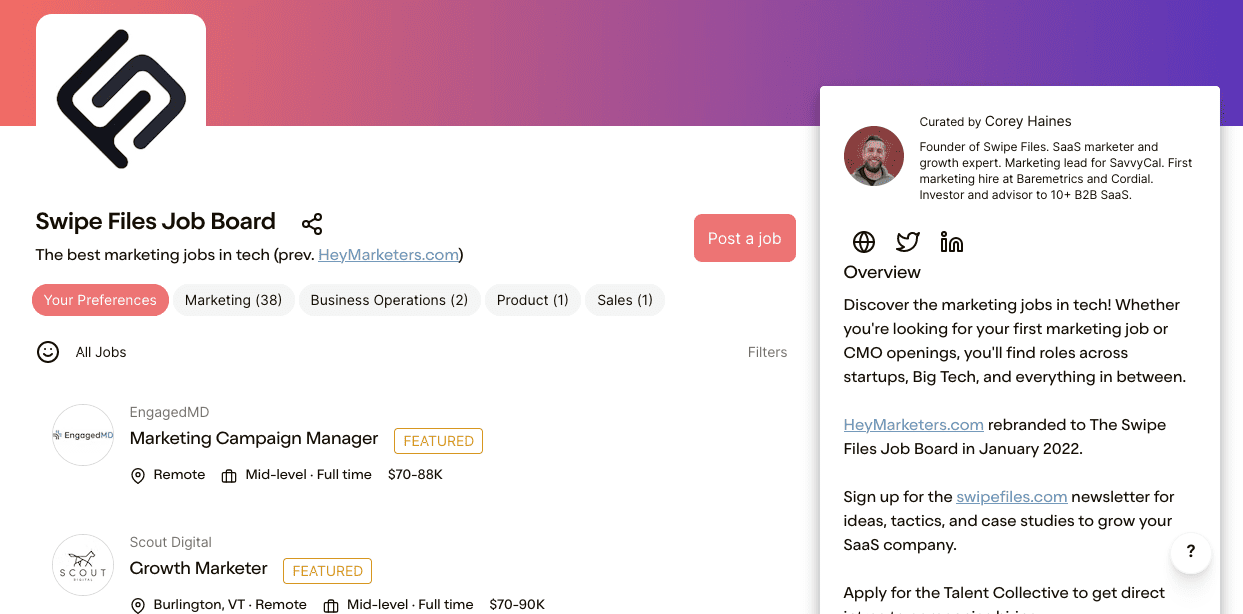 Generally, they post jobs in the following categories:
Marketing
Business Operations
Sales
Key Takeaways:
Plenty of jobs for marketers looking for full-time work or freelance jobs
Opportunity to sign up and create a profile for employers to find you on the site
The site seems focused on building a community of marketing professionals for businesses
Pricing:
While it's completely free for jobseekers to scroll job boards, Swipe Files can be a pricey option for job posters. Plans are priced at $300, $500, and $900, with no free plan. Differences in the price plans are the result of featured job posts and the number of active job posts you have on the site.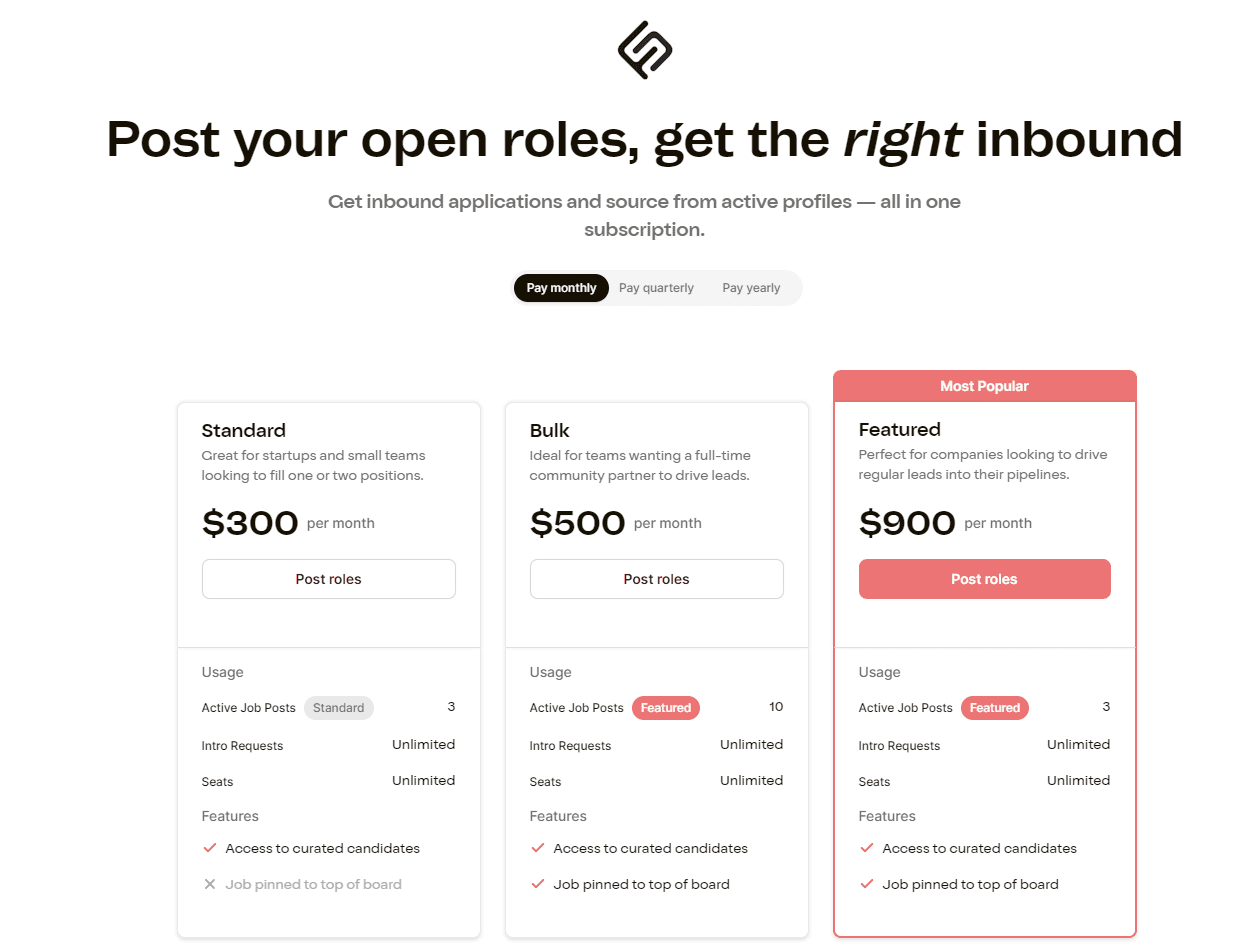 Pros:
Ability to create a profile for freelance work
High-end jobs for marketers with pay scales shown
The chance to see a snapshot of the company profile
Cons:
Pricey
Not as many job postings as some of the other tools discussed
5. Upwork
Freelance jobs
Upwork is a large freelance marketplace with up to 3 million jobs being offered by companies around the world. The jobs from Upwork can range from editors, and copywriting, to web developers and programmers.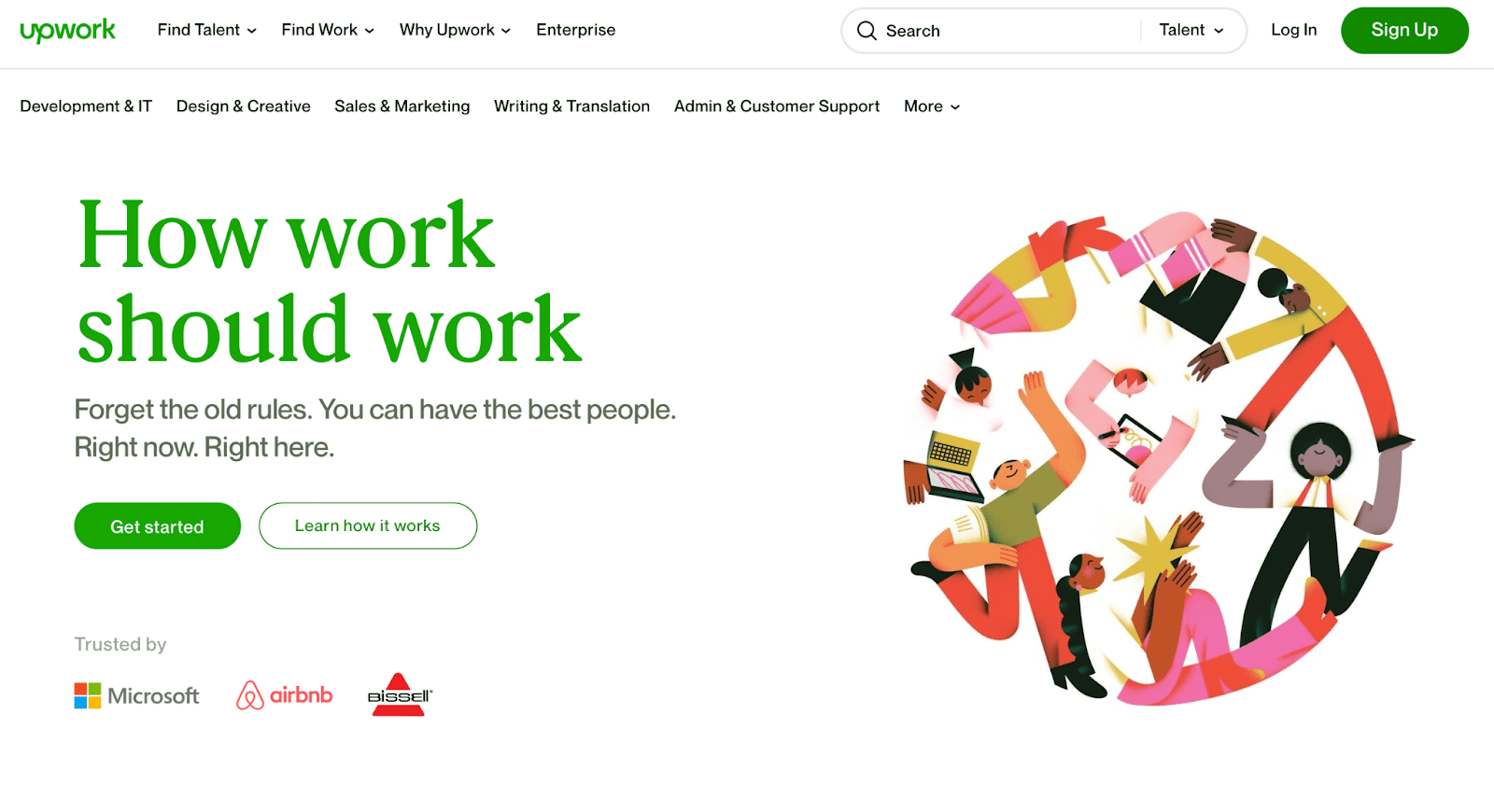 Key Takeaways:
Gives you access to 3 million jobs around the world for free, with no extra fees or membership needed
Jobs from many niches and industries are available, ranging from sales & marketing to development & IT
Virtually all jobs are remote
Pricing:
It's free to join Upwork, read job descriptions, and apply to them. But there are paid plans for freelancers who want improved visibility and the ability to connect to more clients. The Freelance Plus plan costs $14.99 per month, and nets you more connects and insights on competitors.
You should also be aware that Upwork applies a service fee depending on your earnings. For example, if you make between $0-$500, 20% of your earnings will be deducted as a service fee.
For job posters, you can upload your projects onto the site at no extra cost, though again, Upwork with take a 5% fee on all payments.
Pros:
You can find jobs from many high-end clients like Microsoft and Airbnb
Free to access, subscription is optional
Extensive profile customization
Cons:
Extremely competitive
High service fees
6. Github
Jobs for software developers
Github is not a dedicated job board like many others on this list. It is mainly used as a platform for developers and IT professionals to share source codes with each other. However, developers can add their personal profiles to the platform, which companies often browse through to search for new talent.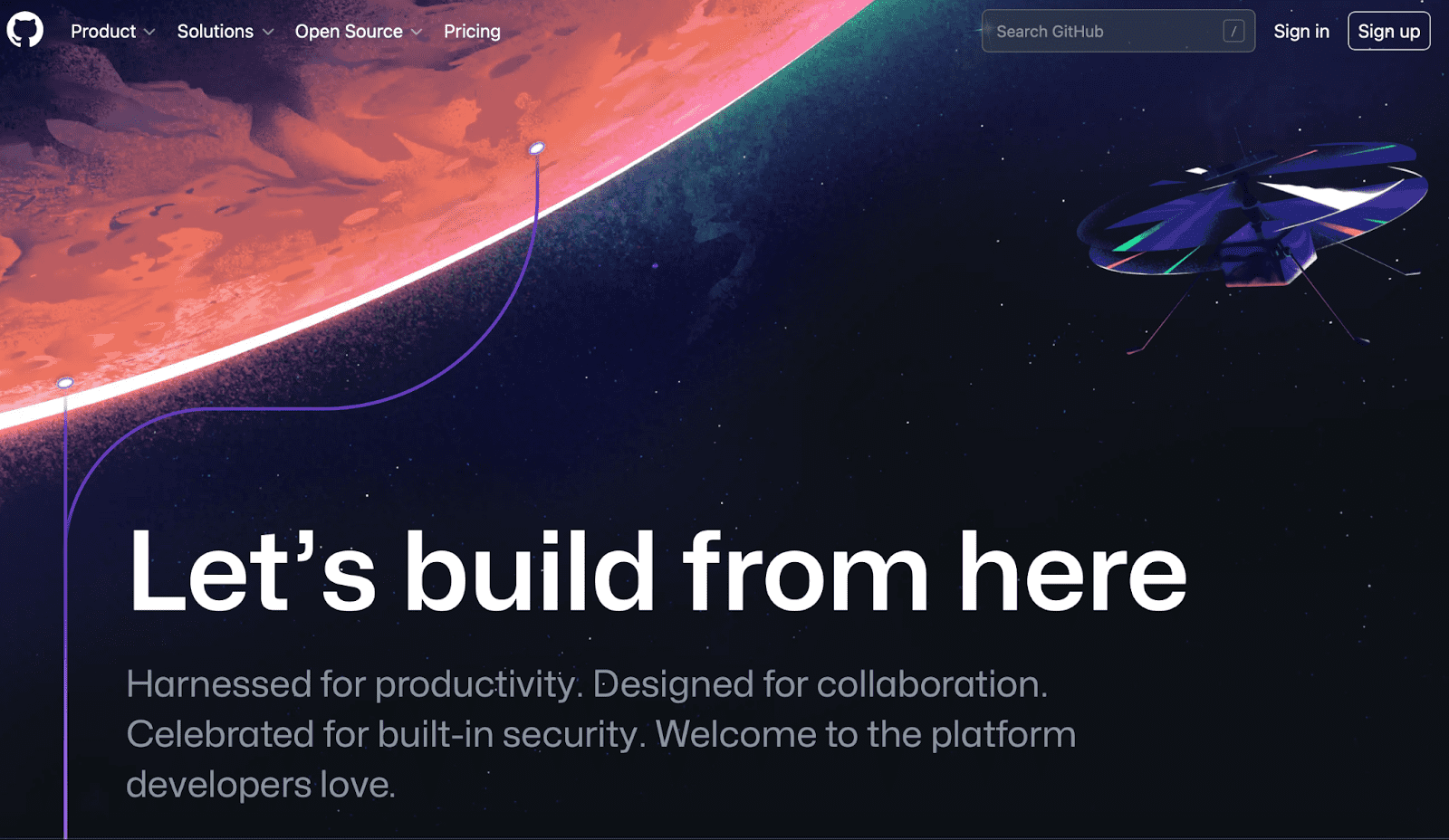 Key Takeaways:
Used only by IT professionals and those in tech-related fields
All of the projects and files you publicly uploaded onto Github's repositories can be seen by potential employers. So, Github can function as your portfolio
Because Github isn't a job board by design, there are no job descriptions or offers. Employers will have to message the candidates (or vice versa) and propose directly to them.
Pricing:
Github is completely free to use for both job seekers and job posters. Creating a profile comes at no extra cost and can be a great way to showcase your coding and technical expertise to potential talent scouts.
Pros:
Free to use
Your profile can also serve as a portfolio
Easier to find jobs that match your skill set precisely
Cons:
Very competitive, since Github is used by virtually everyone in the tech industry
Limited opportunities, as it's not a dedicated job board
Wrapping up
While Indeed is a great site on its own, its one-size-fits-all approach lends itself to alternatives. If you're looking for more niche opportunities, you should look at job sites that are geared more towards your niche, whether you're a designer, coder, or just someone looking for a reduced work week.
This is precisely where 4 day week can help! Our job boards are curated for companies offering remote or hybrid positions and reduced working weeks. So, if you value a good work-life balance, take a look through our job boards to find your next exciting career.
If on the other hand you're on the lookout for your next best hire, add your company and make your first posting free of charge!
Would you like a 4 day work week?