Account Relationship Manager
We work 4.5 day weeks - every Friday afternoon is off!
A$125k - 145k per year
Hybird Remote, Melbourne
Only considering candidates who are eligible to work in Melbourne, Australia ⚠️
About Auror
At Auror, we're empowering the retail industry to reduce theft and Organized Retail Crime, a $100 billion problem globally. It's high volume crime that's increasingly organized in nature and is putting people, retailers, and communities at risk every day.
Founded in New Zealand, we're working with some of the best and largest retailers in the world across Australasia, North America, and the UK.
Auror connects people with intelligence to reduce crime. As a company, we've built a high-performing, positive culture with a focus on providing an inclusive environment for a diverse team. If you're excited about reducing crime and building safer communities, for everyone, then we want you on our team.
The Role
The Retail Partnerships Manager will play a key role within Auror's Australian team, growing, leading and embedding our partnership approach with retailers and industry bodies, and working collaboratively and cross-functionally to ensure Auror hits/exceeds its annual sales targets for ANZ. We currently work with the largest retailers in Australia and this role will be focussed on several high-profile partners.
The role has three parts to it.
Nurture and develop existing retail partnerships

Build relationships with Senior Executives and Profit Protection / Loss Prevention (LP) leaders, helping them to reduce crime and increase safety in their stores.
Suggest new solutions and identify upsell opportunities that will add value to partnerships.
Be proactive in determining how Auror can be central to our partners LP ecosystems.
Work with Customer Success to ensure we deliver on engagement plans and targets.

Play an active role in supporting the LP industry

Provide thought leadership to industry bodies including the National Retail Association and The Australasian Association of Convenience Stores
Play an active role in attending and facilitating industry events, actively promoting and positioning Auror for success.

Seek out new retail partnerships in Australia
Develop and execute strategic plans to achieve sales targets and win retailer business
Project manage proof-of-concept pilots and / or roll-outs for prospective and / or new partners
Partner with Customer Success to deliver an end-to-end, seamless experience for future partners.
This role reports to Jess Speir, Retail Director ANZ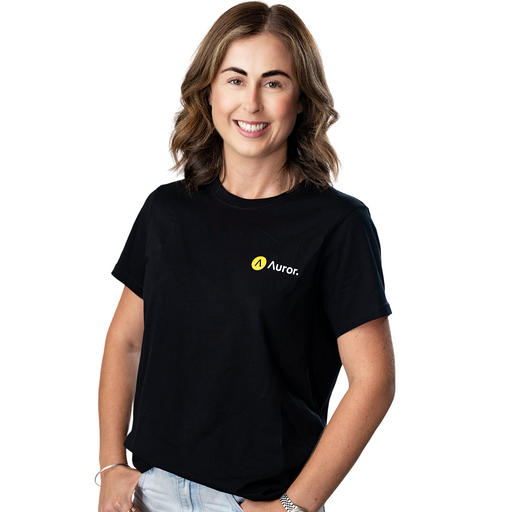 I started my professional career as a corporate lawyer before shifting into the fast paced world of advertising where I partnered with some of the world's most loved brands to find creative solutions to their business problems. Fortunate to have a choice, I took a 6 year career hiatus to have my family and during this time an interest in mental health led me to study Psychology. Six years and four children later (we went for three and got twins!) I decided to return to the work-force and was deliberate in seeking out Auror. We're solving a real problem affecting our communities and have a team of high performing superstars who are genuinely passionate about empowering retailers and Police globally to stop crime, for good. Outside of work I'm in full mum-mode, carting my kids here, there and everywhere, but when I can I enjoy nothing more than some quiet time to myself ensconced in a good book. You can check out my LinkedIn here.
Account Manager or similar role in enterprise sales, preferably within the SaaS industry.
Retail and / or LP knowledge - understanding of the dynamics, trends and challenges.
Demonstrated success in managing and growing large, complex accounts, with a track record of achieving sales targets and fostering long-term client relationships.
Excellent communication and interpersonal skills, with the ability to effectively engage and influence stakeholders at various organisational levels.
Strong negotiation and presentation abilities, with the capacity to deliver compelling product demonstrations and articulate value propositions.
Strong analytical skills, able to build and execute strategy around key accounts with a data driven and outcome mindset.
Excellent project-management skills, with a proven track record of leading complex projects end-to-end.
Strong commercial acumen and the ability to work collaboratively and cross functionally
Comfortable with ambiguity - we operate in a dynamic way which can mean priorities and pace can change accordingly.
Experience with Salesforce and Catalyst.
We are looking for people who demonstrate a strong alignment to our Guiding Principles (you can find these on our Careers page).
With diversity and inclusion at the forefront of Auror's guiding principles, we promote a culture that celebrates diversity and inclusiveness at Auror, regardless of, but not limited to, race, gender, sexual orientation, family status, religion, ethnicity, national origin, physical disability, veteran status, or age.
Competitive base salary: Depending on level of experience - $120,000 - $150,000 (IC4)
Employee share scheme: You'll own part of a company making a real difference!
Flexibility: We are hard-working and outcome focused, but recognize there is more to life than work. We promote a healthy work/life blend.
Shorter Work Weeks: Everyone gets Friday afternoon's off, so you can start your weekend early, and do more of whatever it is that makes you happy.
Mental and physical health: We understand how vital both mental and physical health is, and have policies to support that, including Wellness Days and up to three expert sessions a year
Family friendly: We offer comprehensive parental leave and benefits for primary and non-primary caregivers.
Personal development: We support our team to participate in courses, conferences, or events that will help them be relentless about improvement.
Team love: We have regular team lunches and social events where most (if not all) activities are during work hours.
Making an impact: You'll work to solve interesting problems and help us keep communities safe.
Next Steps
If you're excited about our mission and you have experience and a passion for this role, please hit "Apply" below.
We're proud that Auror is a place where everyone can learn and grow. So if you're not sure that you tick all the boxes but feel you're close to what we're looking for, please apply anyway as we'd love to hear from you!
Once you apply, you'll hear from us to acknowledge your application. If you have questions about any of the above, or if you have any accessibility requirements, we'll be able to help you from there.