Marketing executive role, responsibilities, salary + bonus job description template
Get the lowdown on the marketing executive role with our in-depth job description template, covering everything from responsibilities to salary and bonus information.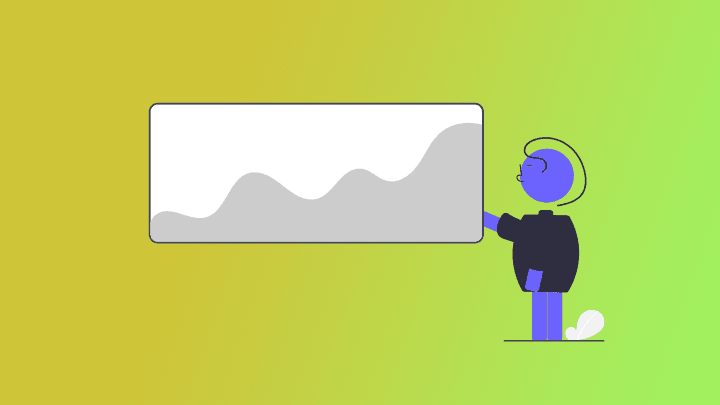 Marketing is one of the most important aspects of business. It helps to build brand visibility and can get your product under the noses of your consumers. For this reason, it's crucial to make sure you're hiring the right people to fill the marketing executive role.
We at 4 day week can help you find the right candidate. But first, let's discuss what a marketing executive can do for your company, their roles, responsibilities, and salary. We'll also give you a job description template to start with.
What does a marketing executive do?
A marketing executive develops campaigns that promote a company's products, services, and events to create awareness and enhance the company's brand. The job of the marketing executive encompasses all marketing-related activities, including building close relationships with customers and developing marketing strategies for a range of products.
Marketing executive roles and responsibilities
These are just some of the duties of a marketing executive:
Campaign management: Conceptualizing, planning, and implementing effective marketing campaigns and tactics, in alignment with sales and marketing strategies
Marketing Analytics: Tracking and evaluating the progress of campaigns using predetermined metrics. Data allows for better optimization of campaigns as decisions are data-driven.
Search marketing / SEO: Using organic and paid strategies to increase your presence online. This could come in the form of optimizing landing pages to increase traffic to your website, or using paid ads on SERPs.
Content marketing: developing content strategy spanning across video, social media, blogs, or podcasts to grow engaged audiences for the brand. This increases your brand authority in your niche,
Social Media Marketing: Generating and executing marketing campaigns across social media platforms such as Twitter, Facebook, and Instagram.
Event planning: Planning and running local and virtual events to increase brand awareness
Community management: While this may be an aspect of social media it's not limited to just that. It involves fostering authentic connections with the brand's target audience and allowing them to connect with the company to establish a community.
To see where a digital marketing executives role ends and a marketing executives role starts, let's look at a few differences between the two.
Would you like a 4 day work week?
Difference between digital marketing executive and marketing executive
A digital marketing executive is responsible for creating, implementing, and optimizing the company's digital strategy using digital channels to attract and retain customers. While a marketing executive coordinates and oversees campaigns to promote a company's products, services using all channels from physical media, broadcasting and digital media.
The digital marketing executive's duties will usually fall under that of a marketing executive. A marketing executive can be a generalist who does both jobs, usually within smaller companies. In large companies, they work with the digital marketing team to ensure that there's a uniform strategy being executed.
Marketing executives' qualifications
It's not uncommon to see recruiters looking for candidates with marketing-related undergraduate degrees. For senior or specialized executive roles, a CIM qualification will work to a candidate's advantage. Although not usually required, a master's degree, MBA, or Ph.D. will command higher salaries.
However, a marketer with no degree, who can show commitment to continuous learning and improvement can also prove to be an adept candidate.
How much do marketing executives earn?
On Payscale, the median salary for a marketing executive is $61,630 per year, with a base range of about $39k to $132k. An entry-level candidate with a year's experience or less can expect a salary of about $45k. For candidates with 5-9 years experience the salary increases to around $63k, while more senior candidates with over 15 years experience are getting offers averaging $85K. For late career marketing executives with over 20+ years of experience, salaries can be over $108,967.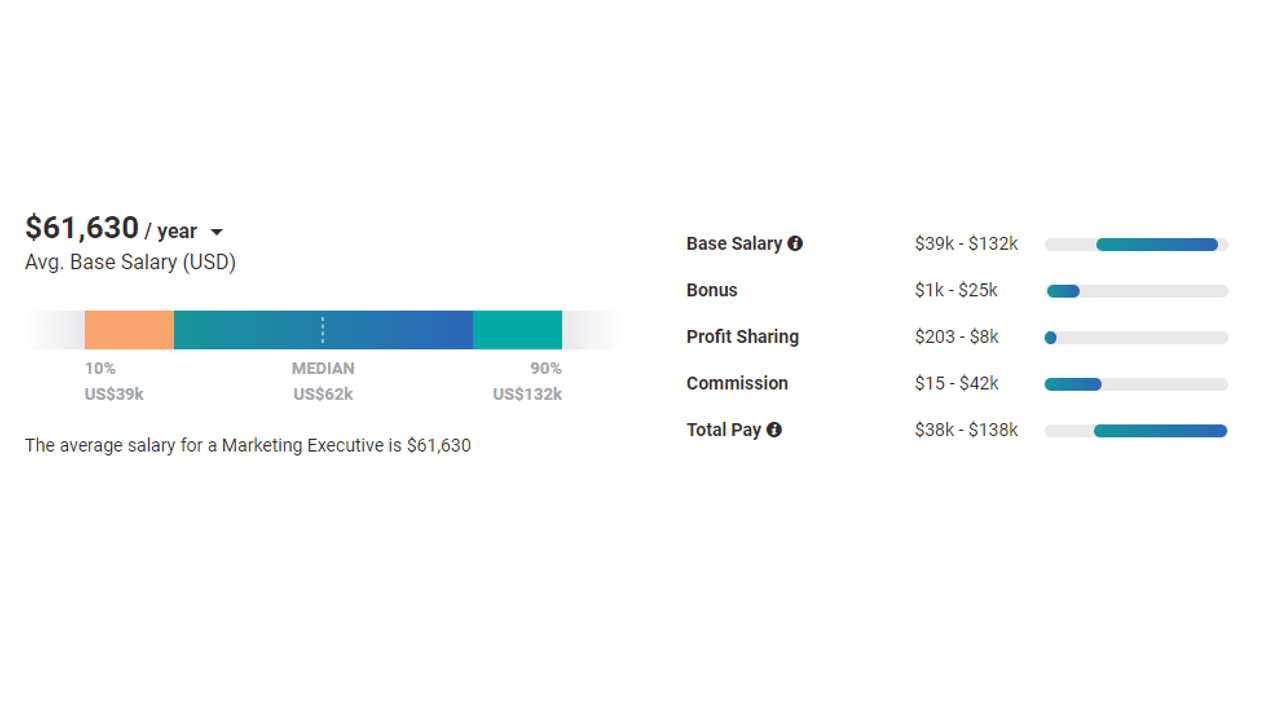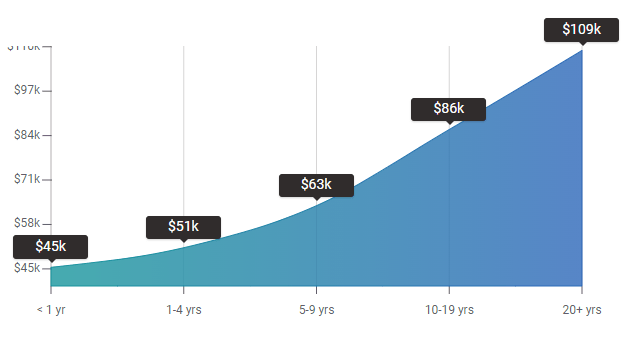 Source: Payscale
Experience and qualifications count towards a candidate's right to negotiate for a higher salary as a marketing executive. But it's also important to take into account the job scope, company size, location, and specific skill set. A marketing manager's skills determine how effective they'll be at performing their job and whether they produce the desired results. Here are some in-demand skills and their effect on salary:
Product marketing: +70%
Business strategy: +42%
SEO: +33%
Marketing analysis: +28%
Strategic marketing: +26%
Marketing management: +23%
Insurance: +22%
Business development: 11%
Microsoft excel: +11%
Digital marketing: +6%
Product marketing skills have the highest effect on salary, as marketing executives with these skills can add value to the company's product management efforts. The skills you list in your job description should be relevant to what the marketing executive will be required to do in their role.
How to hire a marketing executive
Hiring a marketing executive is an important decision. As with every other hire, it's important to find candidates who fit with your company's culture and align with your vision. Here's a simple hiring process to ensure you attract the right candidates.
Attract quality candidates with a comprehensive marketing job description that carefully articulates the organization's requirements for marketing executives.
Use a job posting website in order to find the perfect applicant. If you are open to offering the role on a reduced work week (e.g. 4 day week), you can post on our job board
Open up the role to your own employees, allowing them to apply internally.
In as much as you will be describing everything you want in an ideal marketing executive candidate, you can also specify what you're not looking for so that irrelevant candidates need not apply. Considering only 2% of candidates will make it to the interview stage, it's best to filter them on the job description than to manually wade through irrelevant resumes. Balsamiq did this quite well and it's on brand with their vision and company culture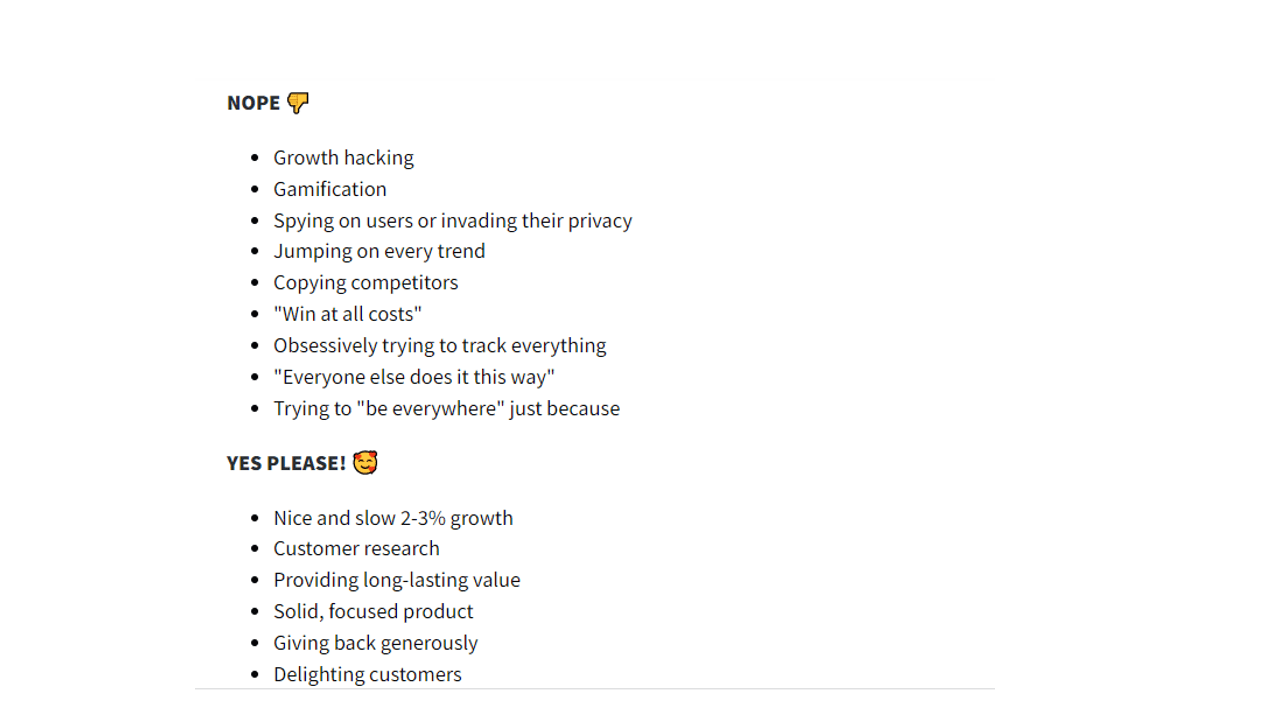 Remove unconscious biases in your recruitment/interview process, by using real-life skills tests (through cases, actual presentations on campaign ideas, and analyze scenarios using real customer data) to evaluate candidates.
Prepare the right interview questions to see if the candidate will be a cultural and technical fit for the role. FAANG companies (Facebook, Amazon, Apple, Netflix, Google) usually use behavioral questions to determine a candidate's suitability for the role and company.
Marketing executive job description template
We know how challenging it can be to write a good job description, so we've created this template for you:
About the role

We're on the search for an experienced marketing executive to expand our marketing team on a full-time/permanent basis. We expect you to contribute insightful and innovative ideas for new marketing strategies, campaigns, and projects to help us achieve our business goals.

If you're a creative, forward-thinking, results-oriented individual with an inherent ability to build and cultivate relationships, we have the perfect role for you. As a marketing executive on our team, here's what you'll be tasked with.

Duties and Responsibilities

Develop and execute marketing plans in line with sales and marketing strategies
Work with the design team to produce marketing assets to promote the brand
Create and distribute all marketing materials
Sourcing advertising opportunities and placing adverts in the press, radio, or TV as appropriate
Liaising with media, printers, and publishers as required and managing the production of marketing materials such as leaflets, flyers, posters, and newsletters
Plan, organize, and implement promotional campaigns, exhibitions, and promotional events
Monitor campaign progress and produce reports
Conduct market research
Prepare marketing budgets and pricing strategies
Delegate tasks to relevant departments
Create and maintain relationships with customers and other relevant stakeholders
Involving key stakeholders at each stage of a campaign, and reporting results once completed
Generate qualified leads for the sales department

Required qualifications and skills

A minimum of 2 years of experience in a similar role
Bachelor's degree in marketing or related field
Digital marketing expertise
Extensive knowledge of relevant markets

To be successful, you'll need to:

Be comfortable engaging with various stakeholders across various departments and business units
Possess a working knowledge of marketing automation tools and content management systems
Have marketing data and research experience with sound analytical and problem-solving experience.
Have a proven track record of independently managing oneself and a brand successfully.
Have a track record of effective time-management skills and the ability to follow instructions and plans through to completion.
Experience with digital, website, and social media marketing
Stay up to date with digital and social trends & best practices to identify new opportunities
Be comfortable multitasking
Be adaptive to the fast-paced environment

Perks and benefits

We pride ourselves in having a people-centered organization, and we've managed to cultivate a warm and healthy environment full of people who uphold the same values. Our compensation package is just one of the ways that we invest in our staff.

We offer a market-related salary of about $70 - 90k annually depending on your experience in addition to:

21 days of paid leave for when you need it
A work-from-home stipend
Remote work setup allowance for your workspace and gear
Personal development allowance to use on any course of your choosing
A flexible 4-day week to facilitate work/life balance
3 months of paid parental leave
Conclusion
A marketing executive can help position your brand and create awareness so that your target customers can find you and convert to loyal brand evangelists. But to achieve this you need a skilled and talented marketing executive who will help you achieve your goals one at a time.
If you're trying to find a remote marketing executive, why not post a listing with [4 day week](https://4dayweek.io/? Our job board is for jobs with a better work-life balance e.g. a reduced working schedule (max 36hrs / week)
Would you like a 4 day work week?