Wilson Fletcher
We design strategies, services and experiences that help established companies become digital businesses.
4 x 8hr days
10-50 employees
Hybrid remote
Middlesex, United States
Who we are
Wilson Fletcher is a business innovation consultancy.
We partner with the people striving to transform their organisations to succeed in the digital economy. Together, we identify new areas of opportunity, shape breakthrough ideas, and design the strategies, services and experiences needed to unlock potential and power new growth
What we do
Every established organisation needs to operate like the best modern digital businesses. Transformation strategy is an intensive organisation-wide strategy programme that will reinvent and reposition the organisation to thrive in the digital economy.
We deliver an actionable strategic programme including everything required to build a successful digital organisation, plus the assets and initiatives required to make it a reality.
How we work
We obsess about two things: doing remarkable work and doing it in a remarkable way.
We know that every investment we make in our culture drives better outcomes and a more rewarding work-life experience for each of us – including the people we work with.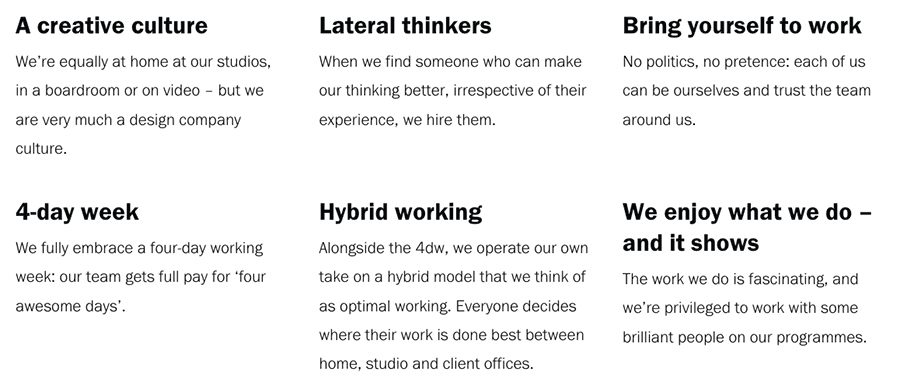 Our first 18 years have been built on a distinctive set of principles. These should give you a flavour of what its like to work here:
A small, senior team
A flat culture
A culture more like a family than a company
A place where doing the best possible work
A team that works together every day
A company where 'we' always, and very naturally, comes before 'I'.
A place for people who don't take themselves too seriously
Open positions
Fetching 4 day work week jobs...
Would you like a 4 day work week?