Symbiote
Creative, curious humans crafting smarter websites, apps and kiosks to improve people's days. .
4 x 8hr days
10-50 employees
100% remote
Melbourne, Australia
What we do
We create powerful, dynamic websites, apps and kiosks that are designed with and for human beings. We help our clients to cleverly and securely combine all the data and systems available to them so their customers and staff enjoy easy, seamless access to the information they need. We do the hard work to make life easier.

Our mission
Our mission is to be integrators of tech and humanity. We blend our technological skills, kindness and empathy to create better tomorrows for people – improving their lives and respecting the environment. The things we make and the problems we solve leave the world in a better state. We take pride in delivering real-world solutions that benefit the greater good. Our human-first thinking makes the difference – for you, for us and for humankind.
Our name – Symbiote ('sim-bee-oat') reflects the mutually cooperative way we work with clients. We form a team with them. Our most-received feedback is along the lines of, 'I've never enjoyed this kind of relationship with a supplier before. I look forward to our meetings and can't believe how much your team genuinely like each other.'
We care about people and the planet and as our name Symbiote suggests, we understand the symbiotic relationships between nature and culture.
Owen Windsor and Marcus Nyeholt started Symbiote in 2009 with a simple vision: to provide exceptional tech solutions with a considered people-first approach, and have a bit of fun along the way. And we're having a lot of fun so far.
Our diligent and engaged approach has led to satisfied users and happier businesses like the philanthropic Ian Potter Foundation, anyone who travels using Public Transport Victoria, and the NSW Government.
Working at Symbiote
We have a lot of laughs even while we're working hard. Complex projects come with a lot of pressures and stressors. That's why we foster a collaborative environment that minimises stress and makes time for the fun stuff – like delivering excellent tech, drinking lots of good coffee and learning as we go.
We all respect each other. We schedule time to talk to each other and connect, because we need that kind of connection and trust to allow us to be courageous and creative in our work, especially when projects get challenging.
We're definitely a diverse team, in all regards. What makes each of us different gives us the experience and empathy to identify and solve all kinds of challenges for people who'll use our software.
We've achieved an equal gender split, after some deliberate efforts to work out how to attract and keep smart women, non-binary people and anyone with caring responsibilities.
While we love what we do, we also appreciate that there's more to life than work. Your colleagues will encourage you to look after your health, relationships and interests outside work so you can show up with energy and ideas, ready to help us make some seriously excellent websites, apps or kiosks to help people get what they need. It's satisfying to work hard knowing you're making other people's lives easier.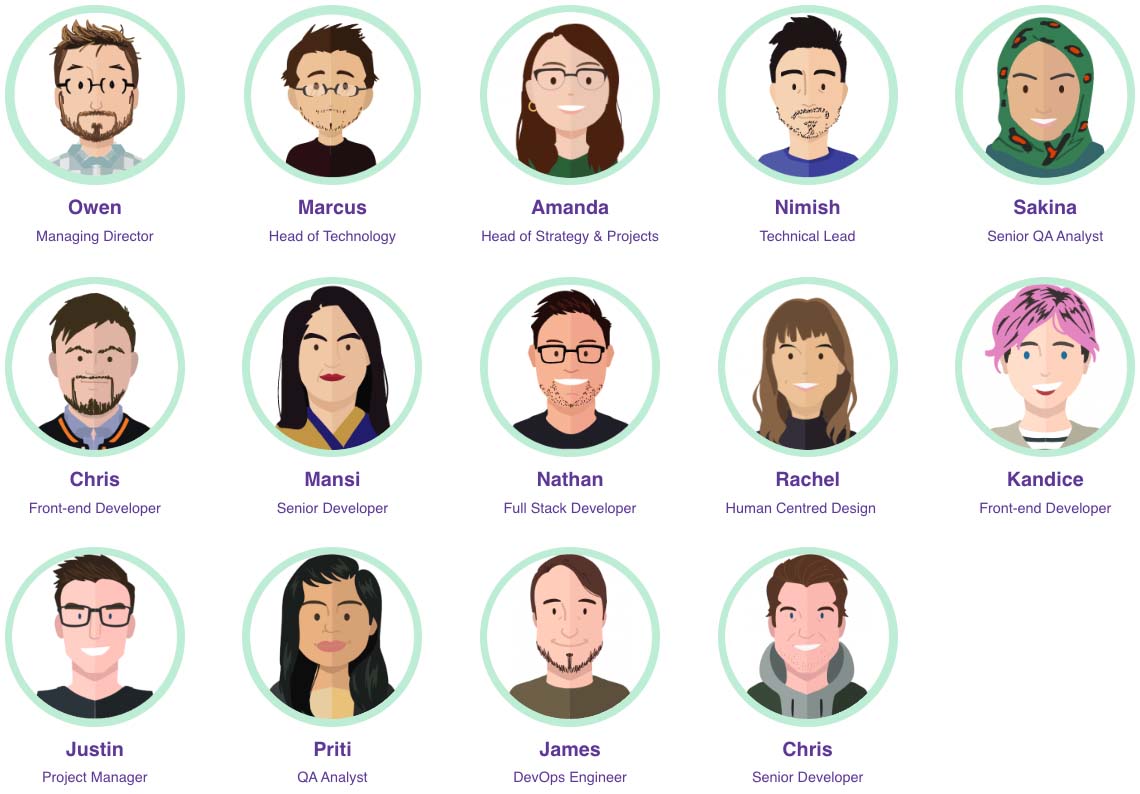 Our benefits
4-day work week – 32 hrs
100% remote working option
Family-friendly, flexible hours between 7am and 7pm
Generous parental leave for primary and non-primary carers
Paid time off for vacations and sick days
Flat management structure
Supportive mentoring
Melbourne office space in central CBD location
Open positions
Fetching 4 day work week jobs...
Would you like a 4 day work week?