Officely
Building the platform to support the hybrid workforce.
4 x 8hr days
Hybrid remote
London, United Kingdom
🥳 Come and join our team of creative thinkers, curious minds and friendly faces. We are mission-led and this fuels us. We love working together and take great joy in building a product that impacts the world for good
Making the future of work... Work!
Five days a week in the office is dead. Hybrid work is the future. Enabling us to work where it's most productive and structure work around our lives - not vice versa... But wait! With different people in the office each day, how do we collaborate? How do we get to know each other better? How do we develop a great culture?
Officely raises $2M to help hybrid teams coordinate office time right in Slack
These are the problems we are trying to solve. Our mission is to help individuals and teams meet in-person so that they can continue to collaborate and achieve their best work, whilst strengthening their relationships and enjoying awesome community in a hybrid world. Officely is already improving the working lives of tens of thousands of people and we're only just getting started. Come join us and change the way the world works! literally! 🤩
How are we doing?
Having amassed 35,000 WAUs since launching earlier this year and grown our revenue from $0 to $50,000 MRR, I think it's fair to say we're growing pretty fast! Did we mention we've also just closed a $2M (oversubscribed) seed round? 🚀 🚀 🙊
4-day work week
Y Combinator and VC backed
Rapidly growing revenue - $50K MRR (as of November 2021)
Recently closed $2M seed, looking to raise series-A in 6-8 months
Working with established companies, like Bolt, Lemonade, Global, and high growth startups like Front and Marshmallow.
The world is moving to hybrid work, come and build the future of work!
Meet the team
Our team is supercharged and excited to be shaping the future of work. We practice what we preach, so we're all about hybrid working, getting to know one another and developing an awesome culture. Joining us is like joining a family - it's great fun and we have a laugh, but we understand that things can get tough from time to time. For that reason, we are patient, gracious and assume the best of each other. These are our values and we protect them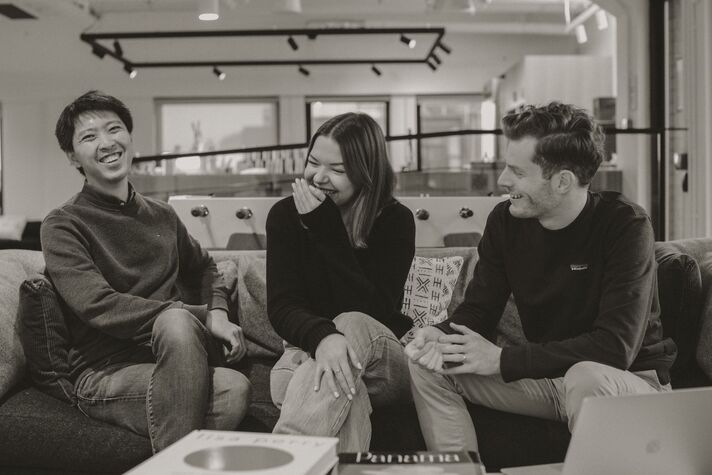 Max - Growth | Marketing | Product
As a serial entrepreneur and YC alum, I love thinking of new creative ways to solve problems. Outside of work, adventure travel is my passion. I've run into more sharks and members of the Taliban than my mum would like
Kristina - Customer Success
One of my favourite things in life is seeing people's faces light up when they talk about something they are very passionate about! 🤩
Alvis - Engineering | Product
A life-long artisan of geekery and futurism. Never want to stop making meaningful things for communities. By chance, I'm also a humble human
Rich - Engineering | Product
From a family of entrepreneurs, tech heads and watersports enthusiasts. I love making stuff - at 12 years old, I mixed ammonium nitrate and sugar to make smoke bombs.. I was fine, my parent's weren't
Benefits
4-day work week
Flexible hybrid working
A competitive salary
Cool office in London
Macbook of your choice
A friendly, vibrant, and ambitious team
Regular (online and offline) get-togethers
Annual company retreats to awesome places
Open positions
Fetching 4 day work week jobs...
Would you like a 4 day work week?