Hoop
Better Decisions Faster, Without Meetings.
4 days or 5 shorter days
100% remote
Who we are
Hoop's mission is to help teams work better asynchronously, first by empowering teams to make better decisions faster without meetings.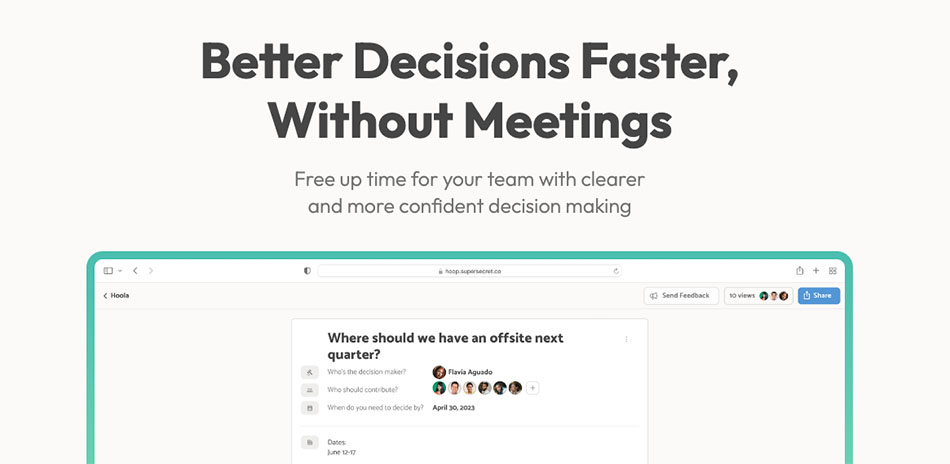 Though there's a whole field of research around decision science, most teams are stuck without tooling or processes to help with decision making. This results in tons of meetings and even more ambiguity. Hoop helps teams bring clarity to decision making, empowering them to surface, discuss, and make decisions asynchronously, all while using existing tools.
Our Culture
We're on a personal mission to prove to the world that you can build a world class software business where employees have rich, meaningful lives outside of work that make them happier, more fulfilled, and more productive at work.
More about Hoop:
Reduced workweek. 4 days or 5 shorter days.
Remotely distributed (within the US)
Mostly asynchronous, with meaningful sync time for collaboration
Focused on excellence in craft
We're a team of ambitious, high achievers who are masters in our crafts and take immense pride in our work. 0 We've built a remotely distributed team previously in executive roles at Trello, and we believe the next step forward is asynchronous work.
Open positions
Fetching 4 day work week jobs...
Would you like a 4 day work week?