ByteChek
Make Compliance Suck Less.
4 x 8hr days
10-50 employees
100% remote
Miami, United States
Who we are
ByteChek is a rapidly growing cybersecurity startup that was founded in 2020 with the mission to make compliance suck less. Our automated SaaS platform has helped our early customers of all sizes strengthen their security posture and complete cybersecurity assessments with ease.
Our talented team, distributed across the United States, thrives in a flexible and authentic remote work environment. Our core values reflect who we are and how we work:
People First
Don't take yourself too seriously
Be Courageous
Pursue excellence
Our product
Our platform simplifies compliance with advanced and easy-to-use platform. Our extensive experience in SOC 2 and other cybersecurity assessments for SaaS, IaaS, and PaaS providers, we have developed a platform to help our clients make their assessment process easier.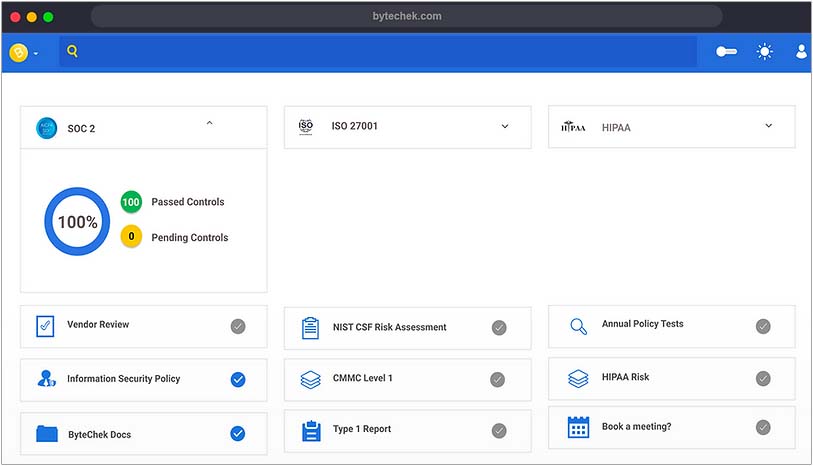 Why did we move ByteChek to a 4-day workweek?
Simple; we care about our people. The research supports this decision, research suggests that in an eight-hour day, the average worker is only productive for two hours and 53 minutes due to distractions from instant messaging, eating, socializing and other things.
Our benefits
When we say "people first" we mean it! In addition to offering competitive salary packages, we have structured our benefits to support the lives and well-being of our team members. A few of the ways we care for ByteChekians:
4 day work week (32hrs) - Fridays are considered a weekend
Health, dental, and vision benefits.
Unlimited Flexible time off, with at least 2 weeks of mandatory paid time off per year.
Flexible work hours in a trusting environment.
4 day weekends to observe Federal holidays.
Additional holidays reflective of our values.
Creative and meaningful celebration of wins.
From our product, to our work culture, to our recruiting process, we strive to create an inclusive environment where people of all identities and backgrounds can be authentically themselves.
Open positions
Fetching 4 day work week jobs...
Would you like a 4 day work week?