Blink SEO
Blink SEO is a specialist eCommerce SEO agency with a focus on data and data science.
4 x 8hr days
10-50 employees
Hybrid remote
Norwich, United Kingdom
Who we are
We're a team of experienced technical marketers with processes grounded in data science. This means we can provide enterprise-level insights that cut through the noise and focus on the biggest impact to the bottom line.
Our primary focus is eCommerce SMEs, typically those turning over £250,000 to £10,000,000 per year, and that are looking to take their SEO campaigns to the next level.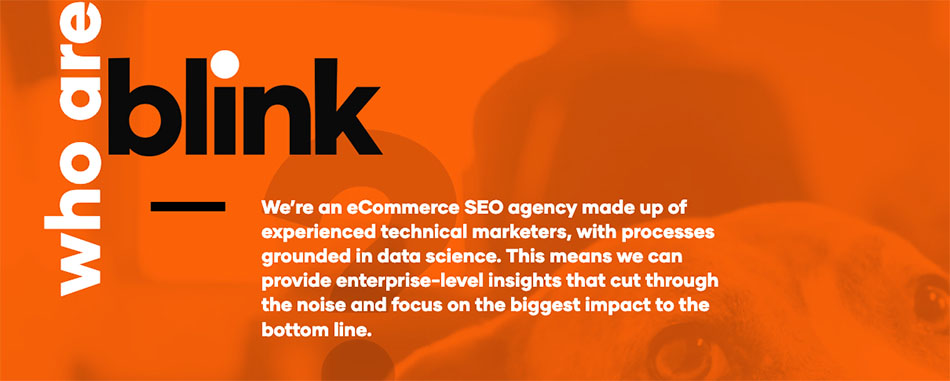 We work globally with clients in the UK, US, Europe and Asia, and several have been with us for over a decade – something that is extremely rare in the world of digital marketing.
Working at Blink
We provide an inclusive environment focused on personal and professional development for our team. This means our staff turnover is extremely low, making sure that valuable skills and knowledge stay, and grow, within the business.
Our 4-day week schedule means efficiency is essential to the way we work. We're also committed members of The 5% Club, as well as regular donators to charities worldwide.

In order to create an environment where our team is free to concentrate, we're aiming to minimise interruptions. For this reason, we're now implementing new "office hours", which will be the only hours in the day where we're online and available to both answer asynchronous communications and conduct scheduled synchronous communications, leaving the rest of the day for offline work.
Employee benefits
We are very proud of the environment we have created for our team. We think of employees as individuals with unique skills, talents and lives outside of work and do our best to support them on this basis. Every member of our team gets:
A 4 day work week (32hrs), every Friday is off!
Remote working within the UK
Flexible working options
Profit sharing scheme
Subsidised and free healthcare benefits through Healthshield
Focus on career growth and development
Our Norwich city centre office has a breakout space with table tennis, standing desks and showers and other various amenities.
Open positions
Fetching 4 day work week jobs...
Would you like a 4 day work week?